Upcoming Course Details
Night School is a curriculum of courses on structural steel design and construction topics. Each course in the curriculum will consist of eight sessions presented as ninety minute webinars. There are two ways to register for Night School, either as an eight session package or as individual webinars.
For more information on this upcoming course including how to register, go to the course page here.
Basic Steel Design: A review of the principles of steel design according to ANSI/AISC 360-16
This course will consist of 8 1.5 hour sessions and is intended as an introduction and review of the basic principles of structural steel design. It is best suited for those who have not designed in structural steel for some time or those who feel a basic review will improve their overall capabilities. Session 1 will include an introduction to structural safety and the principles of LRFD and ASD design, loads and load combinations, the AISC Specification and structural analysis. Session 2 will address tension member design. Sessions 3 will treat compression members. Session 4 will address bending members and session 5 will consider combined axial forces and bending. Session 6 will treat stability analysis and design principles and second-order analysis. Session 7 will address the effective length method and the direct analysis method. Session 8 will discuss composite beam design.
All completed examples will be presented in both ASD and LRFD in the handout material although the presentation may only discuss one or the other approach. The AISC Manual of Steel Construction, 15th edition is a highly recommended text for this class. The presentation will make reference to specific sections of the Specification, examples will use data taken from the manual, and the use of design tables will be illustrated. The author's text book Unified Design of Steel Structures, third edition, 2017, written with co-authors Judy Liu and Charles Carter, will form the basis of this course and may be a useful resource for building on the course.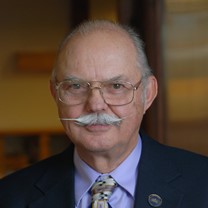 Louis F. Geschwindner is a former Vice President of Engineering and Research at AISC, Professor Emeritus of Architectural Engineering at Penn State University, and Senior Consultant at Providence Engineering Corporation.