Student SteelDay Contest
Update: Winners Announced
Thank you to all who participated in the 2021 SteelDay Contest! We hope the experience was riveting and that you enjoyed recreating iconic steel structures using the contents of your recycling bin. We would like to recognize and congratulate the following winners:
---
DESIGN TEAM: University of Puerto Rico Mayagüez Campus
(Glorimar Cabán, Adrián Colón, and José J. Santiago)

Iconic Steel Structure: Robert F. Kennedy Bridge (Queens, NY)
Materials: Plastic bottles from the beach; glass bottles, paper, carton boxes, and wood.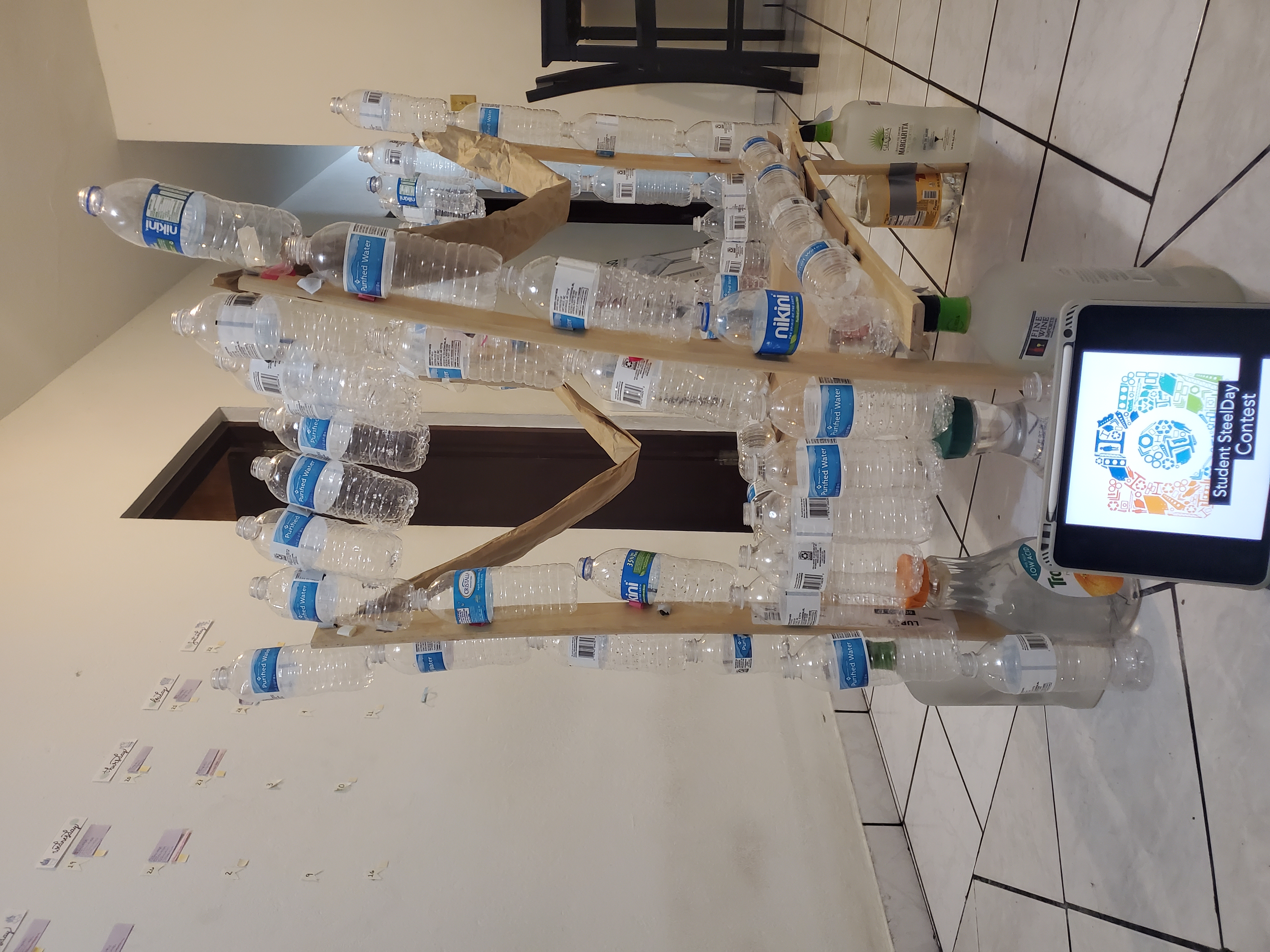 ---
DESIGN TEAM: Rutgers University
(Andrew Hoefele, Carolyn Hornak, Nikita Kartashov, and Luca Ondris)
Iconic Steel Structure: Governor Mario M. Cuomo Bridge (Tarrytown, NY)
Materials: Aluminum cans, cardboard, brown packing paper, and tape.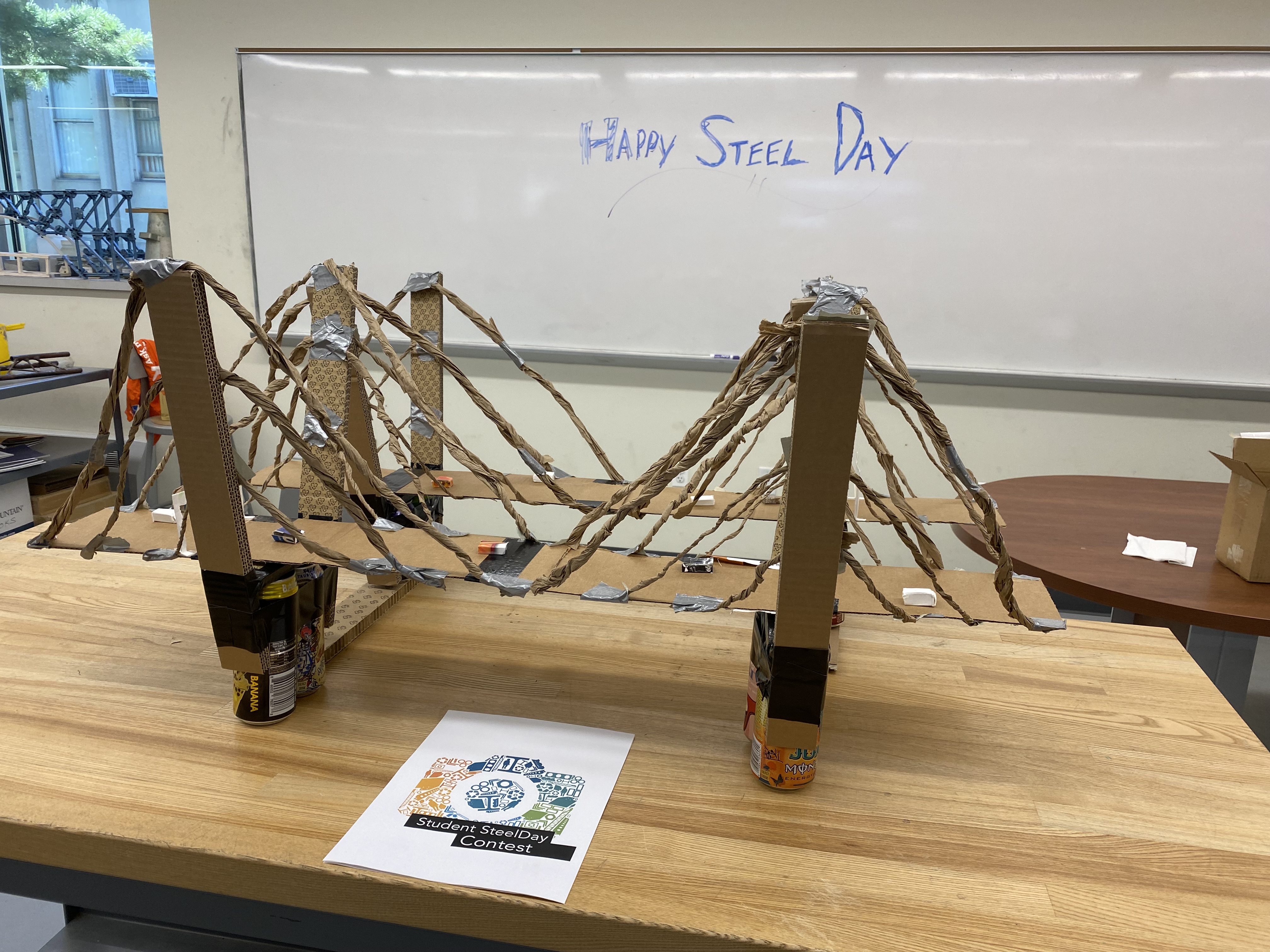 ---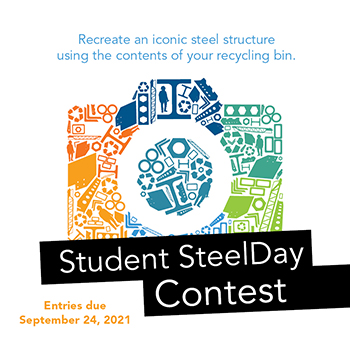 Attention all students!
Did you know that steel is the most commonly recycled material on the planet? And that a hot-rolled structural steel shape fresh from an American mill contains an average 93% recycled steel from cars, refrigerators, decommissioned bridges, and old buildings?
We're hosting a construction challenge exclusively for college students to celebrate SteelDay on September 24, 2021. Start saving your pop cans, cardboard boxes, and campus newspapers--it's your turn to build with recyclable materials!
Your mission, should you choose to accept it: Recreate an iconic steel structure using the contents of your recycling bin.
Let your creative side run wild and you could turn those recycled materials into great prizes!
Need some inspiration for your recycled masterpiece? Check out these amazing winners of the AISC IDEAS2 Awards and the Prize Bridge Awards.
How It Works
You'll enter photos of your recycled structure for this competition. A panel of AISC judges will evaluate them based on resourceful use of materials, likeness to the original structure, and overall quality. Photos of the winning structures may also be shared on AISC social media platforms--we love to show off great work!
There are two different ways to participate:
Design Team
Looking for a group ice breaker to kick off the fall term? Perhaps a fun activity for members of your AISC Student Club? Groups of up to four people can work together on a structure and submit one entry. All members on the winning team will receive a mini Bluetooth speaker!
Individual Contribution
Are you more of a solo artist? Show off your skills, and you could be the one lucky winner who will receive a VR headset!
Rules
The steel structure that you replicate must be located in the United States.

It's up to you to pick your recyclable materials! Remember -- the judges will be evaluating resourceful use of materials.
There are no size restrictions, but you will be asked to submit the overall dimensions of your creation.

At least one photo must contain our Student SteelDay Contest graphic. You may print a paper copy to attach to your structure or for you to hold in the photo. Alternatively, you may show it on an electronic device (i.e. mobile phone, tablet, or laptop).
All entries must be submitted by the end of SteelDay (Friday, September 24) at 11:59 p.m. Central. The winners will be announced on Wednesday, October 6.
Submitting your Entry
Submit a photo of your recycled structure using the entry form. When you upload the photo, we will ask you to list the recycled materials that you used, provide the overall dimensions of your structure, and indicate the name and location of the real-life steel structure. We will also ask you to agree to the photo usage agreement.
The entry form is now closed, and the judges are reviewing the entries. Check back here later--we'll post the winners by October 6!
SteelDay 2021
Every year, steel mills, fabrication plants, and all sorts of other facilities open their doors on SteelDay to show the world how proud they are to be part of this industry. This can be a great opportunity for students, architecture, engineering and construction professionals, and others to gain a deeper understanding of what goes into building the nation's future.

Visit aisc.org/steelday for more information.
Questions?
We're available at universityprograms@aisc.org.