Student Design Competition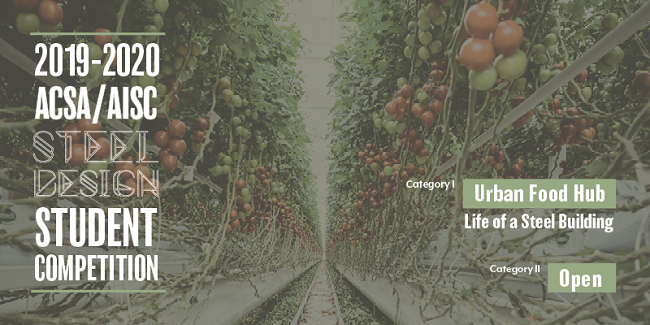 2020 ACSA/AISC Steel Design Student Competition
INTRODUCTION
AISC and the Association of Collegiate Schools of Architecture (ACSA) are pleased to announce the 20th annual Steel Design Student Competition for the 2019-2020 academic year. Administered by ACSA and sponsored by the AISC, the program is intended to challenge undergraduate and graduate students, working individually or in teams, to explore a variety of design issues related to the use of steel in design and construction. Steel must be used as the primary structural material and contain at least one space that requires long-span steel structure or one custom-designed steel structure, with special emphasis placed on innovation in steel design.


THE OPPORTUNITIES
The 2020 Steel Design Student Competition will offer architecture students the opportunity to compete in two separate categories:
Category I: URBAN FOOD HUB
Challenges architecture students to design an intermodal transportation center that proposes a cohesive transit system that includes components such as international, regional, and local train stations, bus terminals, ports, airports and spaceports in a major urban location.
Category II: OPEN
Offers architecture students the opportunity to select a site and building program using steel as the primary material. This competition category permits the greatest amount of flexibility for any building type.
Students may not enter both categories of the competition.

DESIGN ADVANTAGES OF STEEL
Structural steel offers a number of benefits in building design including the capacity to bear great loads in tension and compression, high resiliency and performance under harsh and difficult conditions, such as earthquakes and hurricanes, and the ability to span great distances with minimal material. Steel can be shaped by many processes, ranging from standard rolled sections to custom castings and digitally generated components. It can be prefabricated and delivered for site assembly, and it can be erected quickly under almost any weather condition to meet tight construction schedules.

Steel can be easily modified during the life cycle of a building to accommodate changing occupant requirements. As the most recycled material in the world, steel is an environmentally sound building material choice. Architects praise the natural beauty of steel and are excited about exposing it in the design of their structures to emphasize grace, slenderness and strength, and in their building envelopes to enhance environmental performance and aesthetic character.

SCHEDULE
April 1, 2020 Registration Deadline (free registration)
May 20, 2020 Submission Deadline
Summer 2020 Winners Announced
Fall 2020 Publication of Summary Book

AWARDS
The design jury will meet in Summer 2020 to select winning projects and honorable mentions. Winners and their faculty sponsors will be notified of the competition results directly. A list of winning projects will be posted on this webpage and the ACSA website.
Winning students and their faculty sponsors will receive cash prizes totaling $14,000 with distribution as follows:
| | |
| --- | --- |
| Category I TRANSPORTATION CENTER | Category II OPEN |
| First Prize | First Prize |
| Student $2,500 | Student $2,500 |
| Faculty Sponsor $1,000 | Faculty Sponsor $1,000 |
| | |
| Second Prize | Second Prize |
| Student $1,500 | Student $1,500 |
| Faculty Sponsor $750 | Faculty Sponsor $750 |
| | |
| Third Prize | Third Prize |
| Student $750 | Student $750 |
| Faculty Sponsor $500 | Faculty Sponsor $500 |

A limited number of honorable mentions may also be awarded at the jury's discretion. Prize‑winning submissions will be exhibited at the 2021 ACSA Annual Meeting and the 2021 AIA National Convention as well as published in a competition summary publication.

ELIGIBILITY
Because the support of AISC is largely derived from steel companies whose markets are mainly in the U.S., the competition is open to students from ACSA Full and Candidate Member Schools from the U.S. and Canada, as well as ACSA Affiliate Members Schools from the U.S., Canada, and Mexico only.

The competition is open to upper level students (third year or above, including graduate students). All student entrants are required to work under the direction of a faculty sponsor. Entries will be accepted for individuals as well as teams. Teams must be limited to a maximum of five students. Submissions should be principally the product of work in a design studio or related class.

FOR MORE INFORMATION
Full competition information may be found on the ACSA website. Additional questions on the competition program and submissions should be addressed to:
Edwin Hernández
Programs Coordinator
ehernandez@acsa-arch.org
202.785.2324
Eric W. Ellis
Senior Director of Operations and Programs
202.785.2324
eellis@acsa-arch.org
---
Winners Announced in the 19th Annual ACSA/AISC Steel Design Student Competition
AISC and the Association of Collegiate Schools of Architecture (ACSA) have selected the recipients of the 2018-2019 Steel Design Student Competition. The competition recognizes twelve exceptional projects, in two categories, that explore a variety of design issues related to the use of steel in design and construction.
2018-19 ACSA/AISC Steel Design Student Competition Winners
Competition Organizers
The Association of Collegiate Schools of Architecture is a nonprofit, membership association founded in 1912 to advance the quality of architectural education. The school membership in ACSA has grown from 10 charter members to over 250 schools in several membership categories. These include full membership for all accredited programs in the United States and government-sanctioned schools in Canada, candidate membership for schools seeking accreditation, and affiliate membership for schools for two-year and international programs. Through these schools, over 4,000 architecture faculty members are represented. In addition, over 500 supporting members composed of architecture firms, product associations and individuals add to the breadth of interest and support of ACSA goals. ACSA provides a major forum for ideas on the leading edge of architectural thought. Issues that will affect the architectural profession in the future are being examined today in ACSA member schools. More information on ACSA can be found at www.acsa-arch.org.
The American Institute of Steel Construction (AISC), headquartered in Chicago, is a non-profit technical institute and trade association established in 1921 to serve the structural steel design community and construction industry in the United States. AISC's mission is to make structural steel the material of choice by being the leader in structural-steel-related technical and market-building activities, including: specification and code development, research, education, technical assistance, quality certification, standardization, and market development. AISC has a long tradition of more than 90 years of service to the steel construction industry providing timely and reliable information. Membership to AISC is free to university faculty and full time students and AISC membership provides valuable benefits.