COVID-19 Updates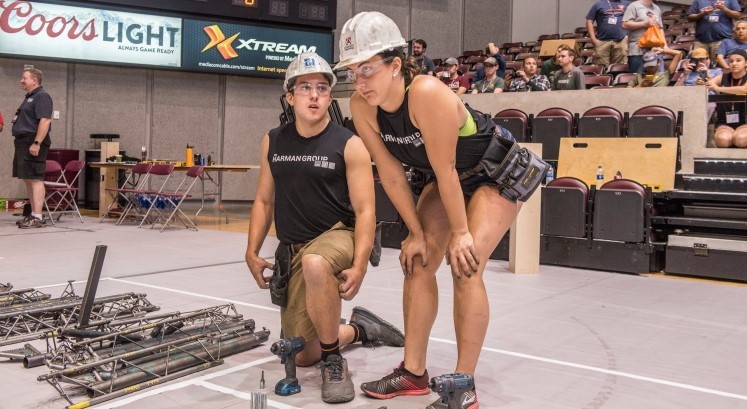 2019 SSBC National Finals. Photo Credit: Steve Buhman, New Leaf Studio
As of December 3, 2020, the 2021 Student Steel Bridge Competition - Regional Events and National Finals have been moved to a virtual, Compete from Campus competition.

2019 SSBC National Finals. Photo Credit: Steve Buhman, New Leaf Studio
Ways to Compete
1. Student Steel Bridge Competition: Compete from Your Campus
In lieu of in-person events, AISC offers a Compete from Campus option provided it is safe to do so given any restrictions put in place by a team's school. Teams that participate in a Compete from Campus Regional Event will be eligible to qualify for the National Finals which will also be in a Compete from Campus format. Wild card eligibility rules will still apply. Visit aisc.org/ssbccompetefromcampus for resources and updates as they are made available.
2. The Supplemental Competition
This year, AISC is launching a new, design-only team contest that allows for 100% virtual participation from start to finish. This Supplemental Competition provides another opportunity for teams to experience the SSBC in light of existing and potential restrictions related to the ongoing pandemic. Student teams will be asked to submit a written report and a video summarizing their design and construction sequence for the bridge. The Supplemental Competition is open to any student team that meets the normal SSBC eligibility requirements as defined by the Rules, whether or not they are competing in the main Competition. More information, including the Rules for the Supplemental Competition, can be found on our Rules and Clarifications page.

2019 SSBC National Finals. Photo Credit: Steve Buhman, New Leaf Studio
Additional Resources
Visit our team resources page for important dates and a full list of resources offered to participating teams.
Working Remotely As a Team Guide
AISC requests that all SSBC teams work together virtually during the fall term. Tasks such as team recruitment, project planning, fundraising, and bridge design can all be done remotely. To help with this, we've put together a guide for students to ease the transition to virtual teamwork. Even if students are already familiar with virtual classes, we hope the tools in this guide will help them develop strategic teamwork skills that will serve them well for the rest of their professional lives.
NCSEA Partnership
Students may have questions about how to put together a written Supplemental Competition report and how to best convey the important information about the design and construction sequence of their bridge project. That's why we've partnered with the National Council of Structural Engineers Associations (NCSEA) to pair practicing engineers with student teams to provide mentorship and guidance as teams develop their analysis reports. Visit aisc.org/ssbc-ncsea for more information.
Webinars
As with every other aspect of the SSBC, we're focused on supporting students' professional development by equipping them with tangible skills that they will use regularly in their future careers. Visit aisc.org/ssbcwebinars for our upcoming and archived webinars.
---
If you have any questions, our team is here to help.