Funding the Future and Your Impact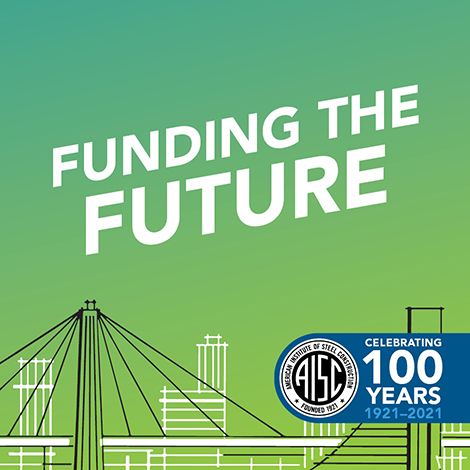 The AISC Education Foundation has proudly supported students through our growing scholarship programs for decades. More recently, the Foundation has worked to expand our impact in new ways for college-level faculty and students. You can help us bring these programs to light by joining the Funding the Future campaign.
Undergraduate Research Fellowships: This new program will fund promising undergraduate students under the direction of faculty sponsors to study structural steel design and construction topics for one term (semester or quarter). Students will be inspired to think creatively and work independently as they support their faculty sponsor in steel research.


Adopt-a-School Activities/Course Development: Faculty and fabrication companies can take their Adopt-a-School relationship one step further with additional funding for expanded activities. These activities could range from shop tours and lab material donations to the development of a full course such as a capstone project or an architecture studio focused on steel design and fabrication. This program offers endless possibilities for faculty who know how their students learn best.
Coming in 2022!
Student Travel Grants: Individual grants will be made available for students to use for travel costs to actively participate in AISC and industry events. Our activities are exciting, and what better way to engage students by letting them fully experience these events with outstanding networking and learning opportunities first-hand!


Faculty Internships: Faculty with little to no industry experience will have the opportunity for a short-term/summer internship at an engineering office, fabricator, erector, or other steel company (possibly even AISC!) to gain practical, real-world experience in their area of teaching. This experience will give faculty greater confidence in teaching steel, and their students will learn from someone with relevant practical experience.


Traveling Steel All-Stars: Students find inspiration in seeing monumental projects and meeting the visionary engineers, architects, and builders responsible. Through this program, students will meet inspirational and knowledgeable professionals and learn about real-life applications of steel design during classroom visits from AISC's designated group of 'Steel All-Stars.'