National Steel Bridge Alliance
December 2017 Newsletter
New Thermal Spray Coatings Document Now Available
S8.2 Specification for Application of Thermal Spray Coatings on Steel Bridges provides guidance on shop metallizing steel girders. The document establishes and defines the functions, operations, requirements, and activities needed to achieve a consistent quality. A collaborative effort was taken in the development of the document to ensure Owner's and Applicator's representatives have clearly defined roles and responsibilities. S8.2 is written in specification language so the document can be adopted in whole as part of the project contract documents.
To download, visit www.steelbridges.org/collaborationstandards
About the Collaboration
The AASHTO/NSBA Steel Bridge Collaboration is a joint effort between the American Association of State Highway and Transportation Officials (AASHTO) and the National Steel Bridge Alliance (NSBA) with representatives from state departments of transportation, the Federal Highway Administration, academia, and various industry groups related to steel bridge design, fabrication and inspection. The mission of the Collaboration is to provide a forum where professionals can work together to improve and achieve the quality and value of steel bridges through standardization of design, fabrication and erection.
---
Karl Frank, PE, PhD Named Emeritus Member of Transportation Research Board's AFF20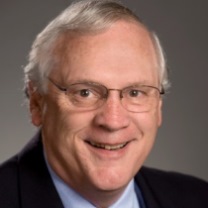 In recognition of more than 45 years of work in the steel bridge industry, TRB AFF20 names Karl Frank, PE, PhD the committee's third emeritus member. Frank joins John Fisher and John Kulicki as the only other emeritus members. AFF20 Chairman, Domenic Coletti shares his thoughts on this recognition. "Dr. Frank has a long history of service to the steel bridge industry as a professor at the University of Texas at Austin, the Chief Engineer at Hirschfeld Industries, and a consultant and contributor to the American Institute of Steel Construction (AISC) and the National Steel Bridge Alliance (NSBA), as well as 45 years of service to TRB, including over 20 years of service to AFF20."
The NSBA and the entire steel bridge industry congratulate Dr. Frank on this prestigious accomplishment.
About TRB AFF20
The Transportation Research Board (TRB) is a unit of the National Academies of Sciences, Engineering, and Medicine, a non-profit organization that provides independent, objective, and interdisciplinary solutions. TRB manages transportation research by producing publications and online resources. TRB's Standing Committee on Steel Bridges (AFF20) is specifically concerned with the total system performance and behavior of steel bridges and their components and with relating knowledge of performance to criteria and procedures for design, rating, constructability, maintainability and rehabilitation. Among other things, AFF20 meets regularly to formulate Research Needs Statements, which are made available to facilitate locally, regionally, and nationally funded research projects. AFF20 also fosters the sharing of knowledge and information via presentation of research findings at the TRB Annual Meeting and periodic TRB webinars, and through the publication of the Transportation Research Record.
---
Submissions Due - 2018 Prize Bridge Competition

The NSBA/AISC Prize Bridge Competition, a prestigious industry awards program organized by the National Steel Bridge Alliance, honors significant and innovative steel bridges constructed in the United States. All award-winning bridges must be built of domestically fabricated structural steel and located in the United States (defined as the 50 states, the District of Columbia, and all U.S. territories.) Eligible bridges must have been completed and opened to traffic between May 1, 2015 and September 30, 2017.
A panel of judges from the design and construction community will select winners based upon the following criteria: innovation, aesthetics, economics, design and engineering solutions. Quality of submitted presentations, though not a criterion, is important. Entries may be submitted in more than one category, but an entry can only receive one award.
Winners will be notified shortly after judging and we will make a public announcement of the winners in Modern Steel Construction magazine. Designers of the winning Prize Bridge entries will be presented with plaques and honored during the World Steel Bridge Symposium. Owners of the winning Prize Bridge entries will be presented with plaques and honored at the NSBA networking event during the 2018 AASHTO Subcommittee on Bridges and Structures.
Award Categories
Major span - one or more spans greater than or equal to 400 ft.

Long span - Longest span equal to or greater than 250 ft but less than 400 ft.

Medium span - Longest span equal to or greater than 140 ft. but less than 250 ft.

Short span - No single span greater than 140 ft.

Movable span

Reconstructed - Having undergone major reconstruction, rehabilitation, or widening

Special purpose - Bridge not identifiable in one of the above categories including pedestrian, pipeline, and airplane
In addition to the above categories, NSBA will also offer special commendations to projects that best exemplify Accelerated Bridge Construction or a full range of Sustainable attributes.
All entries are due by 11:59 pm, December 8, 2017.
---
AASHTO and NSBA Celebrate 20 Years of Collaboration
In November, the AASHTO-NSBA Steel Bridge Collaboration celebrated 20 years of working together toward the development of standardized technical documents based upon best practices. An article in the November Modern Steel Construction, "Collaborative Effort", commemorates the past 20 years and looks toward the future. Click below to read the article.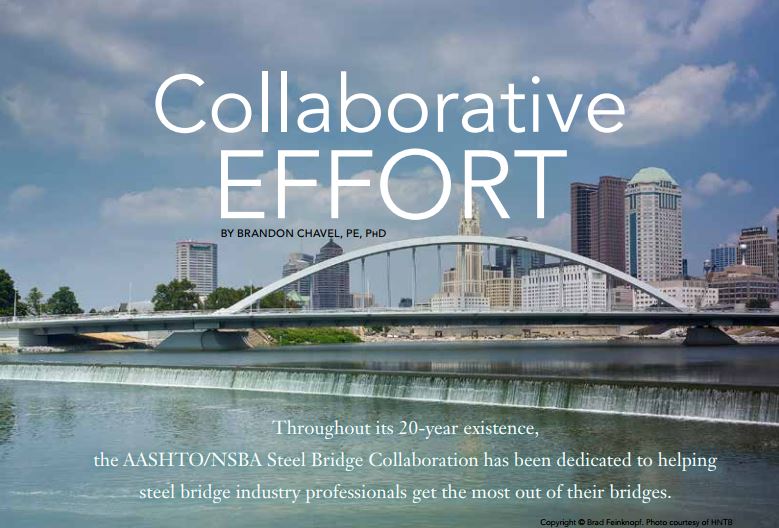 ---
Plan to attend the Steel Bridge Workshop at the 2017 Accelerated Bridge Construction Conference
On December 6, join the NSBA for a pre-conference workshop on the recent developments in steel accelerated bridge construction. The four-hour seminar will focus on the latest design tools and technology. Included, will be presentations on the advancements in assembly and erection of steel bridges, case studies on optimizing girder designs, and changes to the design of bolted splices as adopted in the AASHTO design specification.
Pre-conference registration closed November 17 but onsite registration will be available. For additional information and to register, click here.

---
NSBA Splice Updated to Version 2.02
An updated version of NSBA Splice is now available for download through the NSBA website.
Corresponding with changes made in the 8th Edition AASHTO LRFD Design Specification, the NSBA has released new guidance on bolted field splice connections. In the forthcoming Specification, the design of bolted field splices has been simplified in an effort to generate more efficient and economical bolted connections. Complementing the 8th Edition Specification, NSBA's document Bolted Field Splices for Steel Bridge Flexural Members provides a walk-through of the updated design procedure as well as three complete design examples for typical plate girders, deep plate girders, and tub girders.
Additionally, NSBA Splice has been completely retooled. The new version of Splice is presented in an easy to understand Microsoft Excel spreadsheet format allowing users with Microsoft Excel 2010 or later to access and utilize.
NSBA Splice takes the time consuming task of designing and checking a bolted splice connection and makes the process simple with a straightforward input page and easily understandable output page.. NSBA Splice can be incorporated as a design tool on plate girder bridges allowing the designer to quickly analyze various bolted splice connections to determine the most efficient bolt quantity and configuration. Splice allows the user to explore the effects of bolt spacing, bolt size, strength, and connection dimensions on the overall splice design.
Included in the download is the design spreadsheet as well as two complete examples. The examples are the inputs and solutions for Examples 1 and 2 presented in Bolted Field Splices for Steel Bridge Flexural Members
To download, visit www.steelbridges.org and click on NSBA Splice.