National Steel Bridge Alliance
April 2017 Newsletter
Registration Closes April 15: Spring AASHTO/NSBA Collaboration Meeting in Denver, CO.
The spring AASHTO/NSBA Collaboration meeting will be May 2-4, 2017 at the Crowne Plaza hotel in Denver. Registration for the meetings is open now. To register follow this link. While the meetings are free to attend please fill out the registration form so the NSBA can ensure adequate space.
Location: Crowne Plaza hotel Denver, CO.
Address:1450 Glenarm Place. Denver, CO. 80202
Rate:$178.00 plus applicable taxes
Reservations: Hotel reservations may be made online through this link.
Cut-off Date: 5pm ET April 17, 2017.
Meeting Schedule
Tuesday, May 2 (1pm to 5pm)
| | | |
| --- | --- | --- |
| Time | Meeting | Room |
| 1:00pm - 5:00pm | TG16 Orthotropic Deck Panels | Library/Museum |
| 1:00pm - 3:00pm | TG1 Detailing | Park/Office |
| 3:00pm - 5:00pm | TG15 Data Modeling for Interoperability | Park/Office |
| 5:30pm - 7:30pm | Collaboration Executive Meeting | Park/Office |
Wednesday, May 3 (8am to 5pm)
| | | |
| --- | --- | --- |
| Time | Meeting | Room |
| 8:00am - 12:00pm | TG2 Fabrication Specification | Park/Office |
| 8:00am - 10:00am | TG12 Design for Economy & Constructability | Library/Museum |
| 10:00am - 12:00pm | TG11 Steel Bridge Handbook | Library/Museum |
| 12:00pm - 1:00pm | Working Lunch (Provided) | |
| 1:00pm - 5:00pm | TG8 Coatings | Library/Museum |
| 1:00pm - 5:00pm | TG10 Erection | Park/Office |
| 6:30pm - 9:00pm | Dinner (Registration Requested) | Lime (Denver Pavilions) Walking Directions Available Here |
Thursday, May 4 (8am to 4pm)
| | | |
| --- | --- | --- |
| Time | Meeting | Room |
| 8:00am - 12:00pm | TG4 QC/QA | Park/Office |
| 8:00am - 12:00pm | TG 13 Analysis of Steel Bridges | Library/Museum |
| 12:00pm - 1:00pm | Working Lunch (Provided) | |
| 1:00pm - 4:00pm | Collaboration Main Committee | Library/Museum |

About the Collaboration
The AASHTO/NSBA Steel Bridge Collaboration is a joint effort between the American Association of State Highway and Transportation Officials (AASHTO) and the National Steel Bridge Alliance (NSBA) with representatives from state departments of transportation, the Federal Highway Administration, academia, and various industry groups related to steel bridge design, fabrication and inspection. The mission of the Collaboration is to provide a forum where professionals can work together to improve and achieve the quality and value of steel bridges through standardization of design, fabrication and erection.
---
SAVE THE DATE: NSBA Networking Event at SCOBS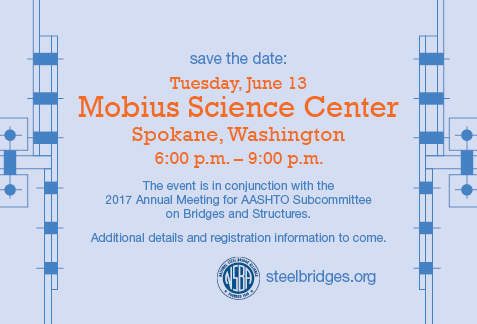 ---
Call for Papers - 2018 World Steel Bridge Symposium
The National Steel Bridge Alliance (NSBA) invites those involved in all aspects of steel bridge research, design and construction around the world to submit an abstract for consideration at our 2018 World Steel Bridge Symposium. The Symposium will take place in conjunction with NASCC: The Steel Conference on April 11-13, 2018 in Baltimore, Maryland. The Symposium has always been known for the quality of the technical program. All abstracts should be limited to 500 words or less. Each abstract will be peer-reviewed and acceptance for the Symposium will be based on content, available space, and overall program balance.
Submission
To submit an abstract, please complete the online abstract submission form by June 2, 2017 at 5:00 PM U.S. Eastern Time. Abstract results announcement will be emailed to each submitter in late June.
Please send a separate copy of any abstracts containing charts, images, or text formatting essential for the review process via email to abstracts@steelbridges.org in a pdf file; you must still complete the online submission form. Any incomplete or late submissions will not be reviewed.
Travel Support
The Symposium registration fee is waived and travel support is available for each participating Symposium speaker.
About WSBS
The World Steel Bridge Symposium brings together bridge design engineers, construction professionals, academicians, transportation officials, fabricators, erectors and constructors to discuss and learn state-of-the-art practices for enhancing steel bridge design, fabrication and construction techniques.
---
New Guidance for Bolted Field Splices and Updated NSBA Splice Available for Download
Corresponding with changes made in the 8th Edition AASHTO LRFD Design Specification, the NSBA has released new guidance on bolted field splice connections. In the forthcoming Specification the design of bolted field splices has been simplified in an effort to generate more efficient and economical bolted connections. Complementing the 8th Edition Specification, NSBA's document Bolted Field Splices for Steel Bridge Flexural Members provides a walkthrough of the updated design procedure as well as three complete design examples for typical plate girders, deep plate girders, and tub girders.
Additionally, NSBA's Splice has been completely retooled. The new version of Splice is presented in an easy to understand Microsoft Excel spreadsheet format allowing users with Microsoft Excel 2010 or later to access and utilize.
NSBA Splice takes the time consuming task of designing and checking a bolted splice connection and makes the process simple with a straightforward input page and easily understandable output page.. NSBA Splice can be incorporated as a design tool on plate girder bridges allowing the designer to quickly analyze various bolted splice connections to determine the most efficient bolt quantity and configuration. Splice allows the user to explore the effects of bolt spacing, bolt size, strength, and connection dimensions on the overall splice design.
Included in the download is the design spreadsheet as well as two complete examples. The examples are the inputs and solutions for Examples 1 and 2 presented in Bolted Field Splices for Steel Bridge Flexural Members
To download visitwww.steelbridges.org and click on NSBA Splice.
---
FIU ABC-UTC Webinar - PennDOT's Rapid Bridge Replacement Project Utilizing Folded Steel Plate Girder Bridge
The April FIU ABC-UTC webinar will focus on PennDOT's use of folded steel plate girder bridges on their P3 Rapid Bridge Replacement Project. Featured speakers Tom Macioce, P.E., Chief Bridge Engineer with PennDOT, and Charles Zugell, P.E. and Curt Beveridge of Walsh/Granite JV will lead a discussion of how the Folded Steel Plate Girder system was utilized on the Strodes Run bridge replacement. The presentation will focus on the design and construction details of this 50-foot span bridge as well as some of the lessons learned.
The webinar is free to attend and will be broadcast on Thursday, April 20 at 1:00pm ET.
For more information and to register, visit http://abc-utc.fiu.edu.
---
ASCE's 2017 Infrastructure Report Card gives Bridges a C+
The 2017 ASCE Infrastructure Report Card was released in early March and while bridges fared better than other infrastructure types, bridges failed to make noticeable improvements in the 4 years since the last infrastructure report card. In 2013 and 2017 ASCE gave bridges a C+ while overall America's infrastructure was rated a D+ both years.
The number of structurally deficient bridges has steadily declined over the years and now stands at 9.1%, but the average age of all bridges continues to increase, suggesting increasing needs as more bridges reach the end of their useable life. In 2013, the average age of America's 607,380 bridges was 42 years old. Contrast this against 2017, where the average age increased to 43 year old, even while the number of bridges increased by 7,000 to 614,387. This combination of increasing bridge age and an increasing number of bridges has pushed the backlog of bridges needs up $2 billion over the 4 year time period to $123 billion.
ASCE suggests a number of solutions to alleviate the backlog of bridges, including increasing funding across all levels of government and considering lifecycle costs to ensure that decisions are based not just on first costs but also on maintenance needs. NSBA supports both of these suggestions.