National Steel Bridge Alliance
May 2017 Newsletter
SAVE THE DATE: NSBA Networking Event at SCOBS
The National Steel Bridge Alliance (NSBA) invites you to a night of networking with your colleagues in conjunction with the 2017 Annual Meeting for AASHTO Subcommittee on Bridges and Structures. This year's event will be located at the Mobius Science Center in Spokane, WA -- just a short walk from the Davenport Grand Hotel.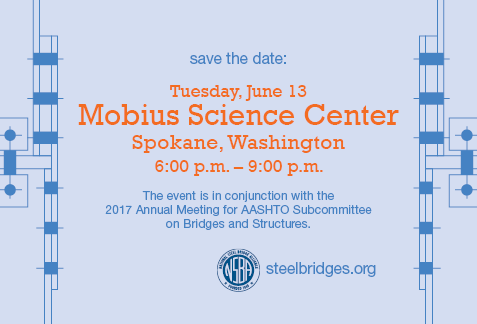 Please share this invitation with your colleagues who may be attending AASHTO SCOBS. We look forward to seeing you in Spokane!
---
Call for Papers - 2018 World Steel Bridge Symposium
The National Steel Bridge Alliance (NSBA) invites those involved in all aspects of steel bridge research, design and construction around the world to submit an abstract for consideration at our 2018 World Steel Bridge Symposium. The Symposium will take place in conjunction with NASCC: The Steel Conference on April 11-13, 2018 in Baltimore, Maryland. The Symposium has always been known for the quality of the technical program. All abstracts should be limited to 500 words or less. Each abstract will be peer-reviewed and acceptance for the Symposium will be based on content, available space, and overall program balance.
Submission
To submit an abstract, please complete the online abstract submission form by June 2, 2017 at 5:00 PM U.S. Eastern Time. Abstract results announcement will be emailed to each submitter in late June.
Please send a separate copy of any abstracts containing charts, images, or text formatting essential for the review process via email to abstracts@steelbridges.org in a pdf file; you must still complete the online submission form. Any incomplete or late submissions will not be reviewed.
Travel Support
The Symposium registration fee is waived and travel support is available for each participating Symposium speaker.
About WSBS
The World Steel Bridge Symposium brings together bridge design engineers, construction professionals, academicians, transportation officials, fabricators, erectors and constructors to discuss and learn state-of-the-art practices for enhancing steel bridge design, fabrication and construction techniques.
---
In Case You Missed It: ARTBA releases Bridge Construction Market Forecast
The March/April issue of Transportation Builder focused on the bridge construction market and its potential opportunities. ARTBA found over 41% of bridges are over 40 years old and in need of major repairs while almost one in three bridges are in need of significant repair work. This backlog creates a conservative estimate of over $288 billion in market opportunities with those opportunities spread across projects of all sizes. Almost three-fifths of the opportunities will be on projects valued at less than $1 million while on the opposite end information submitted by states show over 320 bridge projects valued at $100 million or more. Overall, ARTBA identified 86,224 bridges that need to be replaced and an additional 79,386 bridges that need major reconstruction or widening.
ARTBA identified a number of states that present the best opportunities based upon a weighted average of project needs. The states are categorized based upon the types of projects, including bridge replacements and major repairs. Opportunities are spread across the United States with a concentration of needs in the northeast and the southwest. Of course, needs cannot be met without sufficient fundings. ARTBA identifies 14 states where the share of bridge contract awards exceed 30 percent. Again, states in the northeast lead the way with New York spending the greatest share on bridge projects (57%). The majority of states view bridges as a critical need and have increased their funding levels but additional funding is necessary. ARTBA and the NSBA agree a strong federal transportation funding program is necessary to ensure bridge needs are met. Ensuring dedicated revenue sources are found at both the federal and state level is vital to the success of the industry.
To read the full article click here
---
UT Bridge Version 2.1 Released
The University of Texas has released an update to their UT Bridge software program. The updated Version 2.1 includes the ability to model points of tangency, updates in loading capabilities, modifications in the post processor, and bug fixes. All this has been done in an effort to increase the capabilities of the program and improve the user experience.
UT Bridge is a three-dimensional finite element program that is capable of modeling steel bridge systems during erection and construction. The software includes a simple-to-use pre-processor to facilitate the creation of a robust model of the bridge system during various stages of construction. The program is applicable to straight and horizontally curved steel I-girder systems. Once the basic model is created, various erection scenarios or deck placement schemes can be easily considered to evaluate the structural behavior. The user can investigate the use of shore towers, holding cranes, partial stiffening of the concrete during placement, as well as a number of other construction conditions. The program carries out either a first-order structural analysis or an eigenvalue buckling analysis to provide a measure of the behavior of the structural system throughout the construction process.

Download the updated UT Bridge
---
New Guidance for Bolted Field Splices and Updated NSBA Splice Available for Download
Corresponding with changes made in the 8th Edition AASHTO LRFD Design Specification, the NSBA has released new guidance on bolted field splice connections. In the forthcoming Specification the design of bolted field splices has been simplified in an effort to generate more efficient and economical bolted connections. Complementing the 8th Edition Specification, NSBA's document Bolted Field Splices for Steel Bridge Flexural Members provides a walkthrough of the updated design procedure as well as three complete design examples for typical plate girders, deep plate girders, and tub girders.
Additionally, NSBA's Splice has been completely retooled. The new version of Splice is presented in an easy to understand Microsoft Excel spreadsheet format allowing users with Microsoft Excel 2010 or later to access and utilize.
NSBA Splice takes the time consuming task of designing and checking a bolted splice connection and makes the process simple with a straightforward input page and easily understandable output page.. NSBA Splice can be incorporated as a design tool on plate girder bridges allowing the designer to quickly analyze various bolted splice connections to determine the most efficient bolt quantity and configuration. Splice allows the user to explore the effects of bolt spacing, bolt size, strength, and connection dimensions on the overall splice design.
Included in the download is the design spreadsheet as well as two complete examples. The examples are the inputs and solutions for Examples 1 and 2 presented in Bolted Field Splices for Steel Bridge Flexural Members
To download visit www.steelbridges.org and click on NSBA Splice.