National Steel Bridge Alliance
June 2017 Newsletter
REMINDER: Register for the NSBA Networking Event at SCOBS
The National Steel Bridge Alliance (NSBA) invites you to a night of networking with your colleagues in conjunction with the 2017 Annual Meeting for AASHTO Subcommittee on Bridges and Structures. This year's event will be located at the Mobius Science Center in Spokane, WA -- just a short walk from the Davenport Grand Hotel --and will include a special interactive exhibit where you will get to try your hand at installing a bolted splice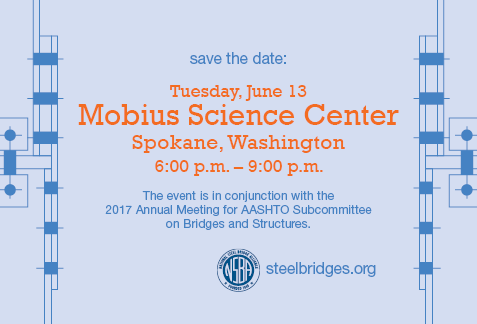 Please share this invitation with your colleagues who may be attending AASHTO SCOBS. We look forward to seeing you in Spokane!
---
Deadline Extended: Call for Papers - 2018 World Steel Bridge Symposium
This is a reminder that the National Steel Bridge Alliance (NSBA) has invited those involved in all aspects of steel bridge research, design and construction around the world to submit an abstract for consideration at our 2018 World Steel Bridge Symposium. To submit an abstract, please complete the online abstract submission form by June 9, 2017 at 5:00 PM U.S. Eastern Time. Abstract results announcement will be emailed to each submitter in late June.
For more information, please visit the NSBA "Call for Papers" webpage.
Travel Support
The Symposium registration fee is waived and travel support is available for each participating Symposium speaker.
About WSBS
The World Steel Bridge Symposium brings together bridge design engineers, construction professionals, academicians, transportation officials, fabricators, erectors and constructors to discuss and learn state-of-the-art practices for enhancing steel bridge design, fabrication and construction techniques.
---
LRFD Simon Update Expected Late 2017
LRFD Simon has a long history of serving as a key tool to assist engineers with the preliminary design and analysis of steel plate and tub girder bridges. With thousands of downloads since its relaunch, Simon has allowed engineers to realize efficiencies in the early design stages that make steel an even more appealing material choice from the start.

Many updates are being incorporated this year to improve the user experience and maintain compliance with governing codes. A number of the more profound updates are summarized below.
AASHTO LRFD 8

th

Edition Revisions. It is vital that design software stay current with the ever changing design specification. The next update to Simon will incorporate the applicable changes in the upcoming AASHTO LRFD 8

th

Edition manual.

Load time input file validation. Issues can arise when an improper value is input into Simon. This next version of Simon will alert you to any errors you might have during load-time so that they can be more quickly found and corrected.

Automatic "best design" input file creation. When running the Simon in "design" mode, the program performs a number of design trials, finally settling on a "best" design. The next version of Simon will provide the ability to create a new analysis input file from the final designed member sizes on the cross section. This will allow the user a better baseline from which to tweak the design by making additional "analysis" runs using the new analysis input file.
Look for this new version of LRFD Simon later this year. And if you have not downloaded and installed the current version, you can do so by visiting the LRFD Simon Registration and Download page.
---
AASHTO/NSBA Collaboration: TG 2 Fabrication Specification Item Ready for Ballot
An update to the S2.1 Steel Bridge Fabrication Specification, has been posted for review and ballot. It is through the Collaboration balloting process this document will becomean AASHTO/NSBA Steel Bridge Collaboration specification. As has been the process in the past, balloting will occur online. If you would like to participate, you can view both the S2.1 document and the balloting form using the link below.
This ballot will remain open until Friday, June 23, 2017. If you have any questions or comment regarding this online ballot form, please contact us at collaboration@steelbridges.org
---
NSBA Requests your Input in our LRFD Simon Survey
The National Steel Bridge Alliance is looking for your feedback on LRFD Simon so that we can improve the program and your overall experience. Your opinions are very important to us and will help shape the future of the software. If you are currently a user of LRFD Simon and would like to participate, please click on the link below to access in the survey.
The survey will take no more than 15 minutes to complete, and all responses are completely confidential. If you have any questions, please do not hesitate to contact us at nsbasimon@steelbridges.org. Please note that this survey will remain open until Friday, June 30.