National Steel Bridge Alliance
August 2017 Newsletter
Start Your Application for the 2018 Prize Bridge Competition
The Prize Bridge Competition, a prestigious industry awards program organized by the National Steel Bridge Alliance, honors significant and innovative steel bridges constructed in the United States. All award-winning bridges must be built of domestically fabricated structural steel and located in the United States (defined as the 50 states, the District of Columbia, and all U.S. territories.) Eligible bridges must have been completed and opened to traffic between May 1, 2015 and September 30, 2017.
An independent panel of judges will select winners based upon the following criteria: innovation, aesthetics, economics, design and engineering solutions. Quality of submitted presentations, though not a criterion, is important. Entries may be judged in more than one category, but an entry can only receive one award.
Winners will be notified shortly after judging and we will make a public announcement of the winners in Modern Steel Construction magazine. Designers of the winning Prize Bridge entries will be presented with plaques and honored during the World Steel Bridge Symposium. Owners of the winning Prize Bridge entries will be presented with plaques and honored at the NSBA networking event during the 2018 AASHTO Subcommittee on Bridges and Structures.
Award Categories
Major span - one or more spans greater than or equal to 400 ft.

Long span - Longest span equal to or greater than 250 ft but less than 400 ft.

Medium span - Longest span equal to or greater than 140 ft. but less than 250 ft.

Short span - No single span greater than 140 ft.

Movable span

Reconstructed - Having undergone major reconstruction, rehabilitation, or widening

Special purpose - Bridge not identifiable in one of the above categories including pedestrian, pipeline, and airplane
In addition to the above categories; NSBA will also offer special commendation to projects that best exemplify Accelerated Bridge Construction, and a full range of Sustainable attributes.
All entries are due by 11:59 pm, December 8, 2017.
---
Schedule Finalized: Register Now for the Fall Collaboration Meeting
The next AASHTO/NSBA Collaboration meeting will be in Savannah, Ga., starting October 31 and running through November 2, 2017. In addition to the usual task group meetings, the Collaboration will be joined by the AASHTO T-17 committee. T-17 has rebranded as the Fabrication of Metals Committee and will begin meeting with the Collaboration for their mid-year meeting. The schedule of meetings for the 3 days is outlined below.
Tuesday, October 31 (1:00pm to 5:00pm)
| | | |
| --- | --- | --- |
| Time | Meeting | Room |
| 1:00pm - 5:00pm | TG13 Analysis of Steel Bridges | Ballroom BC |
| 1:00pm - 5:00pm | TG16 Orthotropic Deck Panels | Ballroom DEF |
| 5:30pm - 7:30pm | Collaboration Executive Meeting | Ballroom BC |
Wednesday, November 1 (8:00am to 5:00pm)
| | | |
| --- | --- | --- |
| Time | Meeting | Room |
| 8:00am - 10:00am | TG1 Detailing | Ballroom BC |
| 10:00am - 12:00pm | TG4 QA/QC | Ballroom BC |
| 8:00am - 12:00pm | TG15 Data Modeling for Interoperability | Ballroom DEF |
| 8:00am - 10:00am | TG2 Fabrication Specification | Verelst/Percival/Vernon |
| 12:00pm - 1:00pm | Working Lunch (provided) | |
| 1:00pm - 3:00pm | TG8 Coatings | Ballroom BC |
| 1:00pm - 5:00pm | TG12 Design for Economy & Constructability | Ballroom DEF |
| 3:00pm - 5:00pm | AASHTO T-17 Fabrication | Verelst/Percival/Vernon |
| 6:00pm - 10:00pm | Dinner (Registration Requested) | TBD |
Thursday, November 2 (8:00am to 4:00pm)
| | | |
| --- | --- | --- |
| Time | Meeting | Room |
| 8:00am - 10:00am | TG11 Steel Bridge Design Handbook | Ballroom DEF |
| 8:00am - 12:00pm | TG10 Erection | Verelst/Percival/Vernon |
| 12:00pm - 1:00pm | Working Lunch (provided) | |
| 1:00pm - 4:00pm | Collaboration Main Committee | Ballroom DEF |
To register follow this link. While the meetings are free to attend please fill out the registration form so the NSBA can ensure adequate space.
Location: Hyatt Regency Savannah, Ga.

Address: 2 West Bay Street. Savannah, Ga. 31401
Rate: $115.00 plus applicable taxes
Reservations: Hotel reservations may be made online through this link.
About the Collaboration
The AASHTO/NSBA Steel Bridge Collaboration is a joint effort between the American Association of State Highway and Transportation Officials (AASHTO) and the National Steel Bridge Alliance (NSBA) with representatives from state departments of transportation, the Federal Highway Administration, academia, and various industry groups related to steel bridge design, fabrication and inspection. The mission of the Collaboration is to provide a forum where professionals can work together to improve and achieve the quality and value of steel bridges through standardization of design, fabrication and erection.
---
Steelday 2017 is September 15. Do you Know Where You'll Be?
SteelDay 2017 is the annual celebration of the structural steel industry sponsored by the American Institute of Steel Construction and hosted by its members and partners. SteelDay is the industry's largest educational and networking function, with events occurring all over the country. In 2017 events will include project site tours, tours of structural steel mills, service centers and fabrication shops as well as national webinars and special education opportunities for structural engineers and architects. SteelDay is an opportunity for you to see how the domestic structural steel industry contributes to building America.
To find a SteelDay event near you click here
For those not able to attend an event, AISC will hold a free lunchtime webinar discussing recent changes to the AISC Specification for Structural Steel Buildings, the AISC Code of Standard Practice and the new 15th Edition Steel Construction Manual. Larry Kruth, AISC's vice president of engineering and research, will be delivering this interesting and informative webinar with participants eligible for 1 PDH.
To register for the webinar click here.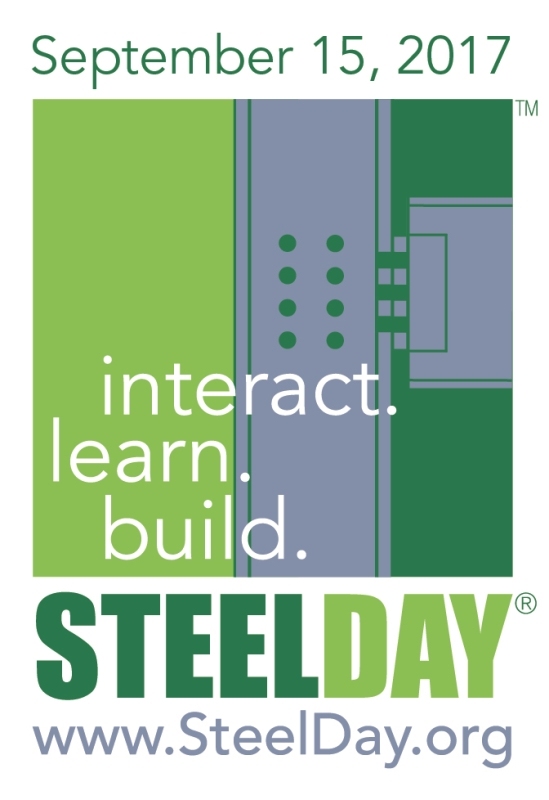 ---
NSBA Splice Updated to Version 2.02
Corresponding with changes made in the 8th Edition AASHTO LRFD Design Specification, the NSBA has released new guidance on bolted field splice connections. In the forthcoming Specification the design of bolted field splices has been simplified in an effort to generate more efficient and economical bolted connections. Complementing the 8th Edition Specification, NSBA's document Bolted Field Splices for Steel Bridge Flexural Members provides a walkthrough of the updated design procedure as well as three complete design examples for typical plate girders, deep plate girders, and tub girders.
Additionally, NSBA's Splice has been completely retooled. The new version of Splice is presented in an easy to understand Microsoft Excel spreadsheet format allowing users with Microsoft Excel 2010 or later to access and utilize.
NSBA Splice takes the time consuming task of designing and checking a bolted splice connection and makes the process simple with a straightforward input page and easily understandable output page.. NSBA Splice can be incorporated as a design tool on plate girder bridges allowing the designer to quickly analyze various bolted splice connections to determine the most efficient bolt quantity and configuration. Splice allows the user to explore the effects of bolt spacing, bolt size, strength, and connection dimensions on the overall splice design.
Included in the download is the design spreadsheet as well as two complete examples. The examples are the inputs and solutions for Examples 1 and 2 presented in Bolted Field Splices for Steel Bridge Flexural Members
To download visit www.steelbridges.org and click on NSBA Splice.
---
In Case You Missed It: "Making a Signature Connection"
The July issue of Modern Steel Construction featured the replacement of the Broadway Ave. bridge over the Arkansas River. The project, connecting the cities of Little Rock, Ark. and North Little Rock, Ark., serves as a vital commuter link while the river is a major navigable waterway. These constraints limited the bridge's closure time and forced the engineering team to find creative solutions. Two tied arch main spans, coupled with long span plate girder approaches, provided the solution needed to overcome all the construction constraints. Read the full article here to learn more about the design and construction process.
Photo: New tied arch span on the banks of the river prior to being floated into position.