National Steel Bridge Alliance
IRM Evaluator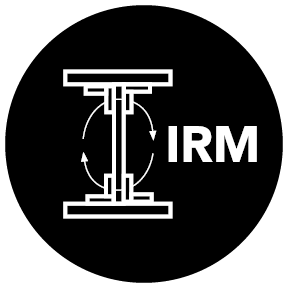 The NSBA IRM Evaluator automates much of the process for evaluating built-up axial and flexural steel members for internal redundancy. The tool follows the provisions of the AASHTO Guide Specifications for Internal Redundancy of Mechanically-Fastened Built-up Steel Members to establish internal redundancy and prescribe a special inspection interval.
The NSBA IRM Evaluator has been implemented using Microsoft Excel. The Excel file includes a macro to generate multiple evaluation sheets at one time. To enable this feature, the user will need to enable macros. Although this feature is not required for it to perform evaluations, users may find it to be a time-saver. For more information, please refer to the IRM Evaluation Implementation Guide.
Click on the download button below to open the download registration page. Registration is required so that we can notify you of future updates. Following registration, you will be able to download a zip file that includes a user manual, the IRM Evaluator spreadsheets, and two completed examples.
The current version of the NSBA IRM Evaluator (v3.01) was released in June 2023. Click here to view a complete listing of updates and fixes.