National Steel Bridge Alliance
Competition History
The art of designing and building beautiful, efficient, economical and sustainable steel bridges has been practiced for more than a century. The American Institute of Steel Construction (AISC) launched its Prize Bridge Competition in 1928 as a way to showcase the beauty of steel bridges.
In the early years, the judging groups were comprised of engineers, architects, and museum curators, reflecting the desire to choose winners purely based upon aesthetics. Over the decades the competition has evolved and now places more weight on innovation, economics, and problem-solving skills. Aesthetics still plays a role, but today's judges are selected from the engineering community.
In that first competition, there was a single category with one prize. First place was awarded to the Sixth Street Bridge in Pittsburgh, Penn. The bridge embodied innovation in the steel bridge industry at the time. The bridge was one of the first self-anchoring suspension bridges and utilized solid steel eye-bars for both the main suspension cables and the vertical support for the bridge deck. More than 90 years old, the Sixth Street Bridge—renamed the Roberto Clemente Bridge in 1998 after hall of fame Pittsburgh Pirates outfielder Roberto Clemente—has come to define a city and its history.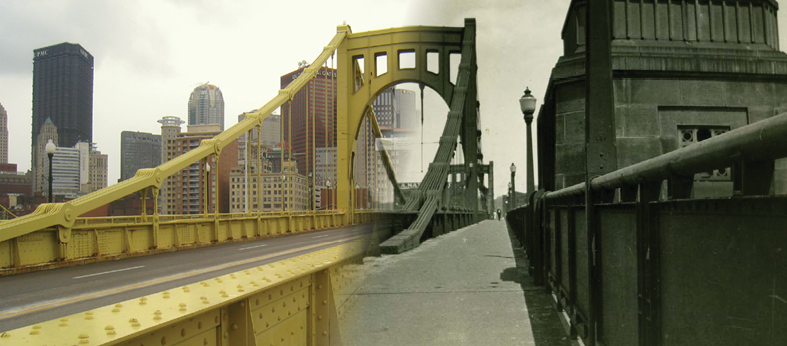 Since the Sixth Street Bridge won the first competition, more than 300 bridges have won first place in a variety of categories, and at least an equivalent number of bridges has received a merit or honorable mention award for finishing as runner up. Overall, this competition has recognized more than 600 bridges of all sizes from all across the United States.
Many competition bridges have outlasted the companies for which they were built. For example, a railroad viaduct constructed for the Wabash Railroad, winner of the 1941 Class C category, still carries rail traffic in Wayne County, Michigan. The Wabash railroad merged with the Norfolk and Western Railway in 1964, which then became the Norfolk Southern Railroad in 1982. The Wabash railroad signage might not exist but the bridge still performs its duties just as well as it did when originally constructed over 70 years ago.
Today's competition recognizes bridges on a biennial basis, with winners receiving recognition during the North American Steel Construction Conference/World Steel Bridge Symposium. Keeping with tradition, bridges are eligible for the competition based on the date they first opened to traffic.
Below is a complete listing of AISC/NSBA publications highlighting each year's winners of the Prize Bridge competition.