150 N. Riverside Chicago Skyscraper Wins National Steel Design Award
July 2, 2018
(Chicago, IL) – The 150 N. Riverside office tower in Chicago has earned national recognition in the 2018 Innovative Design in Engineering and Architecture with Structural Steel awards program (IDEAS2). In honor of this achievement, members of the project team will be presented with awards from the American Institute of Steel Construction (AISC) during a ceremony to take place at the building on Monday, July 9, at 5 p.m. CT.
"You are not going to see a tour de force like this project often," commented Brian Falconer, SE, PE, a principal with Severud Associates Consulting Engineers, P.C., New York, and the engineer juror in the competition.
The 54-story, 1.25-million-sq.-ft, Class A office tower has captured national attention, thanks to its elevated perch at the edge of the Chicago River, its span across seven active Amtrak lines and its construction of the largest steel sections in the world. And, most obviously, its shape is unlike anything the city has seen in one of its skyscrapers. The building features a very narrow structure at its base and a compact footprint that gradually extends diagonally to highly efficient, column-free floors above.

The building used 65- and 70-ksi high-strength steel, strategically located to provide the most economical steel frame. The 65-ksi steel was used to eliminate standard pre-heat requirements for columns with shop welded moment connections, and the project boasts the first use of 70-ksi rolled steel sections in the U.S.
The project's team members include:
Owner: Riverside Investment and Development, Chicago
Structural Engineer: Magnusson Klemencic Associates, Inc., Seattle
Architect: Goettsch Partners, Chicago
General Contractor: Clark Construction, Chicago
Steel Fabricator: Zalk Josephs Fabricators, LLC, Stoughton, Wis. (AISC member/AISC certified)
Steel Erector: Chicago Steel Construction, LLC, Merrillville, Ind. (AISC member/AISC certified)
Steel Detailer: Ken Boitz and Associates, Inc., Bloomingdale, Ill. (AISC member)
The 12 IDEAS2 winners for 2018 were chosen from nearly 100 submissions received from architectural and engineering and other project team member firms throughout the U.S. Each submission is reviewed and award winners are selected by a nationally recognized panel of design and construction industry professionals.
The IDEAS2 award is the highest honor bestowed on building projects by the U.S. structural steel industry. And about this year's winning skyscraper, Charlie Carter, SE, PE, PhD, president of AISC, said, "This building is a monument to the skills and savvy of the engineers and steel fabricator who used the capabilities of steel to make an impossible site possible."
Members of the media may request high-resolution images of the project by contacting AISC's Tasha O'Berski at 312.670.5439 or oberski@aisc.org. For more information about the IDEAS2 awards and to enter the 2019 competition, please visit www.aisc.org/ideas2.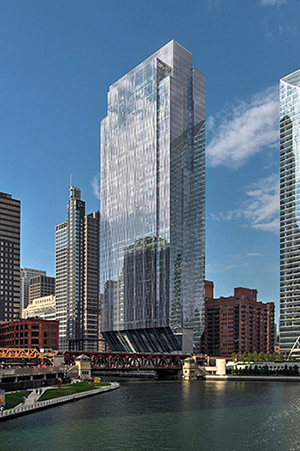 (Photo: MKA, Michael Dickter)
###
For more information contact:
Dani Friedland
Marketing Communications Strategist
312.670.5439
friedland@aisc.org
American Institute of Steel Construction
The American Institute of Steel Construction, headquartered in Chicago, is a non-partisan, not-for-profit technical institute and trade association established in 1921 to serve the structural steel design community and construction industry. AISC's mission is to make structural steel the material of choice by being the leader in structural steel-related technical and market-building activities, including: specification and code development, research, education, technical assistance, quality certification, standardization, market development, and advocacy. AISC has a long tradition of service to the steel construction industry of providing timely and reliable information.

130 E. Randolph St, Suite 2000
Chicago IL 60601
312.670.2401
www.aisc.org