Matt Shergalis Promoted to NSBA Northeast Regional Director
July 13, 2017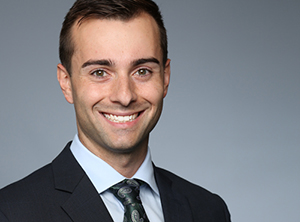 (Chicago, IL) - Matt Shergalis, PE, has been promoted to northeast regional director for the National Steel Bridge Alliance (NSBA). He replaces Bill McEleney, who recently retired from NSBA/AISC after 30 years of service. For the last four years, McEleney also served as NSBA's managing director, helping guide the organization prior to the appointment of Danielle Kleinhans, PhD, PE.
Shergalis has served NSBA for the past three years as its marketing manager. He now assumes responsibilities for the northeast territory, which include fostering relationships between the steel industry and the design community, promoting the use of steel in bridge construction and providing technical assistance to engineers in efforts to ensure efficient and economical steel bridge construction.
"I am excited about these changes," said Kleinhans, "and confident in Matt's ability to continue Bill's efforts with the stakeholders in the Northeast to ensure that steel remains the material of choice in this region with such a rich steel bridge history."
Prior to joining NSBA, Shergalis worked as a structural staff engineer for TLF Engineers, Inc., in Indianapolis, where he was responsible for the design of various projects including an office building expansion, a university athletic facility expansion and renovation and customized platform systems for commercial applications. He also recently received his MBA from Butler University in Indianapolis. He holds a bachelor's degree in civil engineering from Trine University in Angola, Ind.
With Shergalis' appointment, NSBA representatives' regions have shifted slightly. To find your regional director, visit www.steelbridges.org.
###
For more information contact:
Dani Friedland
Marketing Communications Strategist
312.670.5439
friedland@aisc.org
American Institute of Steel Construction
The American Institute of Steel Construction, headquartered in Chicago, is a non-partisan, not-for-profit technical institute and trade association established in 1921 to serve the structural steel design community and construction industry. AISC's mission is to make structural steel the material of choice by being the leader in structural steel-related technical and market-building activities, including: specification and code development, research, education, technical assistance, quality certification, standardization, market development, and advocacy. AISC has a long tradition of service to the steel construction industry of providing timely and reliable information.

130 E. Randolph St, Suite 2000
Chicago IL 60601
312.670.2401
www.aisc.org