NYC's 4 World Trade Center Wins National Steel Building Design Award
August 23, 2017
(Chicago, IL) – Four World Trade Center in New York City has earned national recognition in the 2017 Innovative Design in Engineering and Architecture with Structural Steel awards program (IDEAS2). In honor of this achievement, members of the project team will be presented with awards from the American Institute of Steel Construction (AISC) during a ceremony to take place at the tower on Wednesday, August 30, at 4 p.m.
"This project has a complex structural system that is elegantly concealed," commented Chris-Annemarie Spencer, project architect at Wheeler Kearns Architects, and the architect juror in the competition.
This 72-story, 2.3 million-sq.-ft office skyscraper serves as a beacon for businesses returning to downtown Manhattan; 250,000 daily commuters pass through the lower levels on their way to one of 13 subway or commuter rail lines that surround the tower. More importantly, the structure pays respect to the tragic history of the grounds commemorated by the National September 11 Memorial. More than a decade after the devastating attacks of September 11, 2001, it became the first tower to open on the original 16-acre World Trade Center site.
The project's team members include:
Owner: Silverstein Properties, New York
Architects: Maki & Associates, Tokyo; Adamson Associates, New York
Structural Engineer: Leslie E. Robertson Associates, New York
General Contractor: Tishman Construction Corp., New York
Steel Fabricators: MRP, LLC, South Plainfield, N.J. (AISC member / AISC certified); Banker Steel Co., LLC, Lynchburg, Va. (AISC member / AISC certified); Littell Steel Co., New Brighton, Penn. (AISC member / AISC certified); Metro Iron Corp., Amityville, N.Y. (AISC member)
Steel Detailer: Automated Steel Detailing Associates, Ltd., Toronto (AISC member)
The 13 IDEAS2 winners for 2017 were chosen from nearly 100 submissions received from architectural and engineering and other project team member firms throughout the U.S. Each submission is reviewed and award winners are selected by a nationally recognized panel of design and construction industry professionals.
The IDEAS2 award dates back more than 50 years with AISC. And about this year's winning office tower, Charlie Carter, SE, PE, PhD, president of AISC, said, "I hope the designers and builders know that this beautiful building is itself a monument to those we lost and those who helped on that terrible day. It's a testament to our nation, what we can do, and what we can overcome."
Members of the media may request high-resolution images of the project by contacting AISC's Tasha O'Berski at 312.670.5439 or oberski@aisc.org. For more information about the IDEAS2 awards and to view all of this year's winners, please visit www.aisc.org/ideas2. Entries for the 2018 competition are due by October 6, 2017.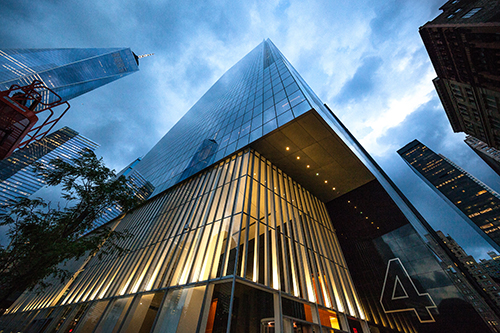 Photo by Fadi Asmar
###
For more information contact:
Dani Friedland
Marketing Communications Strategist
312.670.5439
friedland@aisc.org
American Institute of Steel Construction
The American Institute of Steel Construction, headquartered in Chicago, is a non-partisan, not-for-profit technical institute and trade association established in 1921 to serve the structural steel design community and construction industry. AISC's mission is to make structural steel the material of choice by being the leader in structural steel-related technical and market-building activities, including: specification and code development, research, education, technical assistance, quality certification, standardization, market development, and advocacy. AISC has a long tradition of service to the steel construction industry of providing timely and reliable information.

130 E. Randolph St, Suite 2000
Chicago IL 60601
312.670.2401
www.aisc.org