Pterodactyl Office in Culver City, Calif., Wins National Steel Design Award
August 9, 2017
(Chicago, IL) – The Pterodactyl Office in Culver City, Calif., has earned national recognition in the 2017 Innovative Design in Engineering and Architecture with Structural Steel awards program (IDEAS2). In honor of this achievement, members of the project team will be presented with awards from the American Institute of Steel Construction (AISC) during a ceremony to take place at the building on Monday, August 14, at 5 p.m.
"Pterodactyl appears almost as a living creature," commented Ben Varela, SE, PE, founding principal at WORKPOINT engineering, and the structural engineer juror in the competition. "The design overcame the inherent limitations of supporting the new building over the existing parking structure layout."
This angular office building was constructed right on top— and hanging over the side—of an existing four-story steel-framed parking garage. And a number of the existing columns are cantilevered beyond the top of the parking structure to provide support for the mezzanine and roof superstructure. Structurally, the building is made up of a series of nine rotated "boxes" that provide just enough space at the corners and at their intersections to efficiently house the elements of the structure.
The project's team members include:
Owner: Frederick and Laurie Samitaur Smith, Culver City, Calif.
Architect: Eric Owen Moss Architects, Culver City, Calif.
Structural Engineer: Nast Enterprises Corp., Los Angeles (entered the project in the competition)
General Contractor: Samitaur Constructs, Culver City, Calif.
The 13 IDEAS2 winners for 2017 were chosen from nearly 100 submissions received from architectural and engineering and other project team member firms throughout the U.S. Each submission is reviewed and award winners are selected by a nationally recognized panel of design and construction industry professionals.
The IDEAS2 award dates back more than 50 years with AISC. And about this year's winning office building, Charlie Carter, SE, PE, PhD, president of AISC, said, "It would be hard to imagine a better demonstration of how steel as a material, imaginative architectural and structural design, and construction skill can come together to create a unique opportunity. This project is further proof that there's always a solution in steel!"
Members of the media may request high-resolution images of the project by contacting AISC's Tasha Weiss at 312.670.5439 or weiss@aisc.org. For more information about the IDEAS2 awards and to view all of this year's winners, please visit www.aisc.org/ideas2. Entries for the 2018 competition are due by October 6, 2017.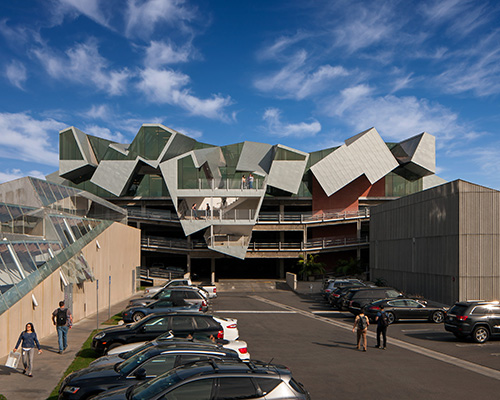 Photo by Tom Bonner
###
For more information contact:
Dani Friedland
Marketing Communications Strategist
312.670.5439
friedland@aisc.org
American Institute of Steel Construction
The American Institute of Steel Construction, headquartered in Chicago, is a non-partisan, not-for-profit technical institute and trade association established in 1921 to serve the structural steel design community and construction industry. AISC's mission is to make structural steel the material of choice by being the leader in structural steel-related technical and market-building activities, including: specification and code development, research, education, technical assistance, quality certification, standardization, market development, and advocacy. AISC has a long tradition of service to the steel construction industry of providing timely and reliable information.

130 E. Randolph St, Suite 2000
Chicago IL 60601
312.670.2401
www.aisc.org