Southwest University Park in El Paso, Texas, Wins Steel Design Award
August 11, 2017
(Chicago, IL) – Southwest University Park baseball stadium in El Paso, Texas,has earned national recognition in the 2017 Innovative Design in Engineering and Architecture with Structural Steel awards program (IDEAS2). In honor of this achievement, members of the project team will be presented with awards from the American Institute of Steel Construction (AISC) during a ceremony to take place at the ballpark on Tuesday, August 15, before the first pitch of the game at 7:05 p.m.
"This ballpark takes me back in time. I really like the way it mixed the old style with new steel and technology," commented Sam Boykin, vice president at SteelFab, Inc., Atlanta (an AISC member and certified fabricator), and the steel fabricator juror in the competition.
Inspired by early 20th century ballpark design and architect Daniel Burnham's nearby El Paso Union Depot, located just a few blocks away, the project turned to structural steel to accommodate the associated design requirements, tight site and required delivery speed. The ballpark is located in downtown El Paso, immediately adjacent to active Union Pacific Railroad tracks. In fact, portions of the 7,500- seat stadium cantilever over the tracks, which are located 22 ft below field level.
The project's team members include:
Owners: Mountain Star Sports Group, El Paso, Texas; City of El Paso, Engineering and Construction Management, El Paso, Texas
Owner's Representative: International Facilities Group, LLC, Chicago
General Contractor: Jordan-Hunt, A Texas Joint Venture, El Paso, Texas
Architects: Populous, Kansas City, Mo.; MNK Architects, El Paso, Texas
Structural Engineers: Walter P Moore, Austin; Robert Navarro & Associates Engineering, Inc., El Paso, Texas
Steel Fabricator and Detailer: W&W | AFCO Steel, Oklahoma City (AISC member / AISC certified)
Steel Erector: Derr & Isbell Construction, Euless, Texas (AISC member / AISC certified)
Bender-Roller: Max Weiss Co., Milwaukee, Wis. (AISC member)
The 13 IDEAS2 winners for 2017 were chosen from nearly 100 submissions received from architectural and engineering and other project team member firms throughout the U.S. Each submission is reviewed and award winners are selected by a nationally recognized panel of design and construction industry professionals.
The IDEAS2 award dates back more than 50 years with AISC. And about this year's winning ballpark, Charlie Carter, SE, PE, PhD, president of AISC, said, "The design and construction teams swung big with steel and the result is a grand slam. This ballpark makes the game more for all who play and watch in it."
Members of the media may request high-resolution images of the project by contacting AISC's Tasha O'Berski at 312.670.5439 or oberski@aisc.org. For more information about the IDEAS2 awards and to view all of this year's winners, please visit www.aisc.org/ideas2. Entries for the 2018 competition are due by October 6, 2017.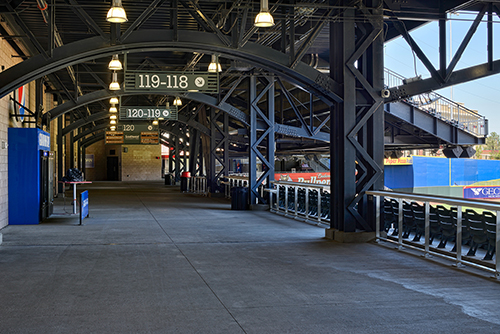 Photo by Brian Wancho
###
For more information contact:
Dani Friedland
Marketing Communications Strategist
312.670.5439
friedland@aisc.org
American Institute of Steel Construction
The American Institute of Steel Construction, headquartered in Chicago, is a non-partisan, not-for-profit technical institute and trade association established in 1921 to serve the structural steel design community and construction industry. AISC's mission is to make structural steel the material of choice by being the leader in structural steel-related technical and market-building activities, including: specification and code development, research, education, technical assistance, quality certification, standardization, market development, and advocacy. AISC has a long tradition of service to the steel construction industry of providing timely and reliable information.

130 E. Randolph St, Suite 2000
Chicago IL 60601
312.670.2401
www.aisc.org