Terminal East Infill at Austin-Bergstrom International Airport Wins Steel Design Award
June 7, 2017
(Chicago, IL) – The Terminal East Infill at Austin-Bergstrom International Airport in Austin, Texas, has earned national recognition in the 2017 Innovative Design in Engineering and Architecture with Structural Steel awards program (IDEAS2). In honor of this achievement, members of the project team will be presented with awards from the American Institute of Steel Construction (AISC) during a ceremony to take place at the terminal on Tuesday, June 13, at 10 a.m.
"The project is remarkable due to its consistent and repetitive members," commented Ben Varela, SE, PE, founding principal at WORKPOINT engineering, and structural engineer juror in the competition. "Façade mullions performed double duty, also supporting the roof box plate girders."
The ceiling of the hall is articulated with a fully expressed structure of slender steel beams organized along a central longitudinal spine and radiating outward in response to the oval shape of the room. The beams are deeper in the center, reaching more than 7 ft in height, and taper toward the edges creating a graceful belly at mid-span of the hall. At the building perimeter, the beams merge with columns, extending down the facade as slender blades that double as important sunshades.

The project's team members include:
Owner: Austin-Bergstrom International Airport, Austin, Texas; City of Austin
Structural Engineer: Architectural Engineers Collaborative, Austin, Texas (entered the project in the competition)
Architect: Page/, Austin, Texas
Design-Builder: Hensel Phelps, Austin, Texas
Fabricator: Hirschfeld Industries, San Angelo, Texas (AISC member / AISC certified)
Detailer: Consteel, Saltburn-by-the-Sea, U.K. (AISC member)
Erector: Patriot Erectors, Dripping Springs, Texas (AISC member / AISC certified)
The 13 IDEAS2 winners for 2017 were chosen from nearly 100 submissions received from architectural and engineering and other project team member firms throughout the U.S. Each submission is reviewed and award winners are selected by a nationally recognized panel of design and construction industry professionals.
The IDEAS2 award dates back more than 50 years with AISC. And about this year's winning airport terminal expansion, Charlie Carter, SE, PE, PhD, president of AISC, said, "The design and construction teams are to be congratulated. It's an artistic, precise and cost-effective solution that's quite beautiful. An airport terminal that soars with the amazing grace of steel."
Members of the media may request high-resolution images of the project by contacting AISC's Tasha Weiss at 312.670.5439 or weiss@aisc.org. For more information about the IDEAS2 awards and to view all of this year's winners, please visit www.aisc.org/ideas2.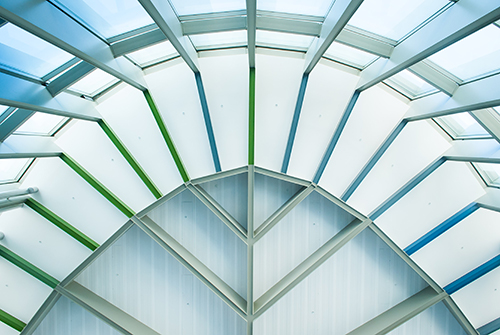 Photo by Architectural Engineers Collaborative
###
For more information contact:
Dani Friedland
Marketing Communications Strategist
312.670.5439
friedland@aisc.org
American Institute of Steel Construction
The American Institute of Steel Construction, headquartered in Chicago, is a non-partisan, not-for-profit technical institute and trade association established in 1921 to serve the structural steel design community and construction industry. AISC's mission is to make structural steel the material of choice by being the leader in structural steel-related technical and market-building activities, including: specification and code development, research, education, technical assistance, quality certification, standardization, market development, and advocacy. AISC has a long tradition of service to the steel construction industry of providing timely and reliable information.

130 E. Randolph St, Suite 2000
Chicago IL 60601
312.670.2401
www.aisc.org