University of Cincinnati's Nippert Stadium West Pavilion Wins Steel Design Award
September 19, 2017
(Chicago, IL) – The West Pavilion at the University of Cincinnati's Nippert Stadium has earned national recognition in the 2017 Innovative Design in Engineering and Architecture with Structural Steel awards program (IDEAS2). In honor of this achievement, members of the project team will be presented with awards from the American Institute of Steel Construction (AISC) during a ceremony to take place at the pavilion on Friday, September 22, at 1 p.m.
"This is a beautifully executed project," commented Ben Varela, SE, PE, founding principal at WORKPOINT engineering, and the structural engineer juror in the competition. "The designers used the limitations of the existing construction to their advantage, creating a very neat and elegant structure."
The West Pavilion is the signature element of Nippert Stadium's recent renovation. The 115,000-sq.-ft, 130-yard-long pavilion wraps the upper west edge of the seating bowl and towers more than 120 ft above the field below. Its dynamic form defines the stadium edge, and a curtain wall with large glass panels facilitates views through and from the structure, showcasing the efficient X-braced structural steel frame that helps to establish the building's identity.
The project's team members include:
Owner: University of Cincinnati, Cincinnati
Architect: Heery Design, Atlanta
Structural Engineer: THP Limited Inc., Cincinnati (entering firm)
General Contractor: Turner Construction Co., Cincinnati
Steel Fabricator: Cives Steel Co. – Mid-West Division, Wolcott, Ind. (AISC member / AISC certified)
Steel Erector: Ben Hur Construction, Fairfield, Ohio (AISC member / AISC certified)
The 13 IDEAS2 winners for 2017 were chosen from nearly 100 submissions received from architectural and engineering and other project team member firms throughout the U.S. Each submission is reviewed and award winners are selected by a nationally recognized panel of design and construction industry professionals.
The IDEAS2 award dates back more than 50 years with AISC. And about this year's winning pavilion, Charlie Carter, SE, PE, PhD, president of AISC, said, "I love the way this design picks up on the hilly nature of the Cincinnati campus. The designers accentuate the way the stadium sits into the valley, building upon the many levels that define the campus -- all while maintaining the ease of walking right into the venue from the plaza surrounding it. These features are pulled off masterfully by the constructors using the only material that could make it possible: steel!"
Members of the media may request high-resolution images of the project by contacting AISC's Tasha O'Berski at 312.670.5439 or oberski@aisc.org. For more information about the IDEAS2 awards and to view all of this year's winners, please visit www.aisc.org/ideas2. Entries for the 2018 competition are due by October 13, 2017.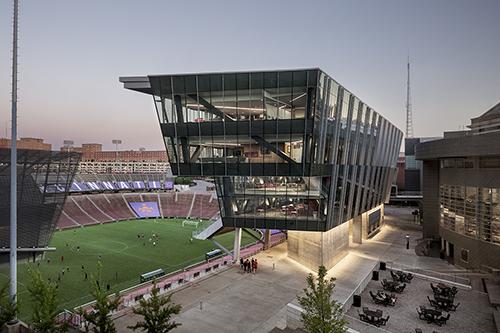 Photo by Jeremy Bittermann Photography
###
For more information contact:
Dani Friedland
Marketing Communications Strategist
312.670.5439
friedland@aisc.org
American Institute of Steel Construction
The American Institute of Steel Construction, headquartered in Chicago, is a non-partisan, not-for-profit technical institute and trade association established in 1921 to serve the structural steel design community and construction industry. AISC's mission is to make structural steel the material of choice by being the leader in structural steel-related technical and market-building activities, including: specification and code development, research, education, technical assistance, quality certification, standardization, market development, and advocacy. AISC has a long tradition of service to the steel construction industry of providing timely and reliable information.

130 E. Randolph St, Suite 2000
Chicago IL 60601
312.670.2401
www.aisc.org