Vertical House in Dallas Wins National Steel Building Design Award
October 11, 2016
(Chicago, IL) – A five-story residence in Dallas has earned national recognition in the 2016 Innovative Design in Engineering and Architecture with Structural Steel awards program (IDEAS2). In honor of this achievement, members of the project team will be presented with awards from the American Institute of Steel Construction (AISC) on Thursday, October 13.
Located on one of the highest sites in the city, the vertical volume of the five-story house rises 58 ft above the surrounding landscape and is rotated from the adjacent neighborhood grid to capture views of the downtown skyline.
"I want to live there!" commented Paula Pritchard, a partner, construction manager and vice president of San Francisco's Plant Construction Co., and the general contractor juror in the competition.
The project was entered in the competition by its Austin-based design team of architect, Miro Rivera Architects, and structural engineer, Datum Engineers.
The compact footprint of the project is sectionally integrated into the site via a carved spiraling entry drive that allows for an almost subterranean experience, while the verticality of the two exterior screen walls accents the home's slenderness and height. This curvilinear geometry emanates from the master suite and extends out into the landscape. Visitors to the house arrive at natural grade and then cross over the excavated area via an internally stabilized architecturally exposed structural steel (AESS) footbridge to the front entry.
The 10 IDEAS2 winners for 2016 were chosen from nearly 100 submissions received from architectural and engineering and other project team member firms throughout the U.S. Each submission is reviewed and award winners are selected by a nationally recognized panel of design and construction industry professionals.
The IDEAS2 award dates back more than 50 years with AISC. And about this year's winning residence, Roger E. Ferch, PE, president of AISC, said, "The entire Vertical House project team has shown how structural steel can be used to create structures that combine beauty and practicality. The result is a structure that will serve its residents extremely well, while providing an example of what can be achieved when designing and constructing projects with steel."
Members of the media may request high-resolution images of the project by contacting AISC's Tasha Weiss at 312.670.5439, weiss@aisc.org. For more information about the IDEAS2 awards and to view all of this year's winners, please visit www.aisc.org/ideas2.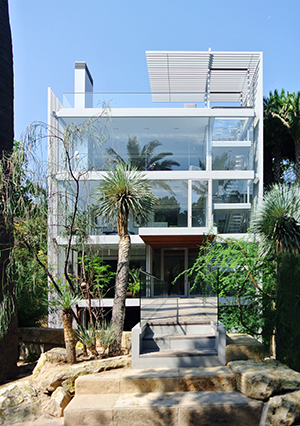 Photo by Juan Miró
###
For more information contact:
Dani Friedland
Marketing Communications Strategist
312.670.5439
friedland@aisc.org
American Institute of Steel Construction
The American Institute of Steel Construction, headquartered in Chicago, is a non-partisan, not-for-profit technical institute and trade association established in 1921 to serve the structural steel design community and construction industry. AISC's mission is to make structural steel the material of choice by being the leader in structural steel-related technical and market-building activities, including: specification and code development, research, education, technical assistance, quality certification, standardization, market development, and advocacy. AISC has a long tradition of service to the steel construction industry of providing timely and reliable information.

130 E. Randolph St, Suite 2000
Chicago IL 60601
312.670.2401
www.aisc.org