Weber County Library Headquarters Branch in Roy, Utah, Wins Steel Design Award
May 31, 2017
(Chicago, IL) – The Weber County Library Headquarters Branch in Roy, Utah, has earned national recognition in the 2017 Innovative Design in Engineering and Architecture with Structural Steel awards program (IDEAS2). In honor of this achievement, members of the project team will be presented with awards from the American Institute of Steel Construction (AISC) during a ceremony to take place at the building on Tuesday, June 6, at 3:30 p.m.
"An elegant steel structure creating an open and bright environment in a cold-weather climate," commented David G. Allen, space and facilities manager with the United States District Court for the Southern District of California, and the owner juror in the competition.
The nearly 75,000-sq.-ft facility was built to serve as the new library headquarters for the county. The building incorporates a 143-ft "light bar" that begins in the main entrance and continues east through the building. It consists of a raised section of roof, designed with a Vierendeel truss system, which cantilevers beyond the east face of the building. The truss structure was infused with glass panels to provide natural light throughout the art gallery and east lobby. One of the library's central features is a sculptural stair, designed with a folded steel plate tread that extends beyond the centrally placed stringers and overlooks the reading room with a two-story glass wall.

The project's team members include:
Owner: Weber County, Ogden, Utah
Owner's Representative: Weber County Library System, Roy, Utah
Structural Engineer: ARW Engineers, Ogden, Utah (entered the project in the competition)
Architect: Prescott Muir Architects, Salt Lake City
General Contractor: R&O Construction, Ogden, Utah
The 13 IDEAS2 winners for 2017 were chosen from nearly 100 submissions received from architectural and engineering and other project team member firms throughout the U.S. Each submission is reviewed and award winners are selected by a nationally recognized panel of design and construction industry professionals.
"This building is a symphony of steel that holds its own with the works of art it houses," said Charlie Carter, AISC's president. "What a remarkable composition it makes for the people who will enjoy reading there. It feels like the perfect place, familiar for the paper book devotee and yet equally inviting for the e-reading or audiophilic bibliophile."
Members of the media may request high-resolution images of the project by contacting AISC's Tasha Weiss at 312.670.5439 or weiss@aisc.org. For more information about the IDEAS2 awards and to view all of this year's winners, please visit www.aisc.org/ideas2.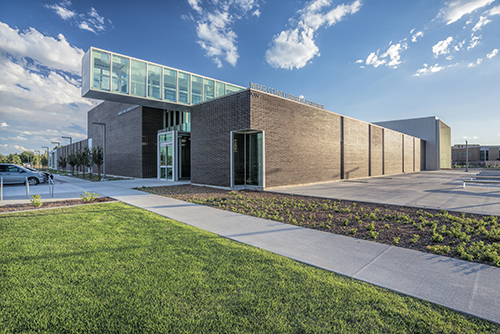 Photo by Scott Peterson Studio
###
For more information contact:
Dani Friedland
Marketing Communications Strategist
312.670.5439
friedland@aisc.org
American Institute of Steel Construction
The American Institute of Steel Construction, headquartered in Chicago, is a non-partisan, not-for-profit technical institute and trade association established in 1921 to serve the structural steel design community and construction industry. AISC's mission is to make structural steel the material of choice by being the leader in structural steel-related technical and market-building activities, including: specification and code development, research, education, technical assistance, quality certification, standardization, market development, and advocacy. AISC has a long tradition of service to the steel construction industry of providing timely and reliable information.

130 E. Randolph St, Suite 2000
Chicago IL 60601
312.670.2401
www.aisc.org