Selected ASTM Standards for Structural Steel Fabrication including Structural Stainless Steel (2022)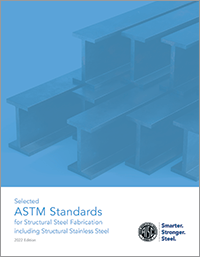 Format: Softcover
Category: ASTM
Selected ASTM Standards for Structural Steel Fabrication including Structural Stainless Steel (2022)
Member

$350.00

Non-member

$700.00
AISC produces Selected ASTM Standards for Structural Steel Fabrication including Structural Stainless Steel in cooperation with ASTM as a convenient resource for common ASTM standards referenced in the design, fabrication and erection of structural steel and stainless steel.
AISC updates the publication approximately every three years, depending on the volume of changes to common ASTM standards and the introduction of new ones. The most current edition is the 2022 version.
ASTM no longer produces custom CD-ROMs so this publication is not available in electronic format.
Publication Date: November 2, 2021