Steel Construction Manual, 14th Ed. (Print)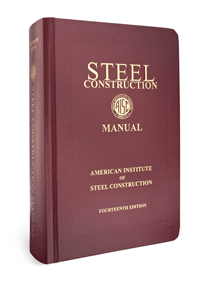 Format: Hardcover
Category: Manuals
Steel Construction Manual, 14th Ed. (Print)
Member

$200.00

Non-member

$400.00
New Edition Available!

The 15th Edition Steel Construction Manual is available.
This Manual is the 14th major update of the AISC Steel Construction Manual, which was first published in 1927. The 14th edition, released in 2011, contains several updates and revisions from the 13th edtion, including the new HP18 and HP16 series, updated connection tables based on increased bolt shear strength values, revised single-plate and extended single-plate connection design procedures, enhanced prying action procedure, and a revised bracket plate design procedure. The most current printing of this publication is the fourth printing.
The following specifications, codes and standards are printed in Part 16 of this Manual:
2010 Specification for Structural Steel Buildings, including the new Chapter N on QC and QA, expanded composite design provisions, and improved slip-critical connection provisions
2009 RCSC Specification for Structural Joints Using High-Strength Bolts
2010 Code of Standard Practice for Steel Buildings and Bridges
Publication Date: 2011