Steel Construction Manual, 15th Ed. (Digital Subscription)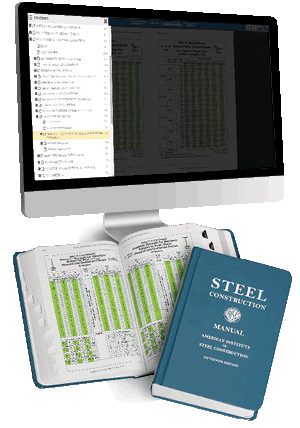 Format: Other
Category: Manuals
Steel Construction Manual, 15th Ed. (Digital Subscription)
Member

$135.00

Non-member

$270.00
The 15th Edition Steel Construction Manual, first released in 2017, is the most current edition.
The digital 15th Edition is an online subscription-based product that provides on-the-go access to the information in the Manual including the most recent revisions. This is a web-based product that exactly reproduces the print product so it can be accessed anywhere with an internet connection.

---
This is not a PDF-based product. The digital manual cannot be downloaded, used off-line, or printed.
---
Features include:
Access with your AISC username and password from anywhere with an internet connection
Completely web-based using HTML 5 -- no plug-ins or software to install
Embedded hyperlinks for references
Detailed table of contents
Fully text searchable
Reproduces the print edition exactly:

Tables appear in aligned, two-page spreads
Equations appear exactly as shown in the Manual

Preview Support and FAQs Login Page (requires active subscription)

The following standards, available as free downloads elsewhere on this site, are also included in the digital Manual:
ANSI/AISC 360-16:

Specification for Structural Steel Buildings
2014 RCSC Specification for Structural Joints Using High-Strength Bolts
ANSI/AISC 303-16: Code of Standard Practice for Steel Buildings and Bridges

---

Subscriptions are licensed to a single user, and linked to the purchasing account. Multiple subscriptions may not be purchased through a single account and transferred to other users.
After the first subscription year, renewal pricing will be offered at $25 for members and $50 for non-members. You should receive a renewal notice one month before your subscription expires. You may also contact membership@aisc.org to renew.
---

If you need assistance with your purchase, please visit www.aisc.org/digital15support.
Publication Date: 2018