Prequalified Connections for Special and Intermediate Steel Moment Frames for Seismic Applications (ANSI/AISC 358-16 with ANSI/AISC 358s1-18 and ANSI/AISC 358s2-20) Download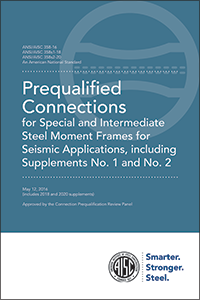 Format: PDF
Category: AISC 358
Prequalified Connections for Special and Intermediate Steel Moment Frames for Seismic Applications (ANSI/AISC 358-16 with ANSI/AISC 358s1-18 and ANSI/AISC 358s2-20) Download
Member

FREE

Non-member

FREE
The prequalified connections standard has been developed by the AISC Connection Prequalification Review Panel in accordance with Chapter K of the Seismic Provisions for Structural Steel Buildings. The connections have been prequalified for use in special and intermediate steel moment frames without the need for additional testing.
Supplement No. 1 adds slotted web moment connections to the standard. In addition, the supplement includes a field bolted option for the popular SidePlate moment connection. The supplement has been fully integrated into the standard.
Supplement No. 2 expands the scope of prequalification for the Chapter 11 SidePlate moment connection and the Chapter 12 Simpson Strong-Tie Strong Frame moment connection.
Publication Date: 2020