Steel Sculpture Competition
2018 SteelDay Scultpure entries are due August 25th. Submit all entries to Jenny McDonald, mcdonald@aisc.org.
Congratulations to the 2017 winner "Man of Steel" by Universal Steel of North Carolina (USNC).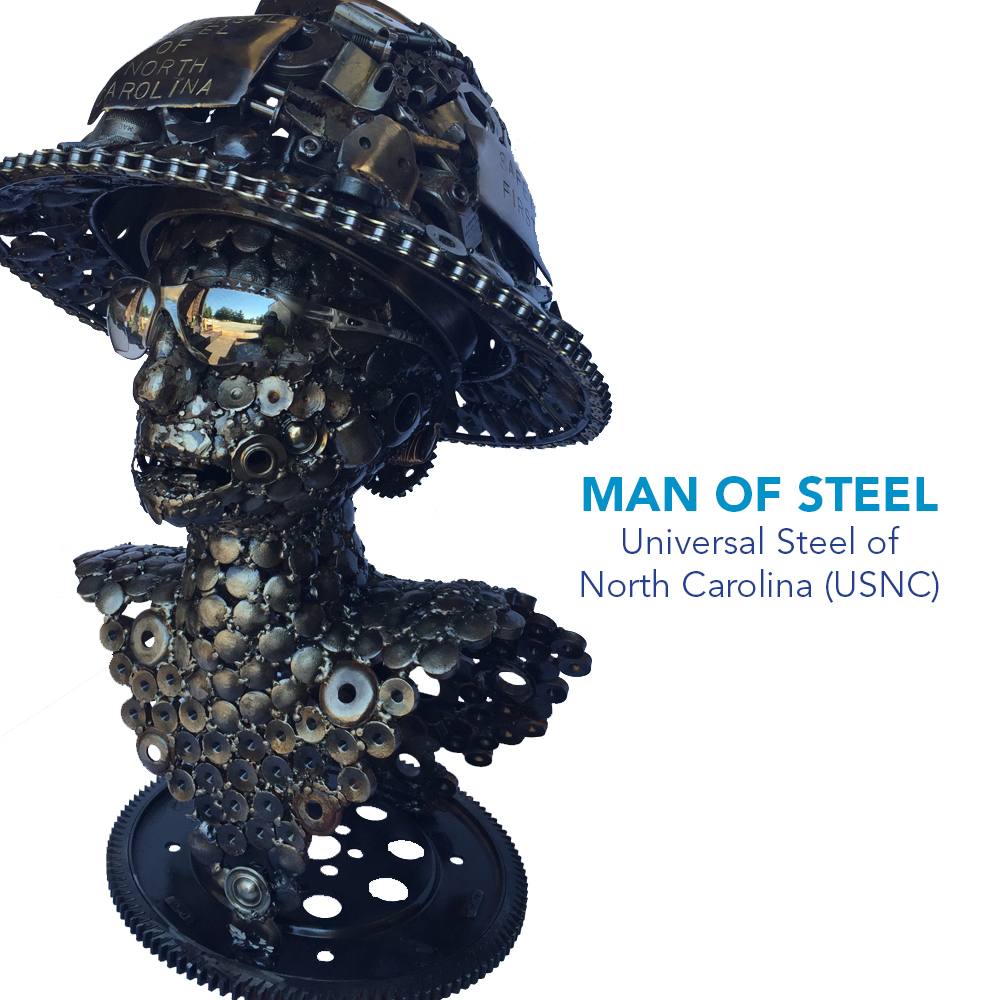 View all of the 2017 entries at www.aisc.org/SculptureCompVoting
Rules
The sculpture must be steel (and only steel) but shapes, sizes and type of material can be your personal preference.
The sculpture must be made entirely by your staff.
The finished sculpture must fit in a 2-by-2-by-2 foot box for shipping.
All entries must include a title and the name of the company submitting the project.
There's no theme! But keep in mind the characteristics of steel: adaptable, economical, quick, and sustainable.
Entrants do not have to be a SteelDay host, but be an AISC full or associate member.
How to take an award winning photo
Lighting: Shoot your sculpture by a window to utilize natural light. Direct sunlight will wash out your sculpture. No window? Face a light towards your sculpture.
Background: Use a plain background that doesn't blend in and highly contrasts with your sculpture. All white (usually) works best.
Quality: Take it on a camera (DSLR preferably) to show your sculpture at its best.
Submission
Include in your entry the following information: title of sculpture, company name and one picture of your sculpture.
Please use a solid white background for your photo. JPG, PNG and TIF are acceptable.
Email submissions to mcdonald@aisc.org by August 25th.
September 5-8 - All sculpture entries will be posted to the AISC Facebook page where visitors can vote by "liking" the image (share with your friends and encourage them to vote for your sculpture!). Finalists will be announced on SteelDay! If your sculpture is selected as a finalist, AISC will pay for shipping the sculpture to the 2017 NASCC: The Steel Conference in Baltimore. You will be responsible for packing the sculpture in a manner to minimize the possibility of it being damaged in shipment.
April 11-13, 2017 - The five finalists will be put on display at the 2017 NASCC: The Steel Conference in Baltimore, where attendees will vote for the ultimate winner.