Full Membership
AISC's Full Members are the foundation of everything we do--and your support allows us to help the industry in myriad ways. Thank you for sharing our mission to increase the market share of domestically fabricated structural steel.
---

In recognition of your contribution to AISC initiatives, Full Members get the most complete benefits package AISC offers, including: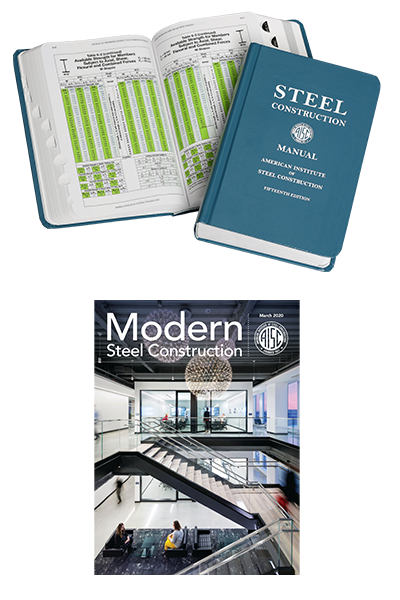 Discounts
50% off all AISC publications
Discounts on AISC seminars, webinars, and conferences, including NASCC: The Steel Conference (which incorporates the World Steel Bridge Symposium, QualityCon, Architecture in Steel, the SSRC Annual Stability Conference, and the NISD Conference on Steel Detailing)
An annual savings of $3,500 or more on AISC Certification registration fees
One complimentary copy of the latest edition of the Steel Construction Manual
Free access to the digital archive of Engineering Journal and all of AISC's Design Guides
20% off advertising in Modern Steel Construction magazine
Discounts on job listings and other services in AISC's career center on modernsteel.com


Industry expertise
Access to market information such as the business barometer and industry statistics quarterly reports which cover what is happening in the construction industry nationally and in your own region
Complimentary subscriptions to Modern Steel Construction, keeping you up-to-date on industry information and one step ahead of your competitors
Complimentary copies of valuable information in the annual AISC Management Compensation Survey (subject to participation)
Safety publications, relevant OSHA interpretations, directives, and notes
Weekly AISC/NSBA Bulletin, a quick digest of industry news you need to know


Industry support
Inclusion in and access to the online membership directory, giving you the opportunity to meet and network with other AISC Members
Opportunity to influence the direction of the structural steel construction industry through committee membership and voting privileges
Scholarship opportunities such as the David B. Ratterman Fast Start Scholarship, available to children of (or who share a permanent residence with) AISC Full Member company employees
The Future Leaders Ideas Lab, which is designed specifically to bring together young executives for networking, collaborative problem-solving in a non-competitive setting, and leadership training to ensure that they are ready to drive the future of the fabrication industry.


Visibility
The use of the AISC and/or NSBA logo on company letterhead, business cards, websites and other industry-related documents for better industry recognition. The use of the logo shows your participation and support for advancing the steel industry.
A membership plaque to display in your office
Recognition for your firm's participation in projects that win IDEAS2 or Prize Bridge Awards
Opportunity to participate in university support programs, helping you gain additional visibility, possible intern opportunities, and even possible employees for the future
Participation in Safety Awards program, which recognizes and promotes the achievements of our members' perfect safety records and also provides a way to remind employees that safety is important to their company
SteelDay, the steel industry's largest networking and educational event. Events include seminars and webinars, facility and job site tours, and presentations to industry professionals. As a member, you are eligible to host your own event and showcase your business or just attend an event in your area.
Sponsorship opportunities at various events such as the Student Steel Bridge Competition, SteelDay, NASCC, & more!



---
Annual Dues--All Applicants
An initial dues payment must accompany your application, payable to American Institute of Steel Construction. Should the application be denied, the initial payment will be refunded in full. Annual dues are prorated and determined by the quarter in which the application is submitted.
| | | |
| --- | --- | --- |
| MONTH | INITIAL FEE | LOCATION FEE |
| January, February, March | $950 | $400 |
| April, May, June | $712 | $300 |
| July, August, September | $475 | $200 |
| October, November, December | $237 | $100 |
Quarterly Tonnage Dues and Maximum Contribution--All Applicants
Full Members who are Fabricators, Structural Steel Producers or Hollow Structural Section (HSS) Manufacturers shall pay a tonnage fee of $1.60 per ton each quarter for all steel fabricated, produced, or manufactured for use in structures, including structural and miscellaneous steel. The tonnage fee for the first 400 tons fabricated is included with the annual fee. The tonnage fee is capped at a maximum annual payment of $80,000. Members still must report all tonnage, including the first 400 tons, on their quarterly invoice.
Full Members who are Fabricators shall pay an additional bridge tonnage fee of $1.40 per ton each quarter on all steel utilized in the fabrication of steel bridges and bridge-like structures. This fee is not exempt from the payment for the initial 400 tons but is capped so the total structural steel tonnage payment plus bridge tonnage payment does not exceed $80,000 annually.
Service Centers
Members shall pay an additional structural steel tonnage fee of $0.15 per ton each quarter capped at $50,000 per year. This tonnage fee can be paid on either:
All steel shipped to companies involved in the fabrication of steel structures; or
All steel HSS shipped with a dimension equal to or larger than 4 in. and all wide flange with a flange width of 4 in. or greater.
Special Assessments
Full Members who are Structural Shape Producers, HSS Manufacturers or Steel Plate Producers shall pay a voluntary marketing assessment.
Full Members who are Plate Steel Producers shall, by the end of January of each year, pay a bridge marketing fee of $14,450.