Seismic Design Manual, 2nd Edition (Print)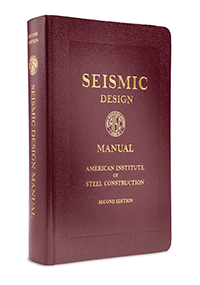 Format: Hardcover
Category: Manuals
Seismic Design Manual, 2nd Edition (Print)
Member

$100.00

Non-member

$200.00
New Edition Coming Soon!

The Third Edition Seismic Design Manual will be arriving in early September with a new, lower price of $100 for members and $200 for non-members.

Email Keith Grubb, Director of Publications, at grubb@aisc.org to be notified when it is available for purchase.
The 2nd Edition AISC Seismic Design Manual includes:
Comprehensive design examples, updated for the 2010 AISC Seismic Provisions.

Side-by-side LRFD and ASD design methodologies for design examples

New chapter on analysis

More thorough examples on connection design, including panel zone detailing and brace-to-beam/column connection design options

Extended discussion and more economical design methodology for collector elements

New examples for buckling-restrained braced frames

New chapters on composite moment frames and composite braced frames
Also, included are two AISC seismic-related standards: the 2010 AISC Seismic Provisions for Structural Steel Buildings (ANSI/AISC 341-10) and the 2010 AISC Prequalified Connections for Special and Intermediate Steel Moment Frames for Seismic Applications (with Supplement No. 1) (ANSI/AISC 358-10 and ANSI/AISC 358s1-11).
Publication Date: 2012