Advocacy
For more than 100 years, the American Institute of Steel Construction has advanced the use of structural steel in buildings and bridges through the development of advanced technical specifications, research, and educational programs. For all steel construction projects, we strongly support the use of high-quality, sustainably produced structural products from domestic fabricators certified to meet the highest standards for quality. Further, we believe that when public funds are invested in critical infrastructure and other public-works construction projects, those funds should support domestic manufacturers who are the backbone of the American economy.
AISC represents nearly 1,000 U.S. steel companies that produce, distribute, fabricate, and install structural steel for America's great steel schools, airports, infrastructure projects, and skylines.
We estimate that the U.S. structural steel industry employs hundreds of thousands of workers, 115,000 of whom are in fabrication and erection -- the most labor-intensive part of steel construction.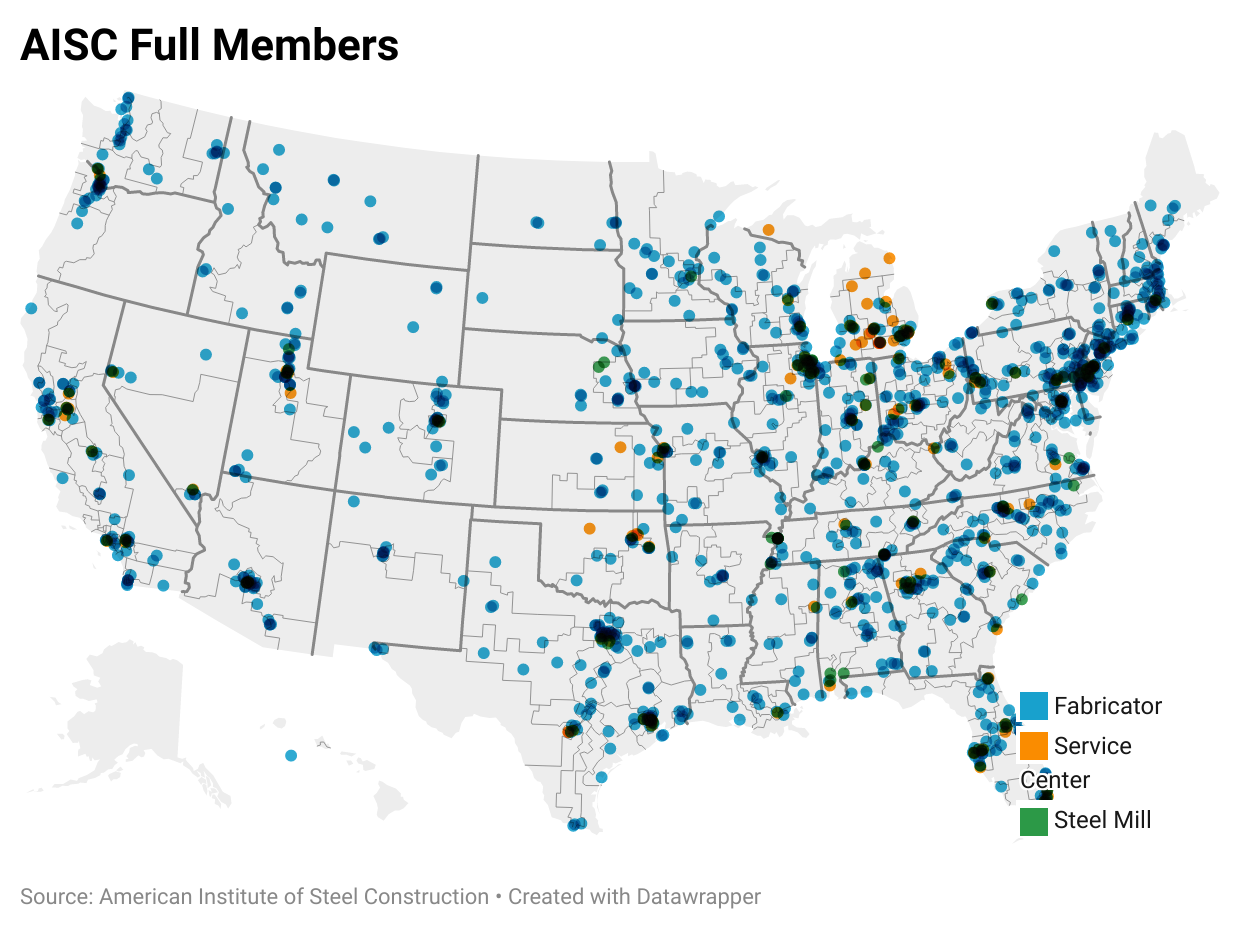 AISC's advocacy efforts primarily focus on the many public policies that support and promote a strong American steel industry.
Keep America's Infrastructure Moving Forward
AISC welcomes and supports any proposal aimed at fixing America's aging infrastructure. Constituents and elected officials from both parties agree that our nation's roads, bridges, and other infrastructure require a sustained, long-term commitment of resources.
We can put more Americans to work; improve the quality of life in our cities, towns, and rural areas; and drive commerce across our nation by enacting a comprehensive infrastructure bill. AISC frequently partners with other industry groups to advocate for legislative action on infrastructure.
Support American Workers and Their Families Through Buy America Requirements
Buy America requirements were created around the simple premise that federal funds invested in infrastructure projects should be used to buy steel melted, poured, and fabricated by the American workers and companies whose taxes are paying for those projects.
Buy America policies provide incentives for companies to invest in American manufacturing and maximize American jobs in the iron and steel industries. Buy America requirements ensure that America's infrastructure and other projects demonstrate the hard work and dedication of our nation's AEC community.
For the first time ever, AISC was invited to testify at the House Congressional Steel Caucus Hearing on March 5, 2020. You can read/watch David Zalesne's (former AISC Chair and president of Owen Steel Company) testimony on the importance of Buy America here: testimony | video
Protect Future Generations with Responsible Environmental Policy
Structural steel is the premier green construction material. Its high recycled content and recycling rate far exceed those of any other construction material. Over the past three decades, the steel industry has reduced greenhouse gas and overall emissions by 36% and increased the water recycling rate of steel production to 95%. Today, the American steel industry is the least carbon-intensive of all major steel-producing countries, and its footprint will continue to decrease as the U.S. power grid becomes more and more fossil-free.
Numerous legislative and regulatory efforts in recent years have targeted emissions, energy efficiency, and related environmental concerns. AISC actively monitors this type of legislation on the state and national levels, proactively educating and advising bill sponsors and environmental groups to ensure that domestically fabricated structural steel is a part of the solution.
Ensure Fairness in International Trade
Domestically fabricated structural steel faces increasing challenges from foreign imports, some of which are brought into the country through unfair trade practices.
On February 4, 2019, AISC's Full Member Subgroup filed petitions with the ITC and the U.S. Department of Commerce (DOC) alleging that fabricated structural steel imports from Canada, China, and Mexico were unfairly traded and that they were materially injuring the domestic industry.
On January 24, 2020, the DOC's affirmative final determinations confirmed that fabricated structural steel from those three countries was being sold in the U.S. market at dumped and/or subsidized prices. Nonetheless, the ITC ruled against this determination, meaning that trade orders would not impose further duties on these imports to level the playing field.
AISC is currently assessing its options to address the continued influx of unfairly traded fabricated structural steel imports into the U.S. market and will continue to work to ensure a fair trade environment for the domestic fabricated structural steel iindustry.
"We are clearly disappointed with the ITC's negative determination. U.S. fabricators and the American families who depend on them are hurting because of unfairly traded FSS imports and will suffer additional harm in the absence of much-needed trade relief," said Charles J. Carter, SE, PE, PhD, president of the American Institute of Steel Construction. "Our members' facilities are sitting underutilized as these imports undercut us on price and take projects across the United States. American fabricators are the best in the world and can compete against anyone anywhere, but they shouldn't be forced to compete against dumped and subsidized FSS."
Tariff Impacts on Structural Steel Markets
While major steel projects have historically been fabricated in American plants, our trade policies have made the American construction market a rich target for foreign steel interests. Foreign steel producers have expanded from just exporting mill steel, to exporting fabricated structural steel that circumvents some U.S. trade actions and dilutes the effectiveness of tariffs.
Section 232 and section 301 tariffs have had different impacts on the steel making and fabrication industries, and while AISC has never supported nor opposed tariffs, we have always insisted that if any trade action is taken, it must include downstream users of mill material like fabricated structural steel. AISC has long believed that the best way to increase the utilization of domestic steel is to increase the size of the market, and has advocated for market-building activities that keep structural steel as the material of choice for America's great buildings, bridges, and infrastructure projects.
Recent Press Releases
August 11, 2021 -- AISC, NSBA Applaud Senate Passage of Infrastructure Bill
May 19, 2021 -- Steel Industry and Labor Emphasize Importance of Steel Tariffs and Urge Biden to Keep Them In Place
January 11, 2021 -- Steel Industry and Labor Urge Biden to Keep Steel Tariffs in Place
---
For more information on AISC advocacy activities, contact Max Puchtel, AISC's Director of Government Relations and Sustainability, at puchtel@aisc.org.