Steel Construction Manual, 15th Ed. (1-Year Online Access)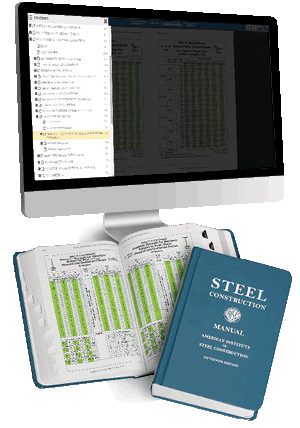 Format: Other
Category: Manuals
Steel Construction Manual, 15th Ed. (1-Year Online Access)
Member

$135.00

Non-member

$270.00
All sales final.
The 15th Edition Steel Construction Manual, first released in 2017, is the most current edition.
The digital 15th Edition is an online subscription-based product that provides on-the-go access to the information in the Manual including the most recent revisions. This is a web-based product that exactly reproduces the print product so it can be accessed anywhere with an internet connection. This is not a PDF-based product. The digital manual cannot be downloaded, used off-line, or printed.
Instant Preview Ask a Question Support and FAQ Login Page
---
Features include:
Access with your AISC username and password from anywhere with an internet connection
Completely web-based using HTML 5 -- no plug-ins or software to install
Embedded hyperlinks for references
Detailed table of contents
Fully text searchable
Reproduces the print edition exactly:

Tables appear in aligned, two-page spreads
Equations appear exactly as shown in the Manual
The following standards, available as free downloads elsewhere on this site, are also included in the digital Manual:
ANSI/AISC 360-16:

Specification for Structural Steel Buildings
2014 RCSC Specification for Structural Joints Using High-Strength Bolts
ANSI/AISC 303-16: Code of Standard Practice for Steel Buildings and Bridges

---
Subscriptions are licensed to a single user, and linked to the purchasing account. Multiple subscriptions may not be purchased through a single account and transferred to other users.
---
Need to Renew?
After the first subscription year, renewal pricing will be offered at $25 for members and $50 for non-members. You should receive a renewal notice one month before your subscription expires. Click the link below to renew; make sure you log in with the account used to access the digital manual. Questions? Call 312.670.2401 Monday-Friday from 8:30 a.m. to 4:30 p.m. or drop us an email at membership@aisc.org.

Publication Date: 2018