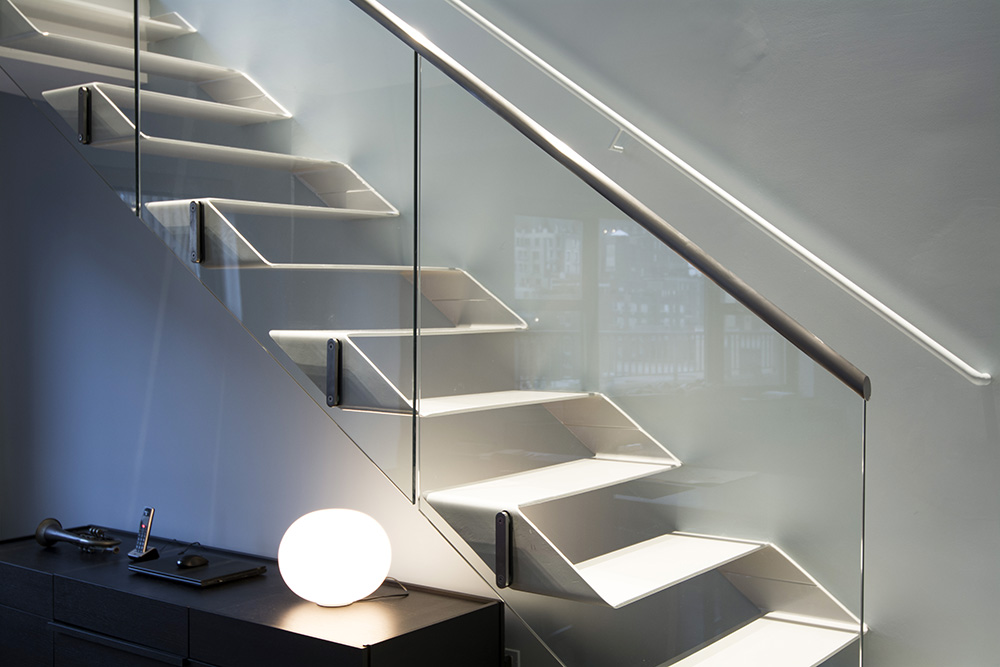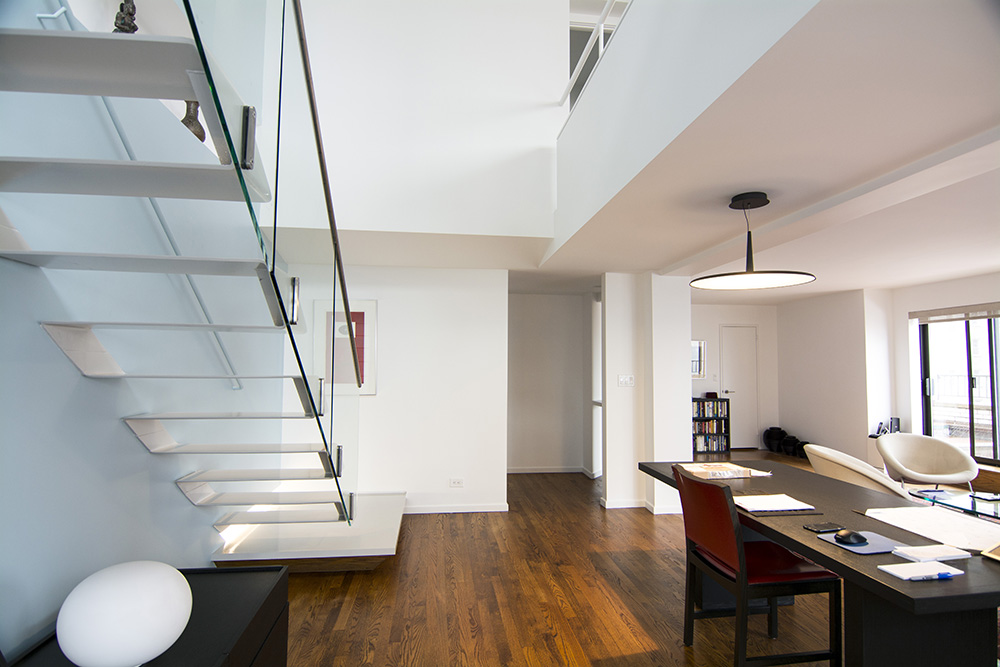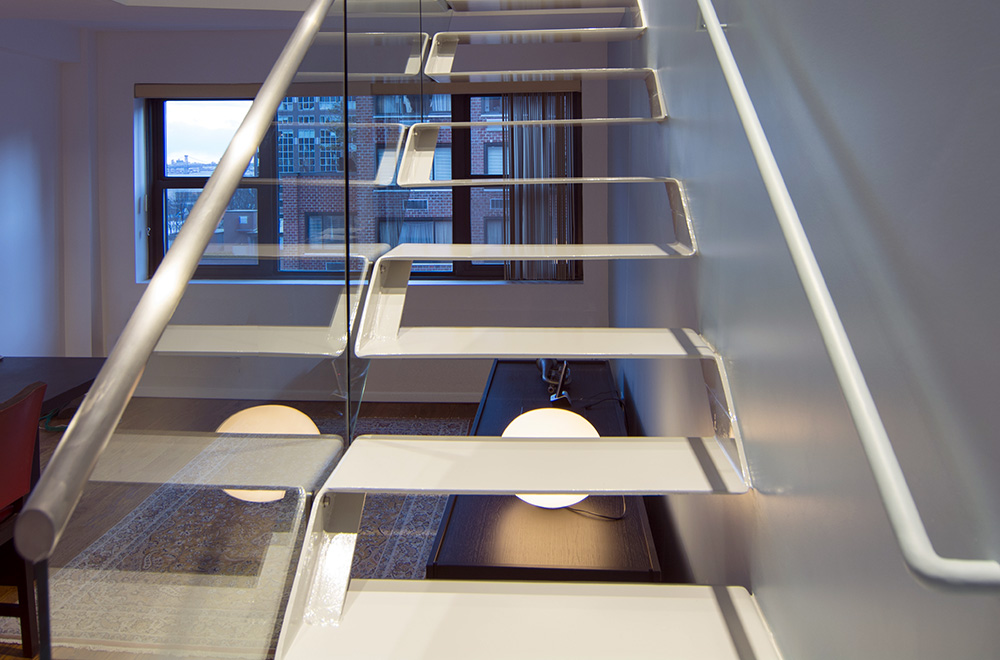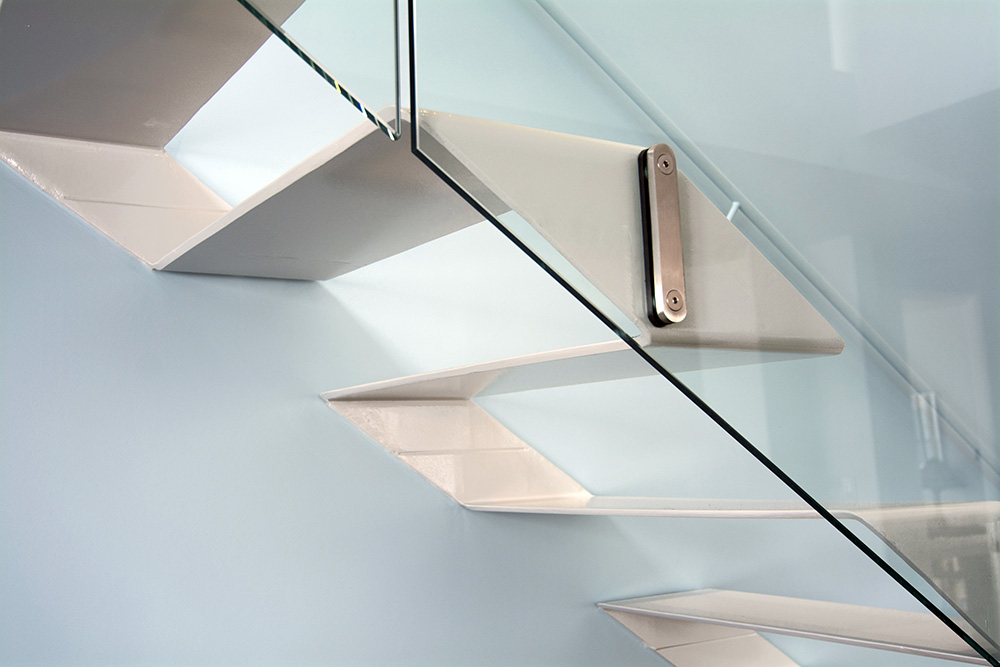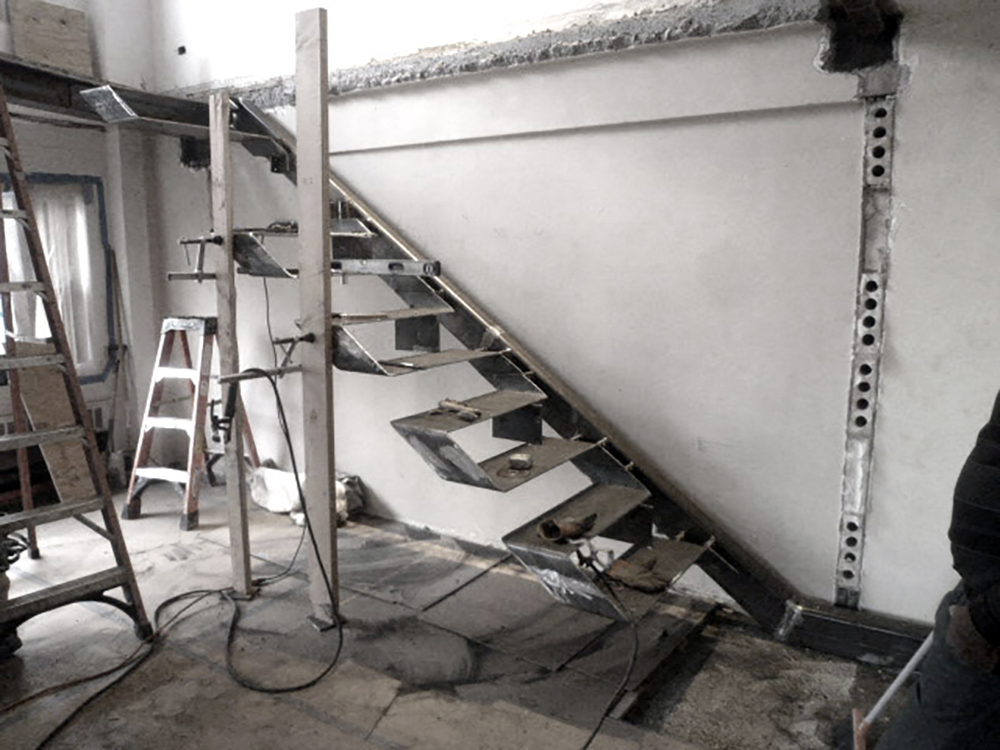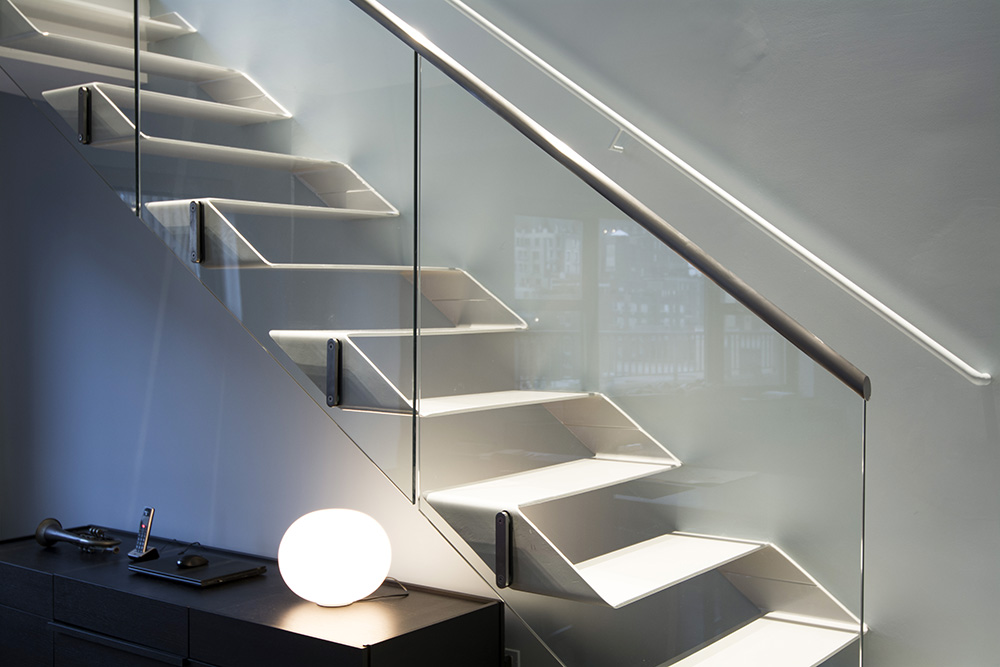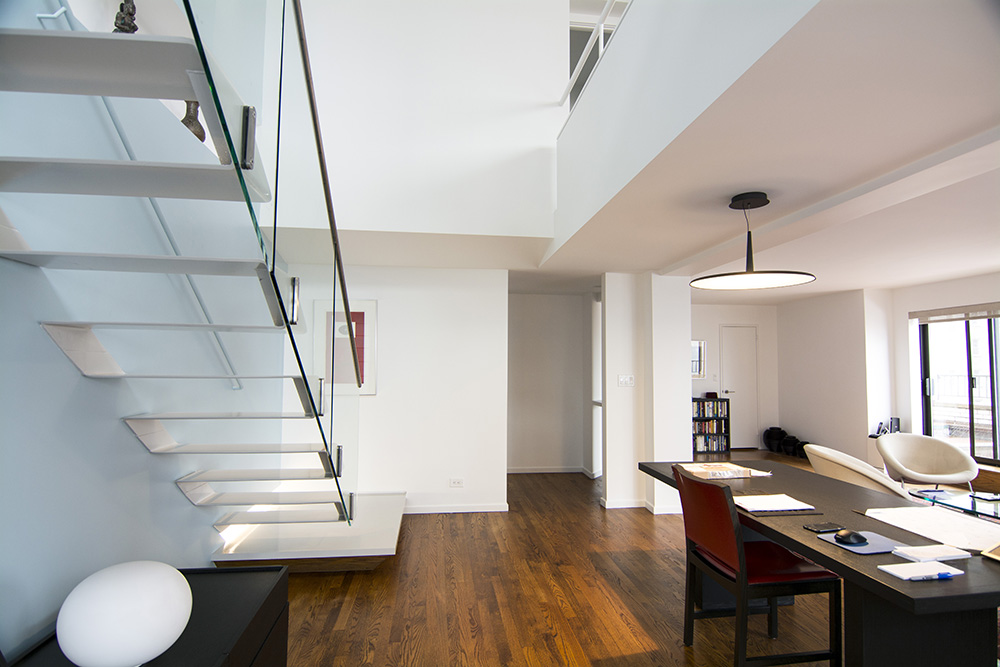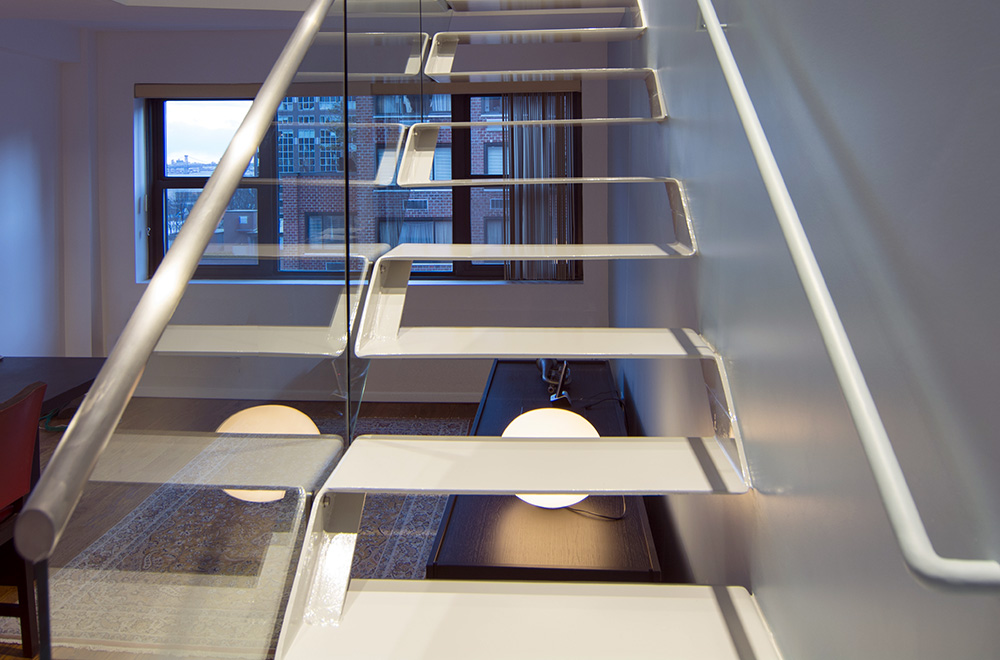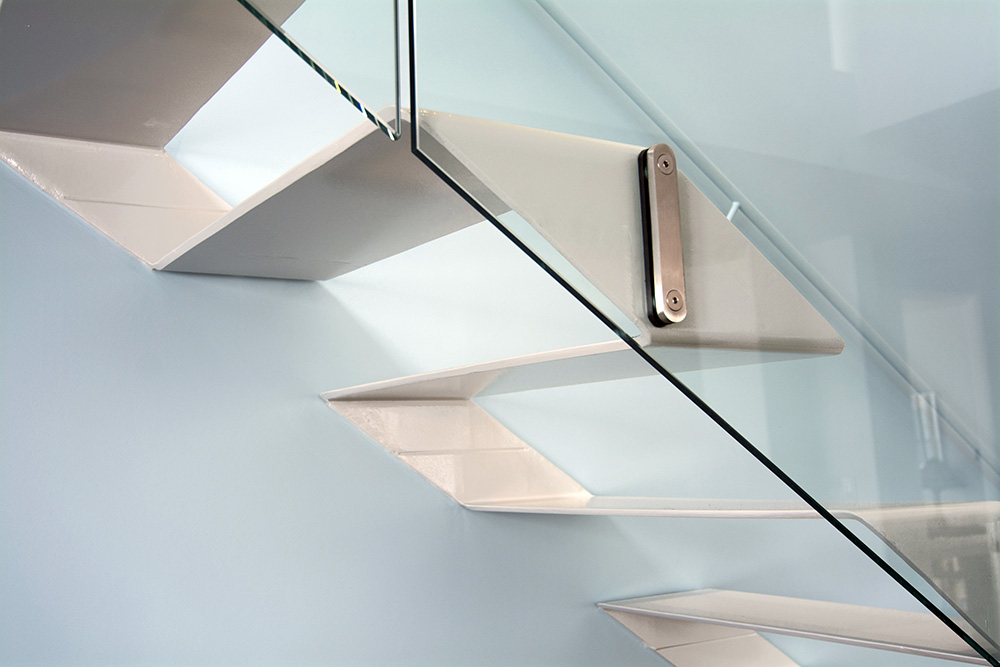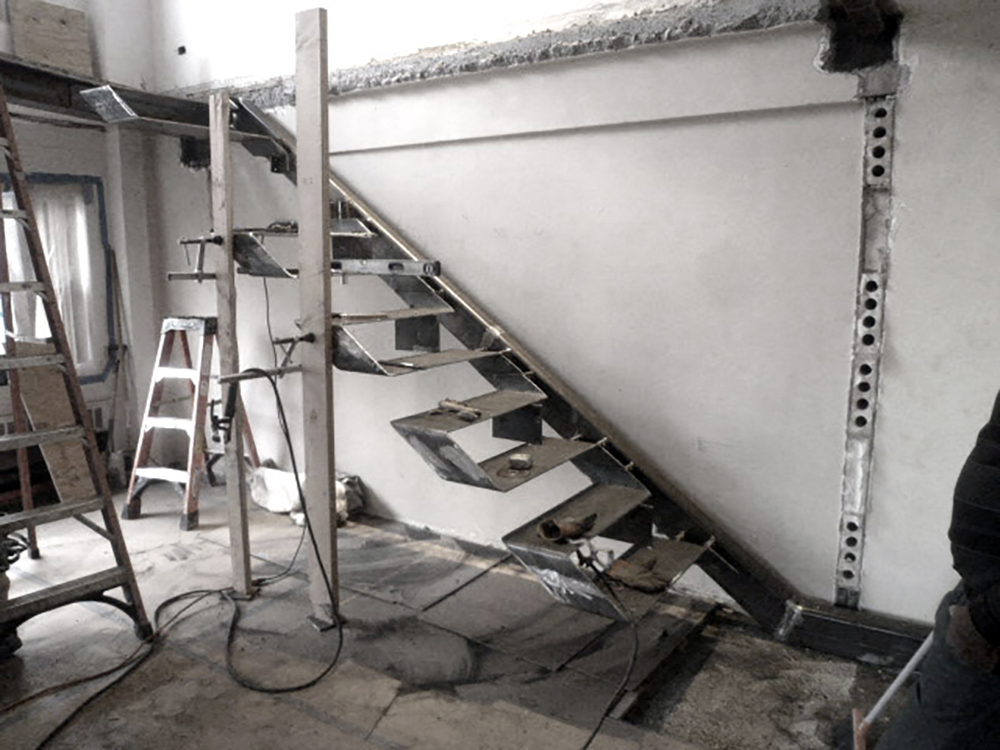 Ascension of the Celestial Maiden
Merit Award - Sculpture/Art Installation/Non-Building Structure
"[This project has a] really thoughtful solution for controlling steel tolerances, which was critical to the installation of the glass handrail." -David Eckmann, SE, PE, FAIA​, senior principal, Magnusson Klemencic Associates
A new steel staircase in a Manhattan apartment facilitates movement between floors and adds an artistic centerpiece to a refreshingly renovated space.
The project combines two apartments in a 1960s-era building vertically by opening the floor in the upper unit and inserting a new staircase. The two-story high volume and the staircase were designed to become the focal point of the enlarged apartment while capitalizing on the spectacular views of the East River and the United Nations Headquarters.
Structural steel was used for its slim profile and visual lightness, as well as its ability to create a fluid shape. The staircase was conceptually inspired by paper folding art principles where a single strip forms the flight of risers, and it provides a stark visual contrast to the adjacent demising wall. The continuous ribbon of steel is much more delicate than the typical cantilevered staircase and creates an ephemeral feeling, like the fabric streamers of gymnasts, a ribbon floating in the air, and the transparency through the steps maintains the views and opens up the space. There was very little documentation of the existing structural conditions, and using cranes and large structural elements would have been cost-prohibitive.
To form the staircase, a large standard sheet of 3∕8-in.-thick steel was folded just four times, sliced "diagonally" into six identical modules, then finally stacked. This procedure resulted in precisely identical modules that couldn't have been achieved by bending the strips one by one. This accuracy was essential to accommodate the glass handrail, which required precise alignment. Every step has a 1-in. radius to emphasize the continuity of the bent steel plate—nothing to distinguish tread or riser.
While the precision of the project would appear to have been facilitated by high-tech equipment and processes like laser cutting, CNC machines, or waterjets, it was achieved using traditional bending methods and saws, which were deemed more affordable for such a small project. Regardless of the process, structural steel was the only way to achieve this design and its fluid format and visual openness.
Owner: Robert Ciricillo
General Contractor: Excel Builders & Renovators Inc.
Architect: Yoshihara McKee Architects
Structural Engineer: Yoshinori Nito Engineering and Design PC
Project Category:

Year 2022

Location:

New York, NY

Year Completed:

2019

Submitting Firm:

Yoshihara McKee Architects

Photo Credit:

Photos by Hiroki Yoshihara