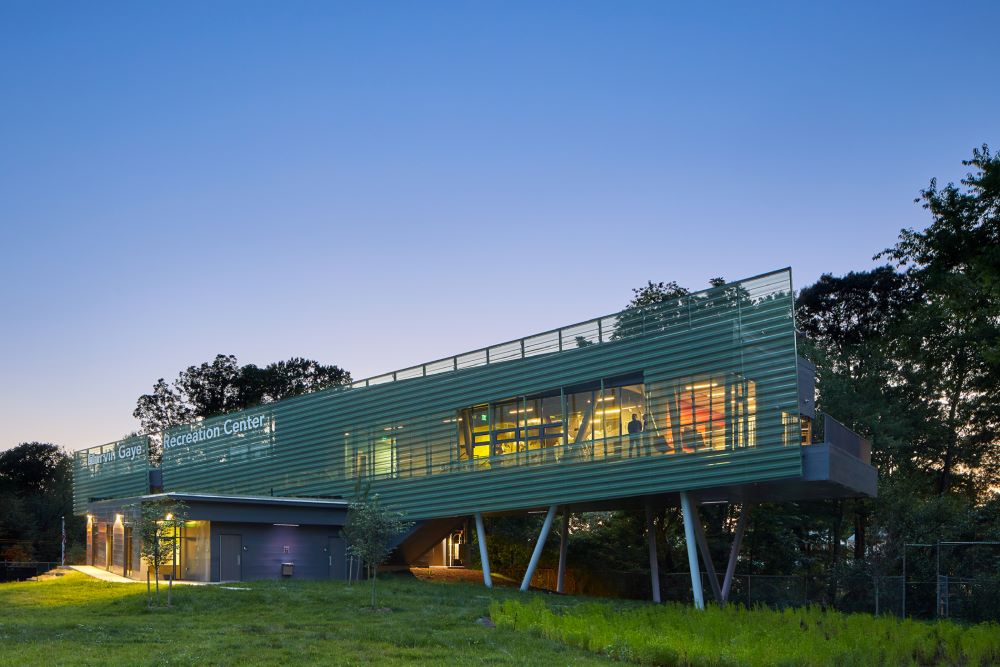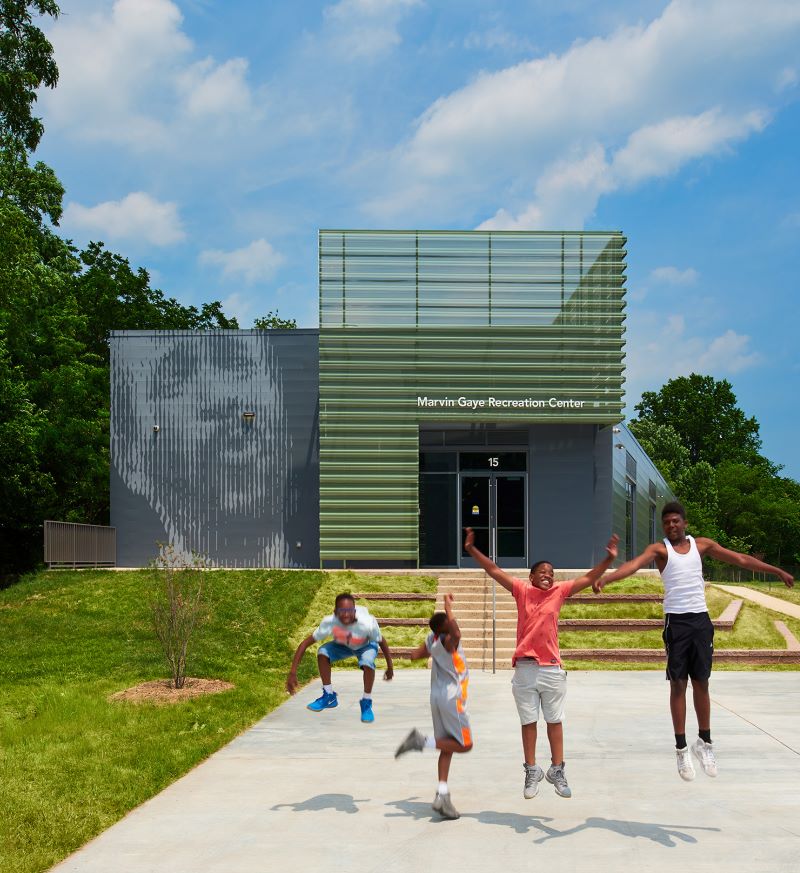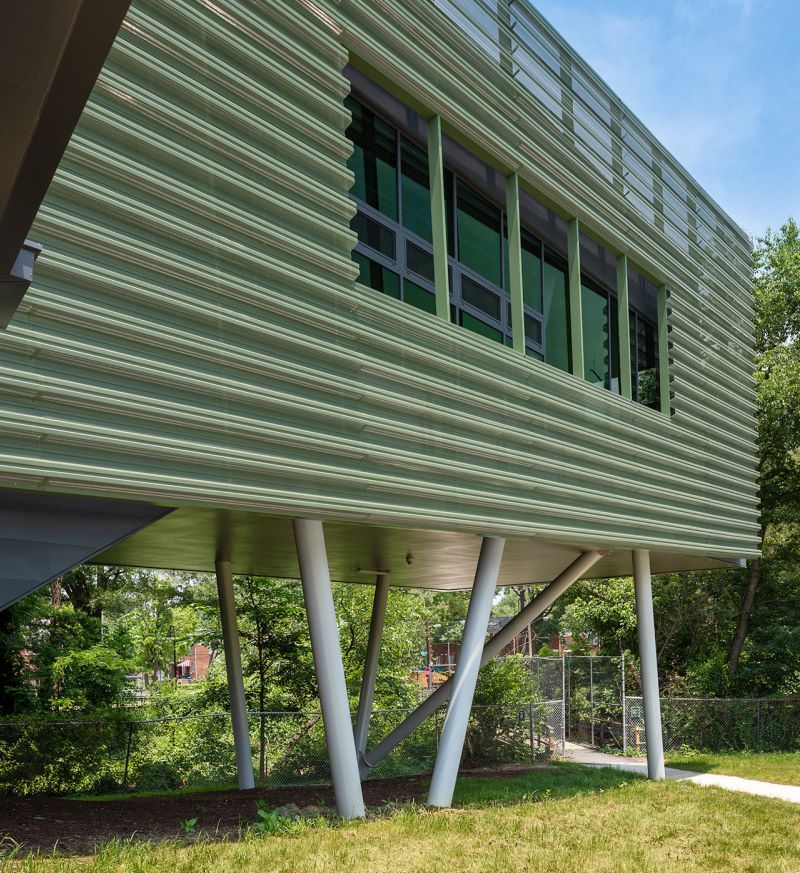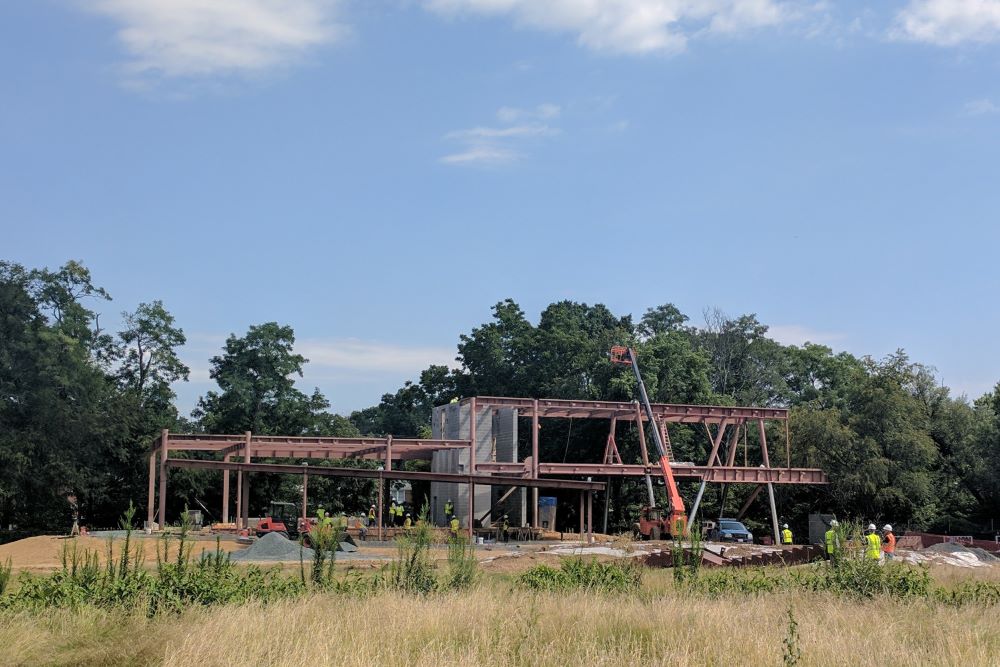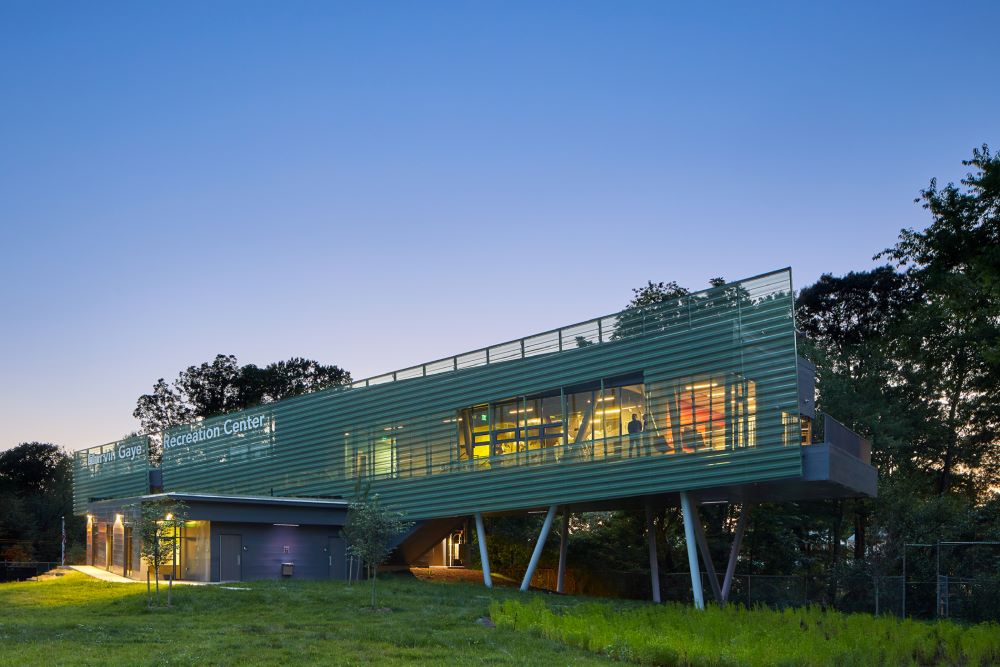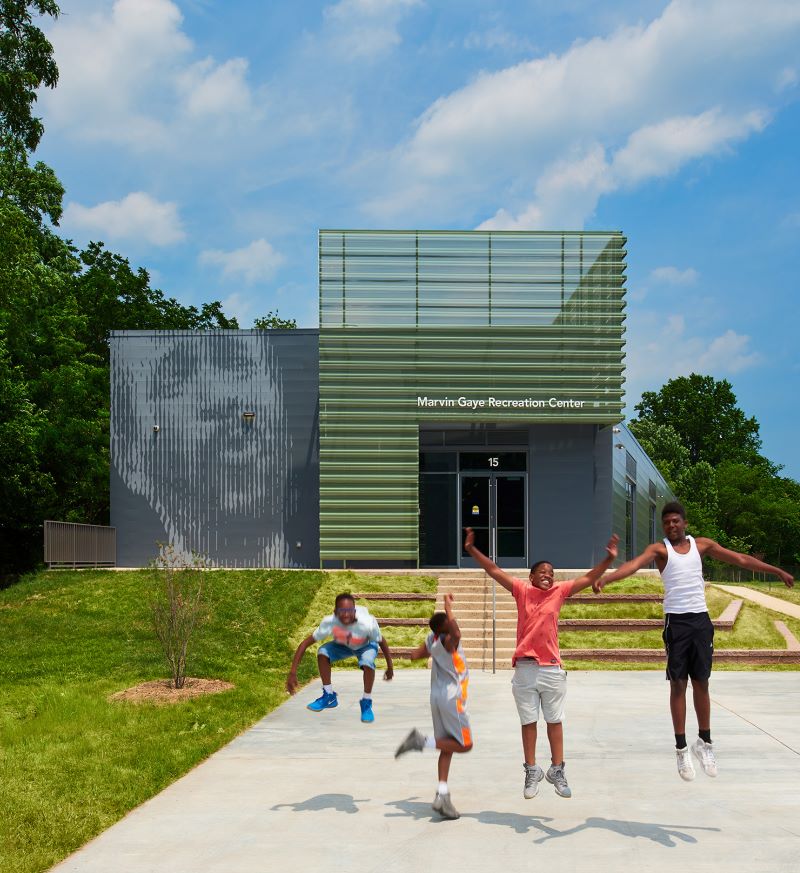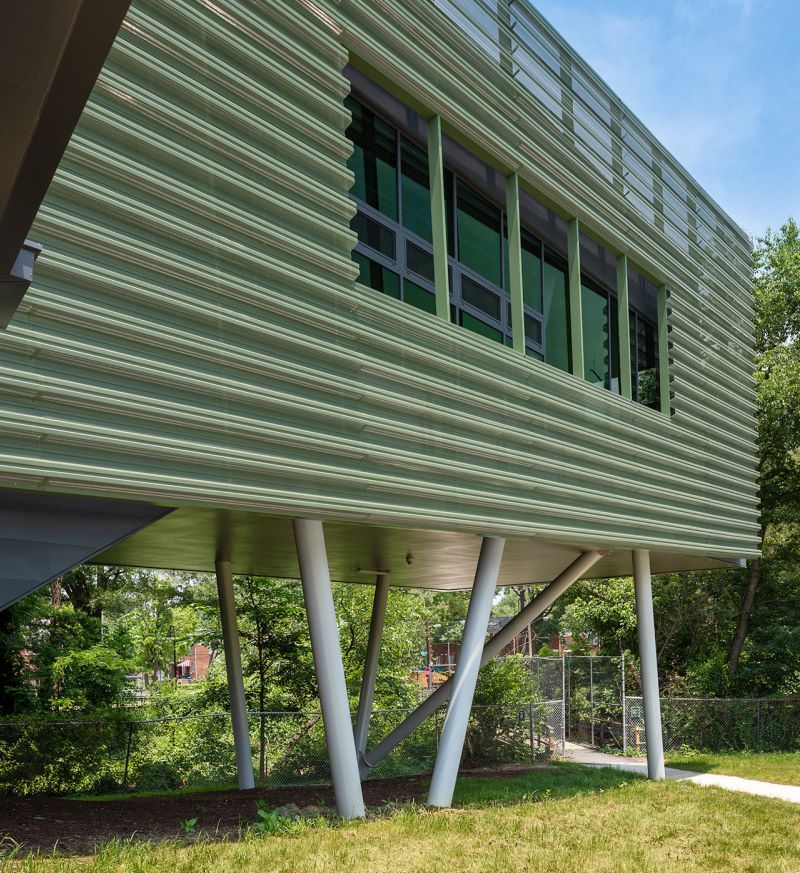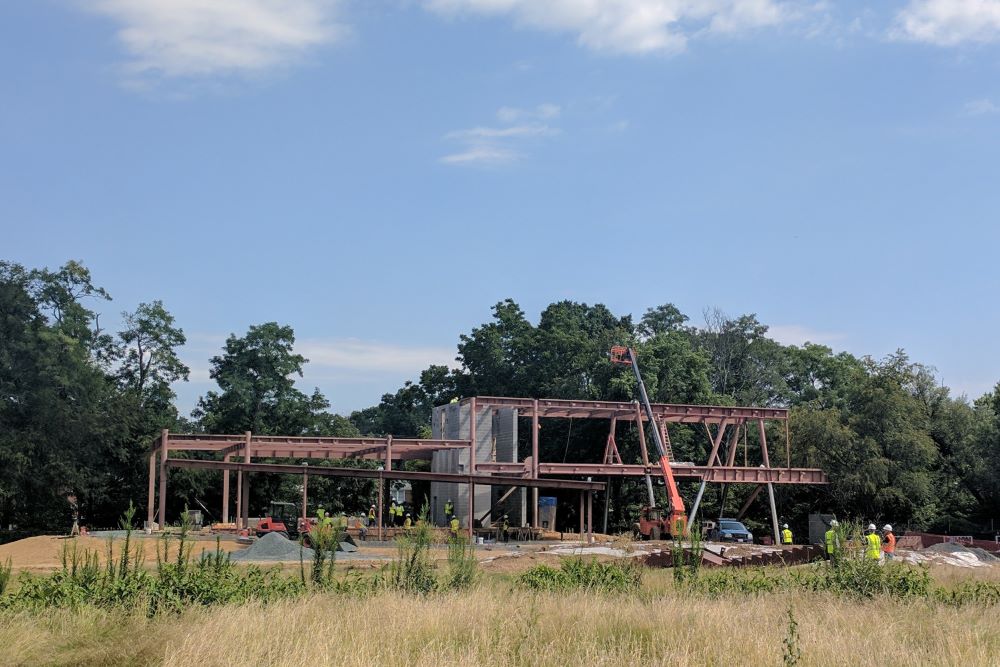 Marvin Gaye Recreation Center
Merit Award - Less than $15 million
The Marvin Gaye Recreation Center celebrates structural ingenuity as it cantilevers above an adjacent stream into the tree canopy by using angled steel columns to make use of a challenging site. -- 2020 IDEAS2 Judge Christine Freisinger
While many of Washington's famously grand edifices are named for prominent politicians, a new recreation center honors another American legend—and a native of the nation's capital: singer, songwriter, producer, and one of the creators of the Motown sound, Marvin Gaye.
The new facility, the Marvin Gaye Recreation Center, is elevated above a 100-year floodplain to bring visitors into the tree canopy as steel girders, supported by angled columns, cantilever the second floor over an adjacent stream. The strength of structural steel brings the resilience needed for withstanding floodplain requirements and creates a light and tensile touch to the final design.
The location of the building itself was limited by tight constraints, as the site borders a do-not-build floodway and is located within the floodplain. The project team took one of the site's largest challenges and turned it to an opportunity, creating a building that cantilevers into the tree canopy above the stream, offering individuals a unique vantage point to the building's surroundings. The steel columns had to be angled in order to cantilever the balcony above the stream. While it is necessary to carry the structural loads, the angled steel is elevated beyond that duty to become a prominent design feature. The design of the columns was an iterative and collaborative effort between the architect and structural engineer, with the engineer sharing the structurally required column angles and locations while the architect responded to coordinate site constraints, ADA clearances, and alignment to the architectural concept.
Implementing "wash and wear" materials is a necessity for a recreation center, and using exposed steel accomplished the structural goals while also providing a durable, long-term solution to create a low-maintenance facility. In keeping with the theme of sturdy materials, the building is clad with perforated façade panels (also steel) that are designed to withstand stray soccer balls and such from the heavily used recreation fields adjacent to the building. The perforated metal façade also functions as mechanical screening for the rooftop units, controls solar heat gain and glare to reduce mechanical loads, and creates unique views from the second floor.
One of the key coordination items for the project's design-build team was determining how to connect the back of the screen to the building's steel frame. The solution came in the form of steel outriggers, welded to the structural beams, that protrude from the building to accept the screen's support clips (with thermal break elements separating the outriggers from the screen).
In addition to its protective and shading functions, the screen also gives the building its identity, drawing the eye and creating a neighborhood icon—especially at night, when the building glows like a lantern in a previously underserved neighborhood in the far eastern reaches of the District.
Architect: ISTUDIO Architects, Washington
Structural engineer: Simpson Gumpertz & Heger Inc., Washington
General contractor: MCN Build, Washington
Project ownership: Department of General Services, Washington
Location:

Washington, DC

Award Winner Year:

2020

Year Completed:

2018

Submitting Firm:

ISTUDIO Architects

Photo Credit:

1, 2, 3 - Hoachlander Davis Photography; 4, 5 - ISTUDIO Architects