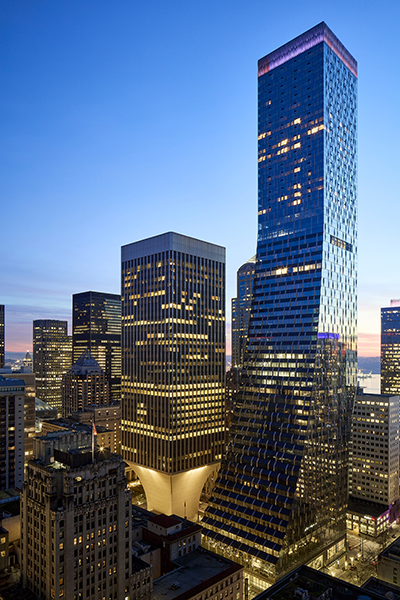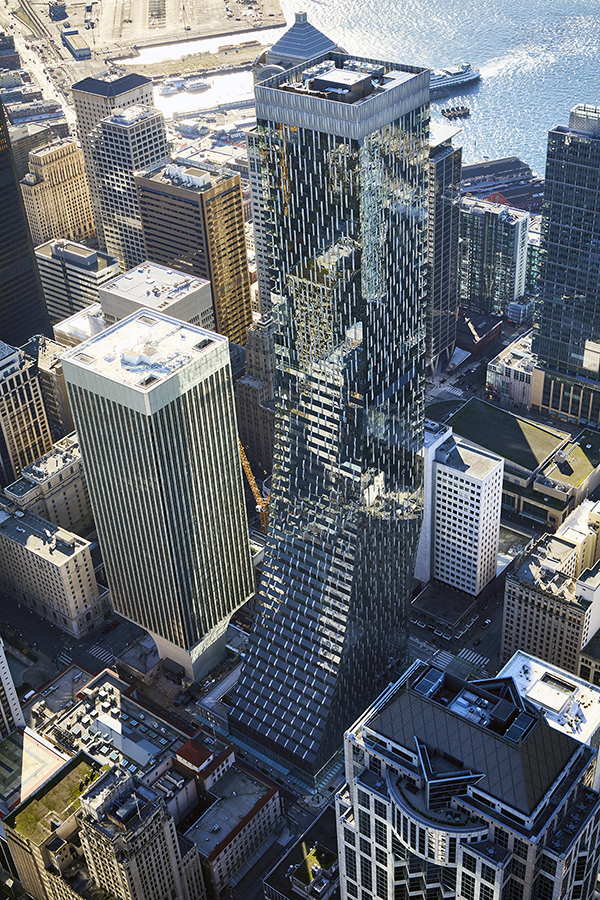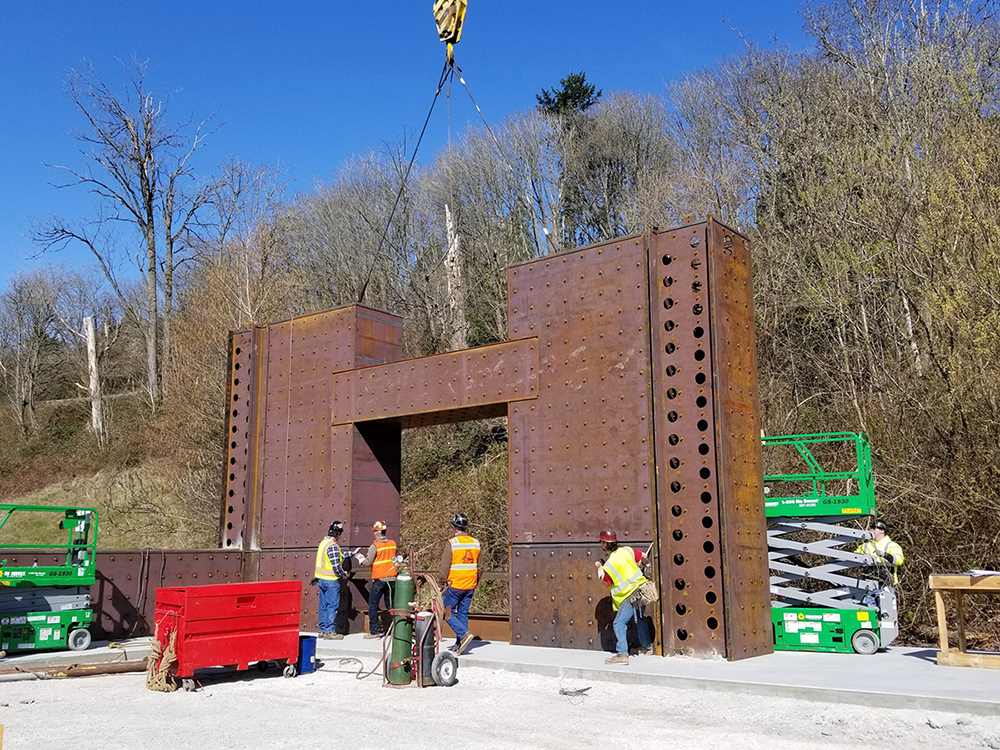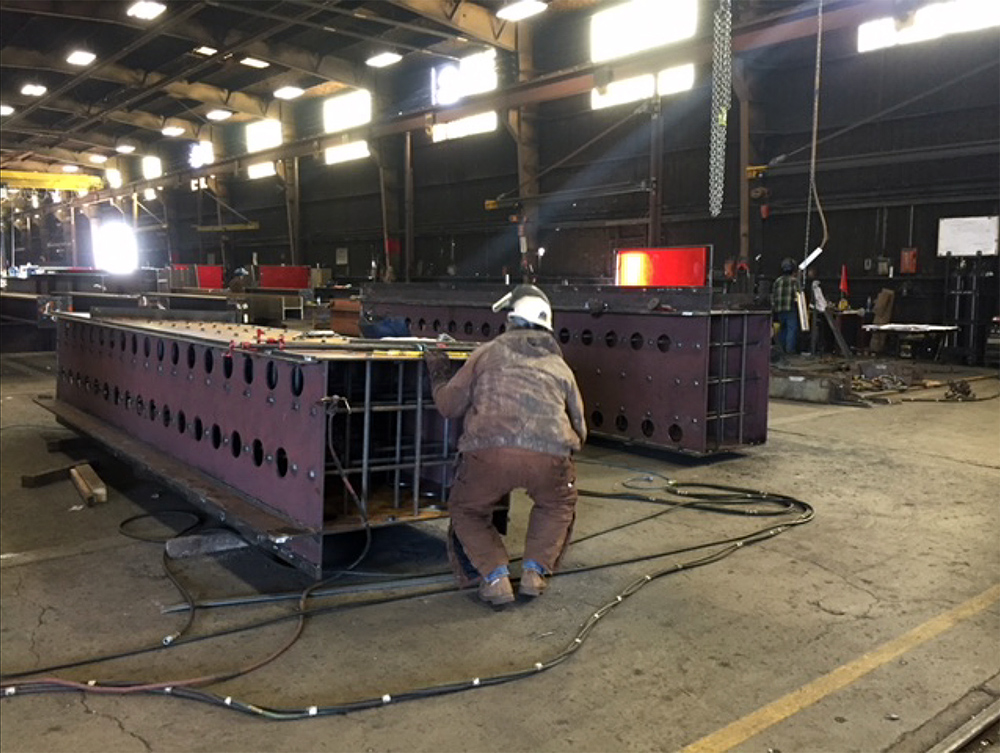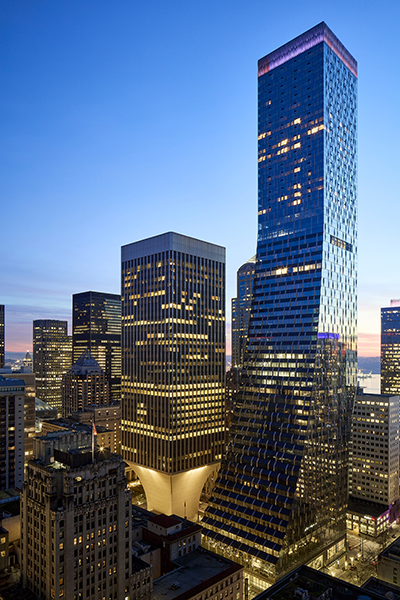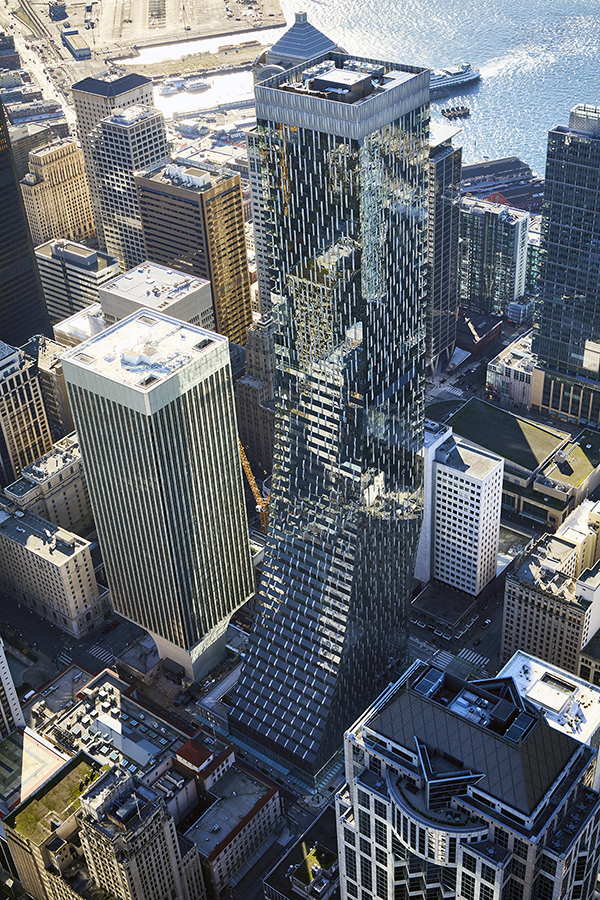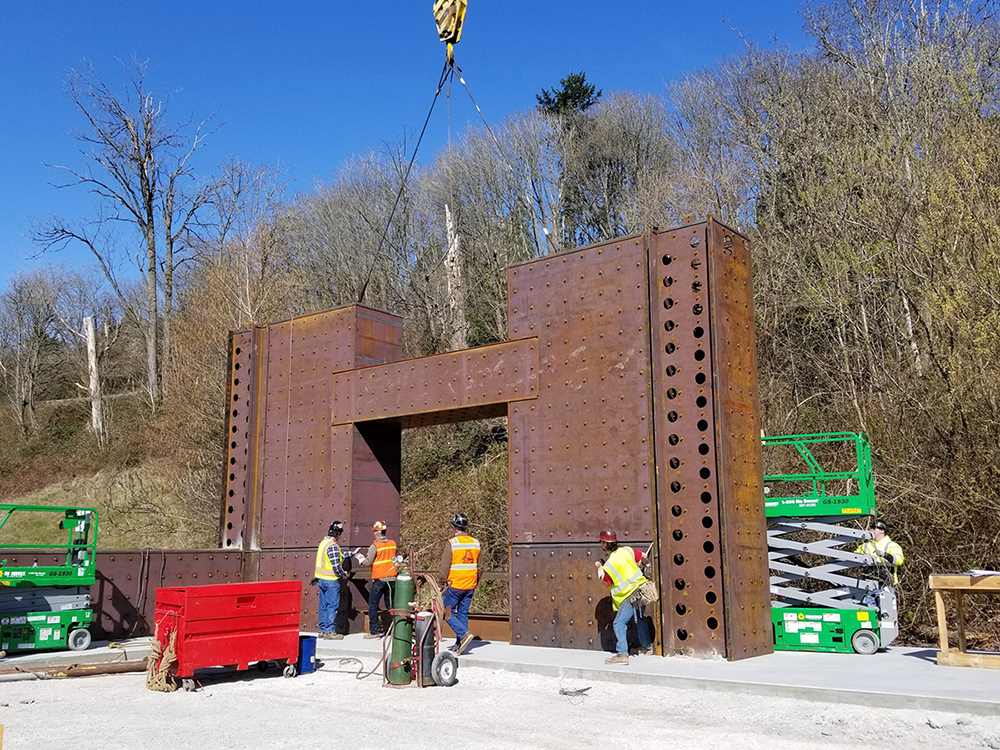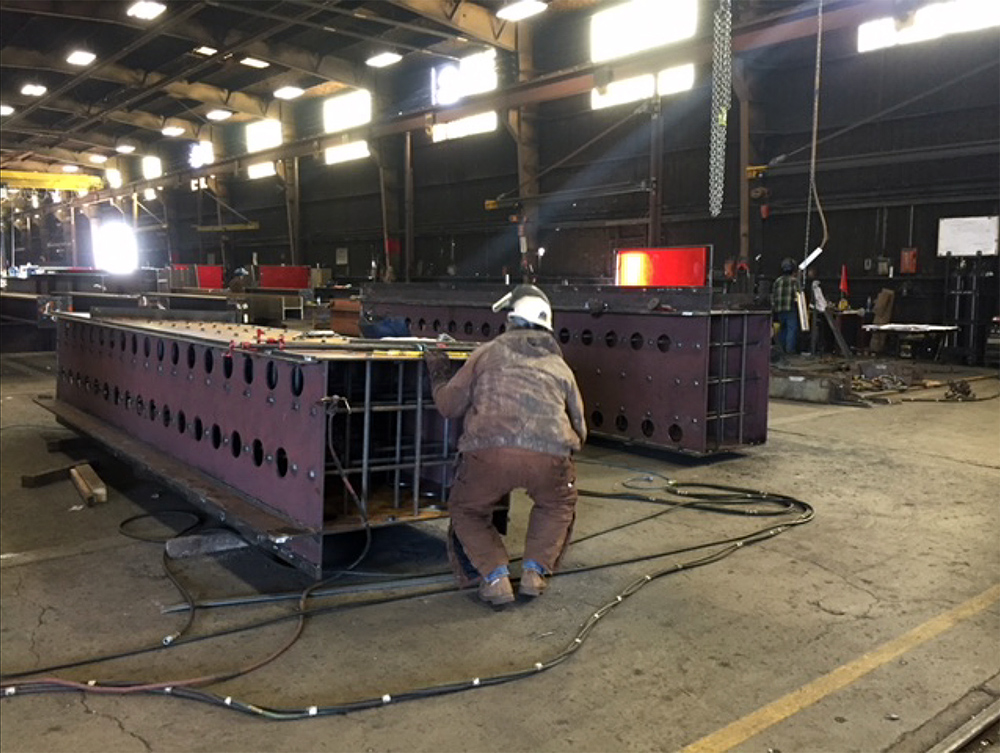 Rainier Square
Presidential Award for Excellence in Structural Design
National Award - Less than $15 million
Rainier Square was a proof-of-concept that directly demonstrates how amazing things can happen when cutting-edge research is paired with engineering design. The lessons learned from this project will be sure to have an effect on future high-rise construction for years to come. -Jonathan Tavarez, PE, senior engineer, American Institute of Steel Construction
Rainier Square adds a new and exciting mixed-use destination in downtown Seattle that revitalizes an entire block and its surrounding area—and it's also the first building to implement the SpeedCore system, which has effectively reinvented the rules of high-rise steel construction.
Soaring 850 ft above the city, the 58-story, 1.4 million-sq.-ft tower is composed of an active retail podium, Class-A office space, and high-rise luxury apartments.
It also includes a seven-story, below-grade parking garage that accommodates nearly 1,000 vehicles, and its podium base directly connects to adjacent Rainier Tower.
The building serves as a proof-of-concept for SpeedCore, a novel and innovative structural steel system using modular, prefabricated, concrete-filled, composite-plate steel shear wall (CF-CPSW) panels to create a high-rise tower's structural core quickly and cost-effectively. Originally designed to be built with a traditional, reinforced concrete core surrounded by structural steel, composite floor framing, the project benefitted from the forward-thinking mindset of developer Wright Runstad and Company, who recognized the opportunity to save time and money by erecting the tower's structural core using SpeedCore.
Constructing Rainier Square required 55 ironworkers and 15,000 tons of steel—including more than 350,000 steel rods with more than 700,000 welds. During construction, the steel faceplates and tie rods of the hollow modules supported eight floors of decking before they were filled with concrete.
After the concrete infill was poured and cured, the system worked compositely to create a hardy structural core, with each component doing its part:
• Steel plates provide reinforcement and primary resistance to tension and shear demands on the lateral system.
• Concrete infill provides resistance to larger overturning compressive loads under lateral demands.
• Steel tie rods provide confining pressure for the concrete, resulting in superior seismic performance.
At Rainier Square, SpeedCore's swift construction sequencing involved three high-level steps:
1. Steel prefabrication. More than 530 plates—each ½ in. thick, 30 ft to 40 ft wide, 14 ft tall, and weighing approximately 20 tons—were fabricated then preassembled in connected pairs 21 in. to 45 in. apart with 1-in.-diameter steel tie rods to form modules ready for site installation and concrete fill. The panels were fitted with openings for MEP services, penetrations for fire protection pipes, and connection materials for field-attached floor beams.
2. Module transportation placement. Once assembled, the modules were stacked onto trucks, transported to the construction site, hoisted into place, and field welded.
3. Filling the "sandwiches" with concrete. As the panels were erected, concrete was pumped into each module, resulting in a configuration much like an ice cream sandwich, with steel panel "cookies" on the outside and concrete "ice cream" filling inside.
In all, the SpeedCore approach lived up to its name, shortening the original 32-month construction schedule by ten months versus using a traditional core system. At the pace of four floors per week, erection occurred at a lightning-fast tempo compared to traditional cores (one floor every three to five days). In addition, implementing SpeedCore eliminated the challenges of expensive, time-consuming, and labor-intensive processes such as setting formwork, installing reinforcing steel, placing embedded plates, and the level-by-level concrete placement and curing associated with reinforced concrete cores found in most high-rise buildings.
Completing Rainier Square ahead of schedule allowed the owner to save money in construction-loan carrying costs and general construction operating costs. Opening sooner provided an earlier revenue stream for the owner to lease office floors, retail spaces, and apartment units. If you visit Rainier Square today, you can witness the project team's pride in SpeedCore. Sections of the structural core's CF-CPSW panels have been left uncovered and exposed in different parts of the lobby, allowing visitors to touch the raw steel plates and tie-rod welds, and read a bronze plaque to learn about SpeedCore's innovative nature.
Owner: Wright Runstad & Company, Seattle
General contractor: Lease Crutcher Lewis, Seattle
Architect: NBBJ, Seattle
Structural engineer: Magnusson Klemencic Associates, Seattle
Erector: The Erection Company, Arlington, Wash.
Detailer: Steel Systems Engineering, Inc., Sherman Oaks, Calif. *AISC Associate Member*
Project Category:

Year 2022

Location:

Seattle, WA

Submitting Firm:

Magnusson Klemencic Associates

Photo Credit:

1, 3, 4, 5 - MKA 2 - Moris Moreno