CVSIC
The California & Vicinity Steel Information Council (CVSIC), its programs, and materials are funded by the California Field Iron Workers Administrative Trust. It is our goal to provide the steel design and construction community with programs that will directly benefit the steel construction industry in California, Arizona and Nevada. Our objectives are to educate engineers, architects, engineering students, contractors, developers, code officials and others in the economical design, fabrication, and erection of structural steel. We welcome all suggestions and comments that will enable us to broaden and improve our programs, which in turn, will increase the use of structural steel materials.
Janet Cummins
project manager
312.670.5402
Lorena Arce
structural steel specialist
562.332.0990
arce@aisc.org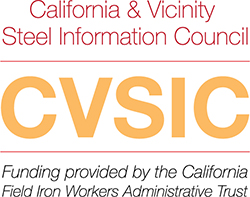 *The CVSIC benefits are only available to people residing in Arizona, California or Nevada.