National Steel Bridge Alliance
Bridges to Prosperity
Making a difference in Rwanda
Bridges to Prosperity (B2P) is a nonprofit organization that builds footbridges in isolated communities across the world. It's something we're particularly proud to support because it gets to the heart of what bridges are all about: connecting people.
Since 2016, NSBA-led Bridges to Prosperity projects have connected some 4,300 people to schools, health care, and markets.
In February 2022, NSBA and Bridges to Prosperity built a 62-m suspension bridge in Rwanda--NSBA's fourth such project and the first Bridges to Prosperity project in Rwanda! They built the Munini Trail Bridge, largely by hand, in only 10 days.
NSBA led a delegation representing various DOTs, bridge design consultants, and AISC/NSBA members to connect a community of 2,600 people to schools, health care, and markets.
Building the Munini Trail Bridge was the experience of a lifetime--and we're planning another trip to Rwanda this summer! If you're interested in learning more or participating in a future build, please contact Jeff Carlson at carlson@aisc.org.
---
Previous NSBA/Bridges to Prosperity Projects
2019: La Marca, Bolivia
---
2018: El Macho, Panama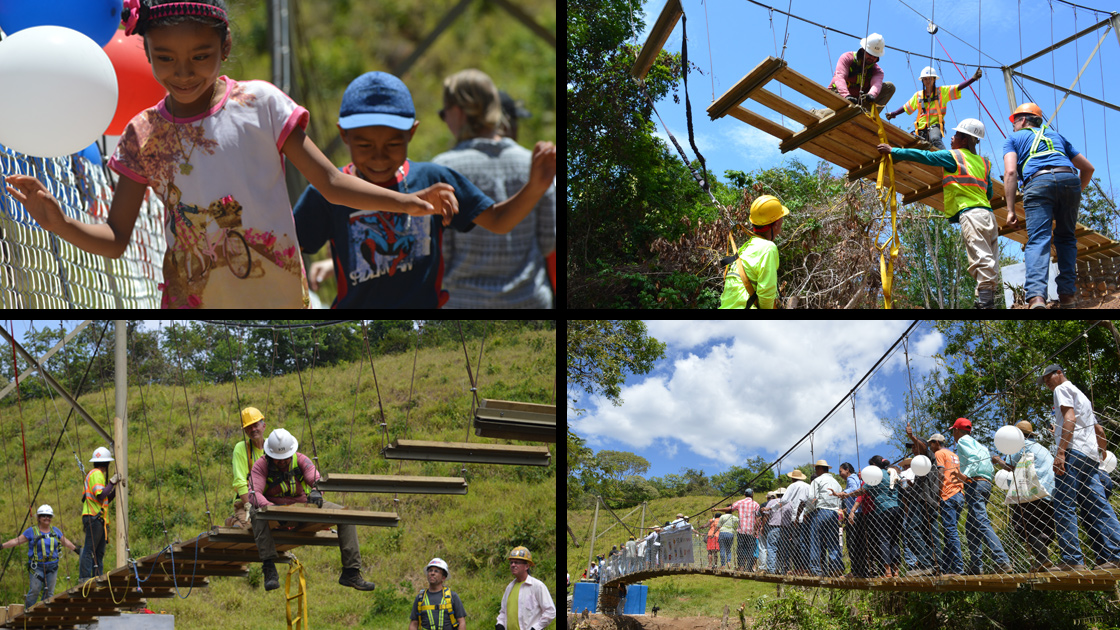 Read all about the project in Modern Steel Construction.
---
2016: Lura, Panama
---
Click here to learn more about B2P and how you can become a volunteer or industry partner.