AISC Education Foundation Seeks to Double Impact of Gift in Honor of Computer-Assisted Design Pioneer
November 1, 2023
FOR IMMEDIATE RELEASE
CHICAGO - In every generation, there are a few true game changers. Steven J. Fenves is one of them--he's the reason steel structures are designed with computers instead of slide rules.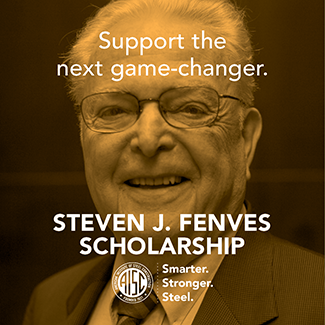 He's also contributed to the American Institute of Steel Construction standards that are the underpinning of building codes nationwide for more than 50 years.
The next Steve Fenves might be in school right now.
An anonymous donor has contributed $50,000 to the AISC Education Foundation in Steve's honor. The Steven J. Fenves Scholarship will help develop the next generation of inspired designers and innovative thinkers.
The Education Foundation is trying to double the impact of that generous donation by raising an additional $50,000. AISC scholarships lighten the load for students, allowing them to spend more time focusing on their studies and giving them a head start in life after graduation.
Fenves noted that funding like this provides freedom to let students focus and start their adult lives with less debt. "This scholarship is an immediate, enormous help to young people to free themselves from the constraints of loans and concentrate on doing what they want to do," he said. "I feel honored that this scholarship was established. And I feel envious of the young people who get it, because it's really an accelerated path to their future that they wouldn't have otherwise."
All donations between now and the end of the year will go toward spreading the impact of this program--and honoring Steve for more than half a century of dedication to the structural steel industry. (As always, every penny goes toward education programs, and donations are 100% tax-deductible.)
About the AISC Education Foundation
The Education Foundation is a registered 501(c)(3) organization that provides scholarships, grants, and other programming that helps students and educators explore the structural steel industry and appreciate steel's full potential.
The Foundation is administered by the American Institute of Steel Construction, and every penny contributed to the Foundation goes straight to programming.
For more information about the AISC Education Foundation, please visit aisc.org/giving/about.
###
For more information contact:
Dani Friedland
Director of Marketing Communications
773.636.8535
friedland@aisc.org
American Institute of Steel Construction
The American Institute of Steel Construction, headquartered in Chicago, is a non-partisan, not-for-profit technical institute and trade association established in 1921 to serve the structural steel design community and construction industry. AISC's mission is to make structural steel the material of choice by being the leader in structural steel-related technical and market-building activities, including specification and code development, research, education, technical assistance, quality certification, standardization, market development, and advocacy. AISC has a long tradition of service to the steel construction industry of providing timely and reliable information.

130 E. Randolph St, Suite 2000
Chicago IL 60601
312.670.2401
www.aisc.org