AISC Remembers Jeffrey W. Post
October 17, 2019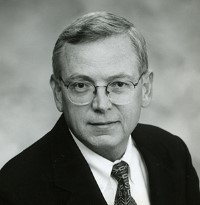 The American Institute of Steel Construction joins the industry in fondly remembering Jeffrey W. Post, a leading expert on heat straightening, who died earlier this week.
AISC presented Post with a 2001 Special Achievement Award in recognition of his work on tubular steel and heat straightening.
"Jeff was a special person. His outlook on life and humor made him a pleasure to work with," said AISC Chief of Engineering Staff Thomas J. Schlafly. "Jeff brought a great blend of humanity, ethics, and 'steel' to the table every day."
Schlafly recalled a particularly illuminating excursion with Post. "Jeff took a few AISC staff to the Louisiana bayou to show us what steel can do," Schlafly said. "He showed us 50,000-ton assemblies placed in the Gulf of Mexico and the sharing of knowledge was a great awakening. There are different worlds out there. Steel is extraordinary and Jeff showed us facets of that we had not seen before."
Post was always willing to share his knowledge and gave a fantastic lecture on welding at the 1998 National Steel Construction Conference. His paper appears in the Modern Steel Construction archives.
Post's memorial service is scheduled for Saturday, October 19, at 2 p.m. at the San Pedro Presbyterian Church in San Antonio, Texas.
###
For more information contact:
Dani Friedland
Director of Marketing Communications
312.670.5439
friedland@aisc.org
American Institute of Steel Construction
The American Institute of Steel Construction, headquartered in Chicago, is a non-partisan, not-for-profit technical institute and trade association established in 1921 to serve the structural steel design community and construction industry. AISC's mission is to make structural steel the material of choice by being the leader in structural steel-related technical and market-building activities, including specification and code development, research, education, technical assistance, quality certification, standardization, market development, and advocacy. AISC has a long tradition of service to the steel construction industry of providing timely and reliable information.

130 E. Randolph St, Suite 2000
Chicago IL 60601
312.670.2401
www.aisc.org