American Steel Bridge Industry Ready and Able to Meet the Nation's Infrastructure Needs
February 23, 2022
FOR IMMEDIATE RELEASE
American Steel Bridge Industry Ready and Able to Meet the Nation's Infrastructure Needs
CHICAGO - "We're excited that funding is finally becoming available to rejuvenate and improve America's bridges. The American steel fabrication industry and our domestic steel mills are ready and able to meet our nation's infrastructure needs," stated Charles J. Carter, SE, PE, PhD, president of the American Institute of Steel Construction and executive director of the National Steel Bridge Alliance.

Carter will be discussing the current state of the fabrication industry during a special session at this year's NASCC: The Steel Conference in Denver from March 23-25. "Last summer, as a result of the ongoing pandemic, the structural steel industry experienced longer than normal lead times and extended delivery schedules, just like almost every construction material," Carter explained. "Fortunately, the steel industry has almost fully recovered. And whether it's raw steel or fabricated product, our members have the personnel, capacity, experience, and skill to successfully complete all of the anticipated projects."

Thanks to Buy America provisions, steel plate and structural steel used in bridge construction are widely available from domestic steel mills, so not subject to the current port delays most supply chains are currently experiencing. Further, to accommodate the expected increased demand from the recently passed infrastructure bill, the steel industry is rapidly adding capacity, such as the $1.7 billion plate mill now under construction in Kentucky and additional upgrades being made by multiple steel producers. According to steel mill representatives, the industry has the capacity to support both the current and expected future demand for steel. And on the fabrication side, many companies have upgraded their equipment, improved their automation, and increased their staffing in anticipation of increased bridge projects due to the new infrastructure bill.

While availability and lead times were the hot topic last fall, today's discussions focus more on the escalated pricing for all raw materials. John O'Quinn, president of High Steel Structures and chair of NSBA's Market Development Committee, is quick to point out that raw material pricing represents only a fraction of the total cost of a bridge. "You can not simply look at the change in plate pricing to fully gauge the cost of a bridge," he explained. "We manage highly impactful variables including labor, materials, coating systems, erection, and even the timing of the project to best deliver bridges at a cost and schedule that meets each owner and project's needs."

Owners and designers with specific concerns about pricing and availability should contact either their regional NSBA representative (visit aisc.org/nsba for contact information) or one of AISC's more than 350 certified steel bridge fabricators (for a complete list, visit aisc.org/certification).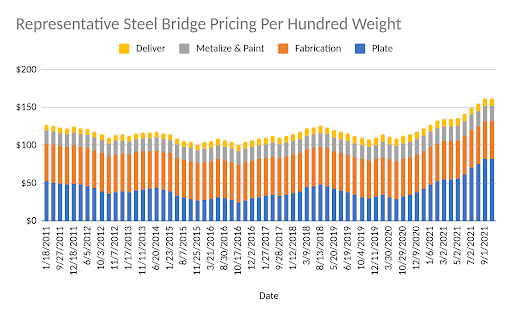 ###
For more information contact:
Dani Friedland
Director of Marketing Communications
312.670.5439
friedland@aisc.org

About the National Steel Bridge Alliance:
The National Steel Bridge Alliance (NSBA), a division of the American Institute of Steel Construction (AISC) is a national, not-for-profit organization dedicated to the advancement of steel bridge design and construction. The NSBA functions as the voice of the bridge fabricators and steel mills while also partnering with the bridge design and construction community. The NSBA's partners include the American Association of State Highway and Transportation (AASHTO), Federal Highway Administration (FHWA), state departments of transportation (DOTs), design consultant, contractors, and academia. With these resources, NSBA is uniquely positioned to find solutions to the toughest bridge challenges, including those related to cost, sustainability, and performance.

About The American Institute of Steel Construction:
The American Institute of Steel Construction (AISC), headquartered in Chicago, is a non-partisan, not-for-profit technical institute and trade association established in 1921 to serve the structural steel design community and construction industry in the United States. AISC's mission is to make structural steel the material of choice by being the leader in structural-steel-related technical and market-building activities, including specification and code development, research, education, technical assistance, quality certification, standardization, market development, and advocacy. AISC has a long tradition of service to the steel construction industry providing timely and reliable information.