Innovative 3D-Printed Steel Bridge Concept Wins 2021 Forge Prize
April 2, 2021
FOR IMMEDIATE RELEASE
CHICAGO - It's official: A jaw-dropping pedestrian bridge concept has won the 2021 Forge Prize--and earned $10,000 for Hunter Ruthrauff of T.Y. Lin International Group in San Diego!
Ruthrauff's design, conceived for a site in San Diego's Balboa Park, draws on Spanish-inspired architecture in the Prado, local flora, and the nearby Cabrillo Bridge. The bridge's organic form reflects the network of trails in Florida Canyon.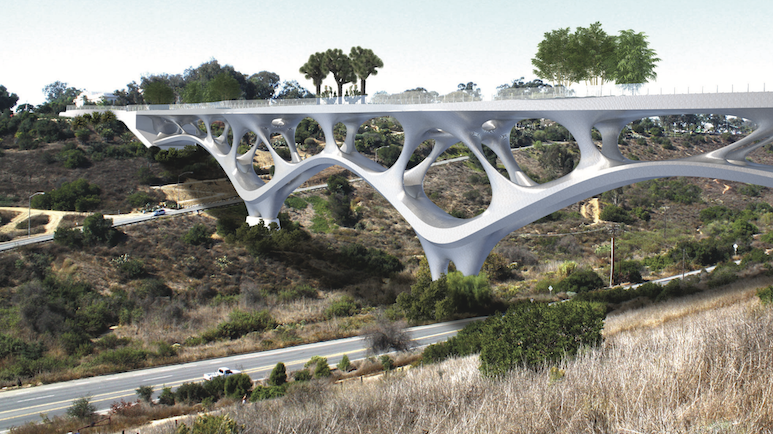 The bridge's open deck offers uninterrupted views and some unconventional public space: large hammocks over four apertures that look down into the canyon. The project would take advantage of the unconventional shapes that are possible with 3D-printed structural steel.
Although the Forge Prize is a conceptual competition, the judges all expressed confidence that Ruthrauff's bridge will be built someday. "I don't think any of us have a doubt in our mind that it's going to come together and be a catalyst for the rest of us across the country," said Pascale Sablan, FAIA, NOMA, LEED AP, Associate at Adjaye Associates Architects. "[Ruthrauff] really convinced us that [he] can actually help solve some of the infrastructure issues that are plaguing our nation."
"Over the last 37 years since our founding, we've fabricated some unique and interesting projects, but the projects we've enjoyed most involve finding solutions to challenges created by architects' innovative use of steel," said STS Steel, Inc. President Glenn Tabolt, who served as Ruthrauff's mentor during the competition. "I was not that familiar with the use of 3D printing in such a large structure, but the more I worked with Hunter and understood the technology, the more enthusiastic I became about his design."
Ruthrauff will give an encore of his award-winning design's presentation at NASCC: The Virtual Steel Conference on April 12. The 2020 Forge Prize winners, Rosannah Harding and Matthew Ostrow of HardingOstrow, will join him to present their award-winning weathering steel footbridge concept.
Yimeng Teng and Mert Kansu of VMDO Architects were named first runners-up for their concept: a mixed-use civic plaza in Richmond, Va. that focuses on public engagement, community programs, and sustainability. Their design incorporates steel plates to create an expressive folding form.
The judges named Jieun Yang of Habitat Workshop second runner-up for her Signal Park urban village design.
"I'm sure we will be hearing more from this talented group of individuals as they continue to find new ways to design with steel," Tabolt said.
The final presentations from the 2021 Forge Prize finalists were streamed live on YouTube and are available at youtube.com/AISCsteelTV.
AISC would once again like to thank this year's Forge Prize judges for their dedication and generosity:
Pascale Sablan, FAIA, NOMA, LEED AP, Associate at Adjaye Associates Architects

Bob Borson, FAIA, Associate Principal at BOKAPowell and creator of the "Life of an Architect" website and podcast

Robert Cassidy, Executive Editor of

Building Design + Construction

and Editor of

Multifamily Design + Construction
###
For more information contact:
Dani Friedland
Director of Marketing Communications
773.636.8535
friedland@aisc.org
American Institute of Steel Construction
The American Institute of Steel Construction, headquartered in Chicago, is a non-partisan, not-for-profit technical institute and trade association established in 1921 to serve the structural steel design community and construction industry. AISC's mission is to make structural steel the material of choice by being the leader in structural steel-related technical and market-building activities, including specification and code development, research, education, technical assistance, quality certification, standardization, market development, and advocacy. AISC has a long tradition of service to the steel construction industry of providing timely and reliable information.

130 E. Randolph St, Suite 2000
Chicago IL 60601
312.670.2401
www.aisc.org