Lafayette College Wins NSSBC for First Time Ever
June 4, 2018
(Chicago, IL) - The student steel bridge team from Lafayette College, Easton, Penn., was crowned champions in the 2018 ASCE/AISC National Student Steel Bridge Competition (NSSBC), hosted by the University of Illinois at Urbana-Champaign, May 25-26. This is the first time the college has captured the national title in the competition's 27-year history. California Polytechnic State University, San Luis Obispo, received second place overall, and École de technologie supérieure, who won first place overall the past two years, took home third. The competition showcases students' skills in civil engineering, innovation and teamwork.
"While we knew that we had a contender this year, we also knew that we needed to be nearly perfect in order to beat the other top teams, who brought incredibly well-engineered bridges," said Steve Kurtz, associate professor at Lafayette College's department of civil and environmental engineering, and the steel bridge team's faculty advisor. "Many of our alumni can relate to the teams that we narrowly defeated. They did great engineering work, but just came up a bit short, often due to a small dimensional penalty or a few bolt drops."
Throughout the academic year, student teams devote countless hours designing, fabricating and constructing their own scale-model (1:10) steel bridge under a set of rules that reflect real-life structural specifications and construction regulations. To achieve success in the competition, students must be able to apply engineering concepts and effectively work together to assemble their bridge under the pressure of the clock. Bridge rankings were based on the categories of construction speed, stiffness, lightness, economy, display and efficiency. The overall rankings are based on weighted category scores.
Travis Shoemaker, captain of Lafayette College's nine-member steel bridge team (all civil engineering seniors who graduated a week before the competition), commented on the team's strategy: "Our most basic principle is that every decision must be an engineered decision. We have a system for estimating total costs, which we began to employ in August, and we conducted hundreds of FEM-based case studies and parametric studies. From that, our strategy developed, in terms of bridge style and construction method. We do not have a preconceived strategy; strategy is the result of analysis. Our eventual design concept was a tied-arch bridge. Because this was quite unexpected, every member of the team conducted analytical studies in attempts to disprove the concept. After rigorous scrutiny, the concept was adopted. And after regionals, we focused on developing our construction tools. From our construction experience in the fall, we knew that our tool strategy would focus on getting the constructed portion stable, as quickly as possible, while minimizing running distance."
Shoemaker said the team's original design was a truss bridge, which was fabricated and completed in time for the school's rivalry football game as part of the bridge team's tradition to present its preliminary design to bridge team alumni. In addition, the team used the school's bridge from last year's competition to practice timed construction for several weeks with two different design concepts. Based on this experience, they redesigned their bridge into a tied-arch concept, and the final bridge was fabricated in about six weeks.
AISC also gave out two new awards for the competition. The Robert E. Shaw, Jr., Spirit of the Competition Award, which recognizes outstanding team comradery, professionalism, positive work ethic and respect for competition peers, was given to the University of Puerto Rico Mayaguez. The Frank J. Hatfield Ingenuity Award, which recognizes the team that showed the most engineering ingenuity in the design and construction of their bridge within the spirit of the competition rules, was given to the University of Texas San Antonio.
"The level of competition was high," said Christina Harber, SE, PE, AISC's director of education. "It was an exciting competition filled with emotion, creativity and enthusiasm. And there were many displays of sportsmanship and learning. There is no substitute for the hands-on learning and knowledge gain that happens from this competition. Congratulations to all of the teams that qualified for Nationals. It was evident that these students put many hours into the competition, and they should all be very proud."
Forty-two university and college teams competed in this year's national competition, narrowed down from 230 teams that participated in 18 regional competitions throughout the spring. The full results, photos and more information about the competition can be found at www.nssbc.info. Next year's NSSBC will be held at the University of Texas at El Paso, May 24-25.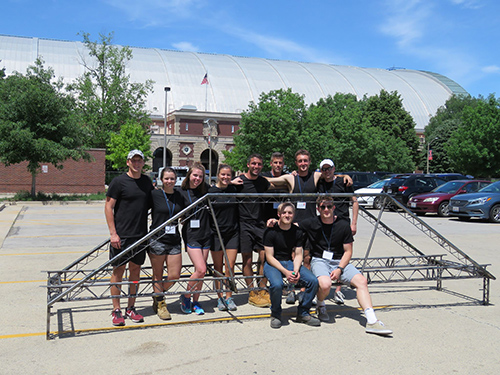 (Photo courtesy of Lafayette College's student steel bridge team)
###
For more information contact:
Dani Friedland
Director of Marketing Communications
312.670.5439
friedland@aisc.org
American Institute of Steel Construction
The American Institute of Steel Construction, headquartered in Chicago, is a non-partisan, not-for-profit technical institute and trade association established in 1921 to serve the structural steel design community and construction industry. AISC's mission is to make structural steel the material of choice by being the leader in structural steel-related technical and market-building activities, including specification and code development, research, education, technical assistance, quality certification, standardization, market development, and advocacy. AISC has a long tradition of service to the steel construction industry of providing timely and reliable information.

130 E. Randolph St, Suite 2000
Chicago IL 60601
312.670.2401
www.aisc.org