Mariposa Land Port of Entry Wins National Steel Design Award
November 3, 2016
(Chicago, IL) – The Mariposa Land Port of Entry in Nogales, Ariz., has earned national recognition in the 2016 Innovative Design in Engineering and Architecture with Structural Steel awards program (IDEAS2). In honor of this achievement, members of the project team will be presented with awards from the American Institute of Steel Construction (AISC) on Tuesday, November 8 at Jones Studio architects, Tempe, Ariz.
The Mariposa Land Port of Entry is one of the busiest land ports in the U.S. Processing over 2.8 million northbound vehicles each year and serving as the entry point to 37% of the produce imported to the U.S. from Mexico, it was in need of modernization and expansion due to the growth in trade since it was built in the 1970s. Completed in 2014, the updated 55-acre site now contains 270,000 sq. ft of buildings, inspection facilities and kennels for both south- and northbound traffic.
"Simple materials beautifully detailed," commented William Bradford, an assistant director/project manager with the University of Illinois at Chicago's Office for Capital Programs, and the owner juror in the competition. "The design fits the desert location."
The most distinguishing feature of the project is the large amount of exposed structural steel throughout the site. The most prominent of these structures is the large shade canopy spanning across the entry to the port. The canopy's trusses provide shade from the desert sun, facilitate overhead inspection of vehicles by way of a continuous catwalk and create the dynamic red, white and blue entry threshold to the U.S.
The project was entered in the competition by its Tempe, Ariz.-based architect, Jones Studio. The other members of the project team include:
Owner: General Services Administration, Region 9, San Francisco
Owner's Representative: GSA - Design + Construction, San Francisco
Structural Engineer: Bakkum Noelke Consulting, Phoenix
General Contractor: Hensel Phelps, Phoenix
Steel Fabricator and Erector: S&H Steel, Gilbert, Ariz. (AISC member/certified fabricator and erector)
The 10 IDEAS2 winners for 2016 were chosen from nearly 100 submissions received from architectural and engineering and other project team member firms throughout the U.S. Each submission is reviewed and award winners are selected by a nationally recognized panel of design and construction industry professionals.
The IDEAS2award dates back more than 50 years with AISC. And about this year's winning land port site, Roger E. Ferch, PE, president of AISC, said, "The entire Mariposa Land Port of Entry project team has shown how structural steel can be used to create structures that combine beauty and practicality. The result is a structure that serves its purpose extremely well, while providing an example of what can be achieved when designing and constructing projects with steel."
Members of the media may request high-resolution images of the project by contacting AISC's Tasha Weiss at 312.670.5439, weiss@aisc.org. For more information about the IDEAS2 awards and to view all of this year's winners, please visit www.aisc.org/ideas2.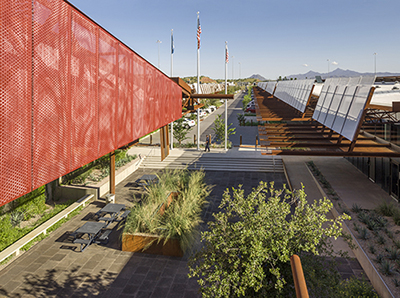 Photo by Bill Timmerman
###
For more information contact:
Dani Friedland
Marketing Communications Strategist
312.670.5439
friedland@aisc.org
American Institute of Steel Construction
The American Institute of Steel Construction, headquartered in Chicago, is a non-partisan, not-for-profit technical institute and trade association established in 1921 to serve the structural steel design community and construction industry. AISC's mission is to make structural steel the material of choice by being the leader in structural steel-related technical and market-building activities, including: specification and code development, research, education, technical assistance, quality certification, standardization, market development, and advocacy. AISC has a long tradition of service to the steel construction industry of providing timely and reliable information.

130 E. Randolph St, Suite 2000
Chicago IL 60601
312.670.2401
www.aisc.org