New Hampshire Governor Chris Sununu Reaffirms Support for American Ironworkers with Visit to Novel Iron Works
December 20, 2019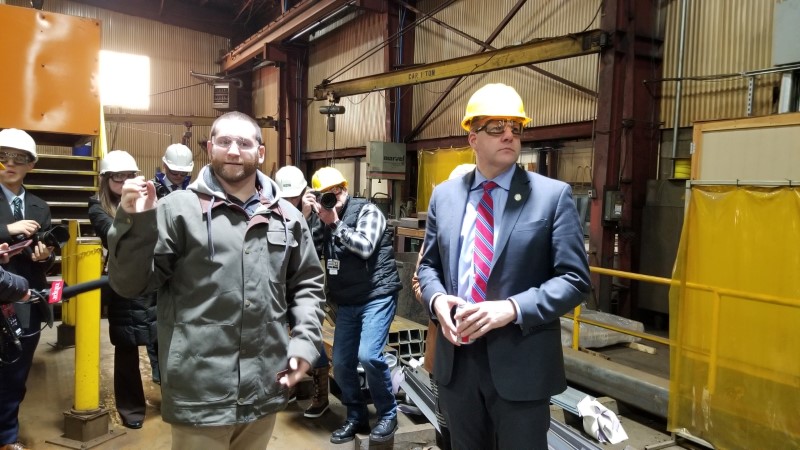 Novel Iron Works President Josh Noveletsky (left) and N.H. Governor Chris Sununu (right) at Novel Iron Works
GREENLAND, N.H. – New Hampshire Governor Chris Sununu showed his support for American-made fabricated steel during his visit yesterday afternoon to Novel Iron Works. Governor Sununu spent time with workers and their families at Novel's holiday luncheon and toured the plant.
Novel Iron Works is a third-generation, family-owned company that, along with sister company Rose Steel, employs 140 American workers--some of the 115,000 fabricated steel jobs nationwide.
The Governor's visit isn't the only cause for celebration at Novel Iron Works, which was recently named one of the top women-led New Hampshire businesses.
"We were honored to have Governor Sununu join us at Novel Iron Works for our holiday luncheon and have him meet with our workers and their families," said Hollie Noveletsky, CEO of Novel Iron Works. "As one of New Hampshire's top women-led businesses, Novel Iron Works plays an essential role in the construction of America's critical infrastructure. With more than 115,000 fabricated structural steel jobs across the United States, facilities like ours are truly the backbone of local communities in New Hampshire and beyond."
"It was a great privilege to meet with New Hampshire's fabricated structural steel workers yesterday at Novel Iron Works," said Governor Chris Sununu. "Novel Iron Works serves as a jobs engine for our entire state. What Hollie and her team have built in Greenland is a New Hampshire success story — and something we are all proud of."
The visit comes during a critical moment for America's fabricated structural steel industry, which has been injured by a surge of unfairly traded imports from China, Canada, and Mexico--resulting in almost $4 billion in lost sales and revenue since 2015. The industry, which supports hundreds of thousands of jobs across the country, filed trade cases earlier this year to stem the injury caused by these imports. Final determinations are due in January 2020.
"In September, Commerce issued its preliminary determinations, with troubling results," said AISC Director of Communications & Public Affairs Brian Raff. "The Canadians and some of China and Mexico's biggest offenders got a free pass to dump and subsidize fabricated steel into the United States with no penalty. If these results don't change for the final determination, fabricators in New Hampshire and across the country are at risk."
The domestic fabricated structural steel industry consists of approximately 1,700 employers throughout the country, many of which are small, family-owned businesses servicing local construction markets. The industry directly supports 115,000 jobs in fabrication and hundreds of thousands more suppliers, designers, and construction professionals and their families. Fabricated structural steel manufacturers play an essential role in the construction of America's critical infrastructure, serving as the intermediary between steel mill producers and construction projects.
###
For more information contact:
Dani Friedland
Director of Marketing Communications
312.670.5439
friedland@aisc.org
American Institute of Steel Construction
The American Institute of Steel Construction, headquartered in Chicago, is a non-partisan, not-for-profit technical institute and trade association established in 1921 to serve the structural steel design community and construction industry. AISC's mission is to make structural steel the material of choice by being the leader in structural steel-related technical and market-building activities, including specification and code development, research, education, technical assistance, quality certification, standardization, market development, and advocacy. AISC has a long tradition of service to the steel construction industry of providing timely and reliable information.

130 E. Randolph St, Suite 2000
Chicago IL 60601
312.670.2401
www.aisc.org