Design Guide 32: Modular Steel-Plate Composite Walls for Safety-Related Nuclear Facilities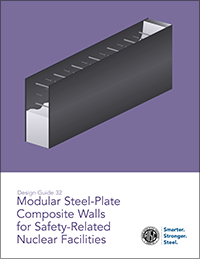 Format: PDF
Category: Design Guides
Design Guide 32: Modular Steel-Plate Composite Walls for Safety-Related Nuclear Facilities
Member

FREE

Non-member

$60.00
Design Guide 32 facilitates the design of steel-plate composite (SC) walls for safety-related nuclear facilities. The procedures outlined in this document are based on Supplement No. 1 to ANSI/AISC N690 Specification for Safety-Related Steel Structures for Nuclear Facilities. Appendix N9, adopted into ANSI/AISC N690 as part of the Supplement, presents the requirements for the design of SC walls.
This Design Guide provides guidance on the many aspects of analysis and design of SC structures based on ANSI/AISC N690. The determination and basis of individual design strength equations is presented, as well as guidelines for modeling and analysis of SC walls. Detailing requirements for SC walls including faceplate slenderness requirements, steel anchor and tie detailing are included.
Additionally, the design of connections is addressed in detail. Different connection philosophies, force transfer mechanisms, and types of connections are discussed with illustrations. The implementation of the provisions of ANSI/AISC N690 Appendix N9 is illustrated using a detailed design example presented in the appendix.
This Design Guide was reprinted in 2019 with a new cover design. No changes were made to the contents.
Publication Date: 2017