Seismic Design Manual, 3rd Edition (Print)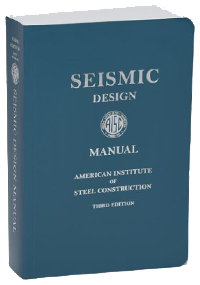 Format: Softcover
Category: Seismic 3
Seismic Design Manual, 3rd Edition (Print)
Member

$100.00

Non-member

$200.00
Format
In a change from the previous edition, the 3rd Edition Seismic Design Manual is produced with a high-quality vinyl softcover that coordinates with the 15th Edition Steel Construction Manual.
Contents
The 3rd Edition AISC Seismic Design Manual includes:
Comprehensive design examples, updated for the 2016 AISC Seismic Provisions.

Side-by-side LRFD and ASD design methodologies for design examples

Thorough examples on connection design, including panel zone detailing and brace-to-beam/column connection design options

Extended discussion and more economical design methodology for collector elements

Examples for buckling-restrained braced frames

Chapter listing:
General Design Considerations

Analysis

Systems Not Specifically Detailed for Seismic Resistance

Moment Frames

Braced Frames

Composite Moment Frames

Composite Braced Frames and Shear Walls

Diaphragms, Collectors and Chords

Provisions and Standards

Also, included are two AISC seismic-related standards: the 2016 AISC Seismic Provisions for Structural Steel Buildings (ANSI/AISC 341-16) and the 2016 AISC Prequalified Connections for Special and Intermediate Steel Moment Frames for Seismic Applications (ANSI/AISC 358-16).
Please review AISC's member discount and return policies. All AISC member types other than Full Members are limited to the purchase of two (2) manuals at the member discount price, regardless of the prices shown in your shopping cart. Orders that violate this policy will be cancelled or quantity-adjusted accordingly.
Publication Date: 2018