Design Guides
AISC has produced more than 35 Design Guides to provide detailed information on topics related to structural steel design and construction.
Design Guides are available as downloadable PDF documents. Downloads are free for AISC members. Design Guides are also available in printed form. Select your format preference to the left to browse our collection.
Notes
Please be mindful of the publication date of each Design Guide and the standards to which it was written. In the time since each Design Guide was published, changes have occurred in the structural steel industry. One significant change is that all channels, plates, and angles are now more commonly 50 ksi material rather than 36 ksi material; please refer to the AISC

Steel Construction Manual

Part 2 for preferred materials.

We have created a handy summary of each Design Guide publication date and the AISC standards and manuals referenced therein.
Check for any revisions and errata at the link to the left.


Featured Design Guides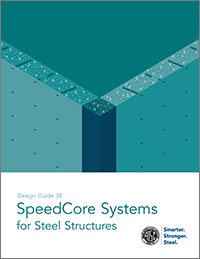 Design Guide 38: SpeedCore Systems for Steel Structures
This Design Guide offers everything you need to know to harness the power of SpeedCore, a concrete-filled composite plate shear wall system that allows lightning-fast erection without waiting for concrete to cure. The guide covers coupled and uncoupled systems in planar, C-shaped, and I-shaped configurations. It also includes critical information about designing for wind, fire, and seismic considerations, along with extensive design examples.

Be sure to check out the bonus material links on the product pages!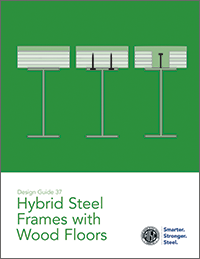 Design Guide 37: Hybrid Steel Frames with Wood Floors
Modern hybrid steel and mass-timber systems capitalize on the strengths of both materials to achieve highly efficient and attractive structural systems. Design Guide 37 provides a multi-disciplinary review of the design considerations that impact the structural design of hybrid steel-framed structures with mass-timber floors, including fire, acoustics, and sustainability.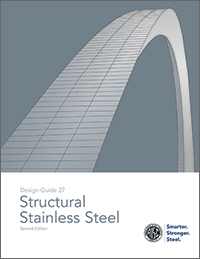 Design Guide 27, 2nd Ed.: Structural Stainless Steel
The updated version is perfect for engineers experienced in the design of carbon steel structural components but not necessarily in the design of stainless steel structures. It's a companion to the design provisions in the 2021 AISC Specification for Structural Stainless Steel Buildings and includes dimension and property tables as well as design tables covering available strength for flexural and compression members and connections. It also offers some design examples to get you started.