Milek Fellowship
Congratulations to 2021 Milek Fellow William N. Collins, PE, PhD, associate professor at the University of Kansas School of Engineering!
Collins will research innovative steel deck systems for highway bridges--the first Milek Fellowship project to focus on bridges, in fact! The goal of this research is vital: to reduce weight and increase the speed of erection.
---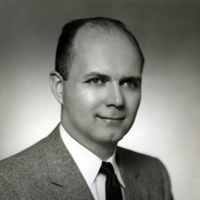 About the Milek Fellowship
Each year, AISC selects a promising non-tenured university faculty member as the AISC Milek Fellow (formerly the AISC Faculty Fellow), a four-year, $50,000-per-year award. The award was renamed after William A. Milek Jr., former AISC Vice President of Engineering and Research, to recognize his invaluable contributions to AISC and the structural steel industry as a whole.
Part of the value of this program to AISC, the selected fellow, and the university is the public recognition of the honor. The faculty member whose application is selected will be identified as the AISC Milek Fellow in selected publications and other venues, will be presented with a Milek Fellow certificate, and will receive free registration at NASCC: The Steel Conference for the four years following their selection as Milek Fellow. The faculty member is to use this fellowship to support students with high potential to be valuable contributors to the U.S. structural steel construction industry and should strive to fund a doctoral candidate with at least half of the fellowship money. The subject of study may be chosen from a wide array of topics in steel design and construction.
Past Milek Fellowship Recipients
| | | | |
| --- | --- | --- | --- |
| Year | Investigator | Institution | Project |
| 2021 | Willam N. Collins | University of Kansas | Innovative Steel Deck System for Highway Bridge Applications |
| 2020 | Matt Yarnold | Texas A&M | Behavior of Hot Rolled Asymmetric Steel I‐Beams |
| 2019 | Johnn P. Judd | Brigham Young University | Inelastic Design Method for Steel Buildings Subjected to Wind Loads with the Goal to Increase Design Simplicity, Economy, and Performance |
| 2018 | Gary S. Prinz | University of Arkansas | Steel Seismic Systems with Architectural Flexibility: Seismic Performance of Non-Orthogonal SMF Beam-to-Column Connections |
| 2017 | Patricia Clayton | UT-Austin | Seismic Performance of Moment-Resisting Frames with Fuse-Type Connections |
| 2016 | Spencer Quiel | Lehigh University | Performance-Based Design of Passive Fire Protection for Floor Systems in Steel-Framed Buildings |
| 2015 | Matthew Fadden | University of Kansas | Thin Composite Two-way Flooring Systems for Structural Steel Systems |
| 2014 | Michael Pollino | Case Western Reserve University | Damage Resistant Design Methodology For Multi-Hazard Resilient Buildings |
| 2013 | Luis Ibarra | University of Utah | Effect of Buckling Restrained Brace (BRB) Boundary Conditions on the Seismic Resilience of Braced Frames |
| 2012 | Matthew Eatherton | Virginia Tech | Development of Buckling Resistant Steel Plate Shear Walls |
| 2011 | Shih-Ho Chao | University of Texas at Arlington | Quantification of Seismic Performance Factors for Steel Staggered Truss and Eccentrically Braced Framing Systems |
| 2010 | Jason McCormick | University of Michigan | Seismic Applications of Hollow Structural Sections in Moment-Resisting Frames |
| 2009 | Larry Fahnestock | University of Illinois | Reserve Capacity in Steel Concentrically-Braced Frames: Implications for Seismic Behavior, Design and Performance |
| 2008 | Jeffrey Berman | University of Washington | Improving the Threat Independent Life-Safety of Steel Gravity Framing Systems |
| 2007 | Venkatesh Kodur | Michigan State University | Performance-Based Methodology for Demonstrating the Feasibility of Unprotected Steel in Sprinklered Buildings. |
| 2006 | Ben Schafer | Johns Hopkins University | Cross Section Stability of Structural Steel |
| 2005 | Judy Liu | Purdue University | Slit Steel Shear Walls |
| 2004 | Amit Varma | Michigan State University / Purdue University | Development of Innovative Long-Span Slab Systems for Multi-Story Residential Steel Structures |