Steel Construction Manual, 16th Ed. (Print)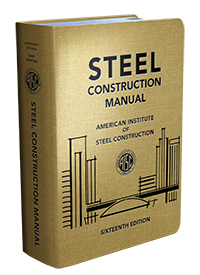 Format: Hardcover
Category: Manual 16
Steel Construction Manual, 16th Ed. (Print)
Member

$250.00

Non-member

$500.00
The 16th Edition Steel Construction Manual is now the most current edition!
The following standards, available as free downloads elsewhere on this site, are printed in Part 16 of this Manual:
ANSI/AISC 360-22: Specification for Structural Steel Buildings
2020 RCSC Specification for Structural Joints Using High-Strength Bolts
ANSI/AISC 303-22: Code of Standard Practice for Steel Buildings and Bridges
Visit the 16th Edition Home Page
Please review our customer service page prior to making a purchase. All AISC member types other than Full Members are limited to two (2) manuals per person at the member discount price. Orders that violate our policy will be canceled without prior notice. For bulk order information, visit the Member Discounts section on our customer service page.
STUDENTS: Attend your first class before ordering this product! Additional discounts may be available through your instructor.
Publication Date: 2023