SpeedCore Researcher Amit Varma Wins Higgins Lectureship Award, Will Address Industry Thursday
October 19, 2020
FOR IMMEDIATE RELEASE
CHICAGO - The American Institute of Steel Construction has awarded its 2021 T.R. Higgins Lectureship Award to Amit H. Varma, Karl H. Kettelhut Professor of Civil Engineering and Director of the Bowen Laboratory of Large-Scale CE Research at Purdue University's Lyles School of Civil Engineering.
Varma will present "SpeedCore and Steel-Concrete Composite Construction: The Best of Both Worlds" as a keynote speaker during NASCC: The Steel Conference, which will take place April 14-16, 2021, in Louisville. Varma will share what he's learned from more than 12 years of researching composite steel-concrete construction, highlighting experimental behavior, numerical modeling, and design of composite walls and the SpeedCore system for wind loading, seismic loading, and fire loading conditions.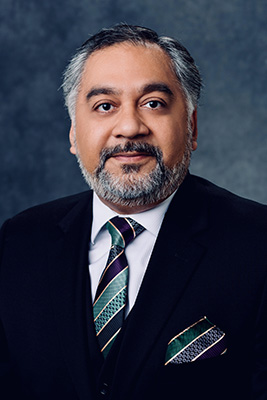 Varma will also present a keynote on the future of high-rise building construction and consider the potential impact of 3D printing, robotics, and advanced manufacturing methods at AISC's Flash Steel Conference, which takes place online from Tuesday to Thursday this week. Varma's presentation, "Steeling the Future," headlines Thursday's Flash Conference program and begins at 9:25 a.m. CDT.
"I first met Amit when AISC awarded him our first Milek Fellowship in 2004," said AISC Vice President of Engineering and Research Lawrence F. Kruth, PE. "Since then, he has become a world-renowned researcher in steel and fire. AISC is proud to recognize Amit for his outstanding research accomplishments. I look forward to hearing his keynote at the Steel Conference in April."
The $15,000 T.R. Higgins Lectureship Award recognizes an innovative lecturer or author whose outstanding technical writing constitutes a ground-breaking addition to engineering literature on fabricated structural steel. For more about the T.R. Higgins Lectureship Award and its past winners, please visit aisc.org/higgins.
Varma has dedicated his academic and professional life to the development of innovative steel-concrete composite structures for the built infrastructure including commercial, industrial, and safety-related nuclear structures. He has conducted fundamental research leading to the development of design provisions for composite members, connections, and overall structural systems subjected to extreme loading conditions including seismic, fire, blast, and impactive loading.
"Amit Varma's research on SpeedCore is a game-changer for our industry," said Kruth. "His research includes not only the seismic resistance of SpeedCore but also performance-based fire engineering; his research has demonstrated that no additional fireproofing is required for SpeedCore."
About Amit Varma
Varma received his BS in Civil Engineering from IIT-Bombay ('94), MS from Univ. of Oklahoma ('96), and PhD from Lehigh University ('01). He has been an academic for 20 years and at Purdue University for 16 years.
Varma's research products are the basis of (and directly cited in) several AISC specifications (AISC 360, AISC 341, AISC N690) for the design of steel-concrete composite structures for building structures and safety-related nuclear facilities. He has previously received the AISC Milek Faculty Fellowship Award (2004), AISC Special Achievement Award (2017, 2020), and the ASCE Shortridge Hardesty Award (2019).
Varma is the Chair of AISI/AISC Task Committee 8 on Fire Design, and member of Task Committee 5 on Composite Design. He is also a member of the AISC Committee of Specifications and ASCE/SEI 7 Standard Committee.
Varma lives in West Lafayette, Ind., with his mother, wife, and two daughters.
###
For more information contact:
Dani Friedland
Director of Marketing Communications
773.636.8535
friedland@aisc.org
American Institute of Steel Construction
The American Institute of Steel Construction, headquartered in Chicago, is a non-partisan, not-for-profit technical institute and trade association established in 1921 to serve the structural steel design community and construction industry. AISC's mission is to make structural steel the material of choice by being the leader in structural steel-related technical and market-building activities, including specification and code development, research, education, technical assistance, quality certification, standardization, market development, and advocacy. AISC has a long tradition of service to the steel construction industry of providing timely and reliable information.

130 E. Randolph St, Suite 2000
Chicago IL 60601
312.670.2401
www.aisc.org