In Memoriam: Deane Wallace
January 31, 2022
FOR IMMEDIATE RELEASE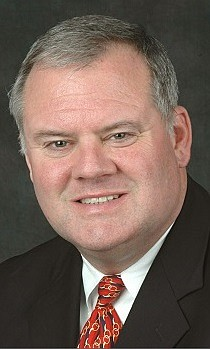 CHICAGO - Deane Thomas Wallace, former senior vice president of bridge sales and estimating at W&W|AFCO Steel, died January 22 at the age of 66. He leaves behind a legacy of amazing steel bridges, such as the Christopher S. Bond Bridge (Kansas City, Mo.), Big Rock Interchange (Little Rock, Ark.), and the US 82 Mississippi River Bridge (Greenville, Miss.).

"Our industry has truly lost one of our great champions with Deane Wallace's recent passing," said John O'Quinn, president of High Steel Structures and chair of the NSBA Market Development Committee. "His larger-than-life personality served both Deane and the industry well over the years, as you always knew where he stood on any given issue. Deane was as well-known for being a fierce competitor as he was for his firm, fair and common-sense approach as a colleague and team player. His contributions were numerous, from the Steel Centurion concept (aisc.org/nsba/education/modern-steel-construction/steel-centurions-series) to his leadership on both the NSBA Executive Council and NSBA Market Development Committee. Deane's passion for steel bridges was impactful, helping to guide the path forward not only for the betterment of his employer, W&W|AFCO, but for our entire industry."

A graduate of the University of Dallas and a life-long resident of Little Rock, Wallace had a 40-year career with W&W|AFCO Steel. He had a passion for the Arkansas Razorbacks; duck hunting, wine and a fine cigar; his church and devout faith; and his customers, many of whom became friends.

"Deane Wallace was a very strong advocate for the steel bridge industry throughout his career," added Grady E. Harvell, president and COO of W&W | AFCO Steel. "Deane's efforts to develop the steel bridge market with NSBA, DOT's, consulting engineers, contractors, and customers will produce benefits for bridge fabricators for years to come.

"I think one of the greatest compliments a manager can have is to be able to retire and not see a significant decline in the effectiveness of his department or the company's success when he leaves. Deane retired in 2016 after suffering a debilitating stroke but he left talented young protégés that are carrying on the traditions he put in place. Deane's philosophy was to build our bridge business around integrity and performance and count on those qualities to keep our customers coming back. It worked and it worked well. We miss his robust laugh and his leadership and friendship on a daily basis," Harvell said.
###
For more information contact:

Scott Melnick
Senior Vice President
American Institute of Steel Construction
312.804.1535
melnick@aisc.org

About The American Institute of Steel Construction:
The American Institute of Steel Construction (AISC), headquartered in Chicago, is a non-partisan, not-for-profit technical institute and trade association established in 1921 to serve the structural steel design community and construction industry in the United States. AISC's mission is to make structural steel the material of choice by being the leader in structural-steel-related technical and market-building activities, including specification and code development, research, education, technical assistance, quality certification, standardization, market development, and advocacy. AISC has a long tradition of service to the steel construction industry providing timely and reliable information.