Blast and Progressive Collapse
Buildings designed in structural steel offer superior performance in extreme events
History shows that structural steel buildings perform extremely well in extreme events. Ductility, durability, fire resistance and structural performance are some of the strongest reasons structural steel frames provide superior resistance for a blast event. It is also important that buildings be properly designed to perform well under blast loads and address concerns regarding progressive collapse. Progressive collapse is a condition that occurs when a portion of a structural frame is removed due to an extreme event such as a blast, and the structure above the area of the initial damage subsequently fails. This condition can occur in buildings framed in any material (steel, concrete or wood) if the structure is not designed to addressed this possibility. AISC has published two formal documents that address this topic.

Facts for Steel Buildings: Blast and Progressive Collapse provides the latest information and guidance available for commercial and industrial buildings subjected to these extraordinary loads and responses. The document presents:
background and definitions for explosive loads and progressive collapse
general principles of blast loads and response prediction
recommendations for structures designed to resist blast and mitigate progressive collapse
recent guidelines and Federal and DoD requirements
observations from historical events
information on ongoing research
A follow-on and companion Design Guide 26: Design of Blast Resistance Structures, provides more detailed analysis and design recommendations.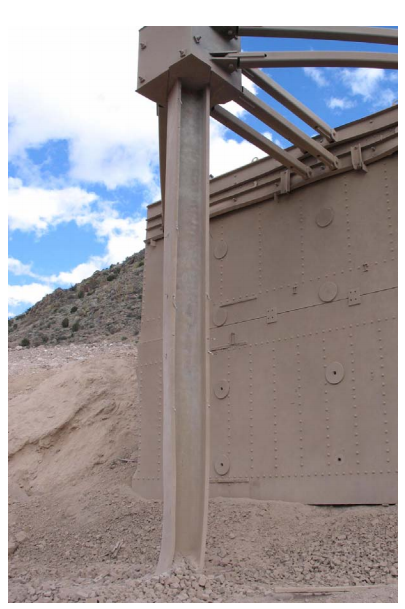 Investigating the behavior of a W14x233 column of ASTM A992, Gr. 50 structural steel, subjected to a large explosive, similar to the vehicle bomb that was detonated near the Murrah Federal Building, Oklahoma City, Oklahoma - 1995
Resources
Still need help?
The Steel Solutions Center is for people who need technical assistance, innovative solutions, or tools to make structural steel design even easier.